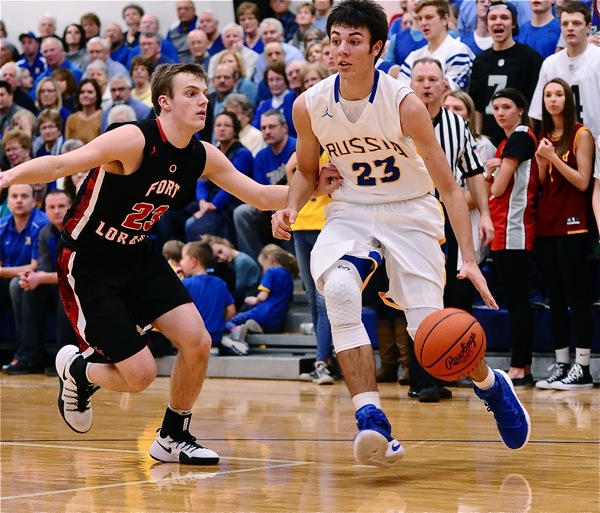 Jack Dapore – Russia High School

Basketball coaches frequently tell us that it's often the sum of the parts, including some not-so-obvious parts at that, that contribute most to important wins.  Thus it was last Friday with Russia's impressive 55-43 win over previously unbeaten Ft. Loramie, a game with a high rivalry factor, drama, and an unbelievable atmosphere.  And there was no more important part played in the Raiders' win, perhaps, than that of junior Jack Dapore, who scored 13 points, but more, was just as integral in defending what's been a very dependable Loramie offense through the Redskins' first eight games of the season.  That Raiders defense, headed by Dapore, frustrated the Loramie attack throughout and held both Dillon Braun and 6'7″ Tyler Siegel to just 14 points apiece.  Congratulations to Jack Dapore of the Russia Raiders, this week's "Who's Hot" honoree on Press Pros.

For all your insurance needs…home, auto, farm and commercial…trust the professional experience of the Koverman-Staley-Dickerson Agency with offices in Troy, Covington, Tipp City, New Carlisle and Piqua, Ohio.  The Koverman-Staley-Dickerson agency joins Press Pros Magazine in congratulating this week's Who's Hot honoree, Jack Dapore of the Russia Raiders.