Ryan Lavy – Troy High School

In the words of Sidney baseball coach Bill Shofner, it's rare to find a relief pitcher in high school baseball who comes in the game and just pounds the strike zone.  But that's exactly what Troy junior Ryan Lavy did this week, against Sidney, entering the game with one out in the third inning and trailing 8-0.  For the remaining 3 2/3rds innings Lavy blanked Sidney, striking out 7, walking none, and giving up but just two harmless singles.  He gave his team a chance to win, and indeed the Trojans did come back before falling short by an 8-7 margin.  But Lavy earned "Who's Hot" honors, drawing the praise of Shofner.  "He was great.  He deserves credit for doing a great job."  We, along with the  Koverman-Staley-Dickerson Agency in Troy, Piqua, and Covington, wish to extend congratulations to Troy's Ryan Lavy, this week's "Who's Hot" honoree on Press Pros.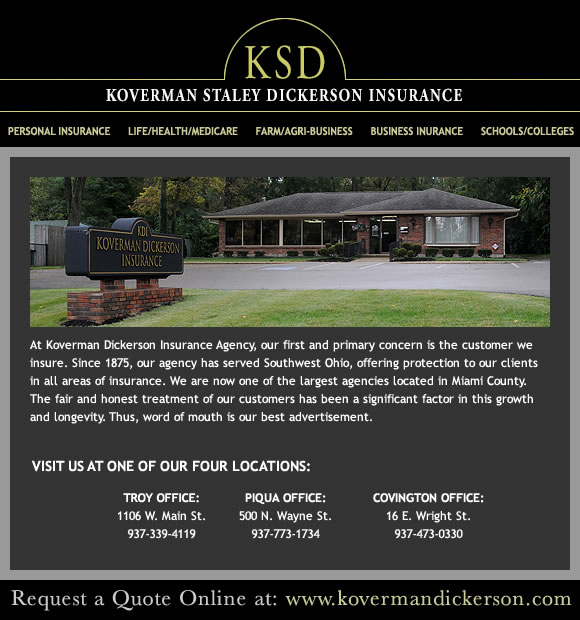 For all your insurance needs…home, auto, farm and commercial…trust the professional experience of the Koverman-Staley-Dickerson Agency with offices in Troy, Covington and Piqua, Ohio.  "KSD" joins Press Pros Magazine in welcoming this week's Who's Hot honoree, Ryan Lavy,  from Troy High School !