Brody Hoying – Coldwater High School

Out of all the eye-popping performances in area football last week, the one that perhaps made the loudest statement was that of Coldwater quarterback Brody Hoying.  Returning for his second game after an early-season knee injury, the Cavalier senior delivered on a pre-game promise from one of the Coldwater coaches.  "You'll see the real Brody Hoying tonight."  The real Brody Hoying?  Playing in just the first half of Cavaliers' game with Versailles, Hoying ran for 163 yards, three touchdowns, and threw for two more…all that in just 24 minutes!  "It just felt right tonight,"  he added later.  "My speed was there.  The cuts were there.  I felt like myself."  Good enough to garner "Who's Hot" honors for the week, the first three-time winner in the history of this page, once each in his sophomore, junior, and now senior year. And good enough to keep the defending Division V champs in the hunt for yet another playoff berth.  Welcome back, and congratulations to Brody Hoying of Coldwater High School…this week's "Who's Hot" honoree on Press Pros.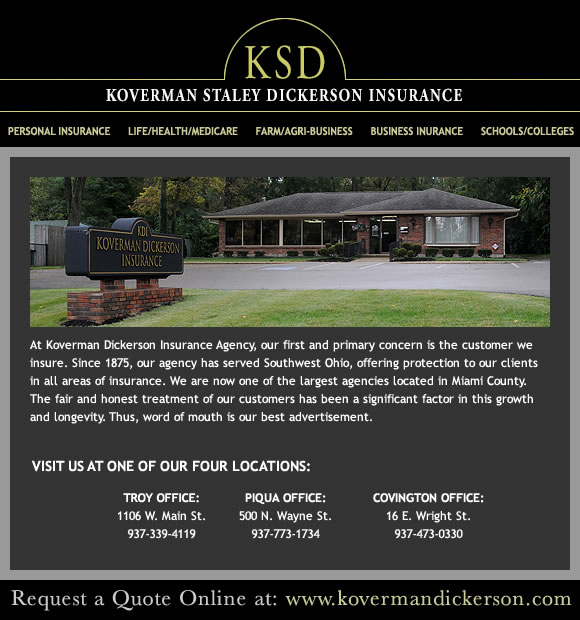 For all your insurance needs…home, auto, farm and commercial…trust the professional experience of the Koverman-Staley-Dickerson Agency with offices in Troy, Covington and Piqua, Ohio.  "KSD" joins Press Pros Magazine in congratulating this week's Who's Hot honoree, Brody Hoying from Coldwater High School.