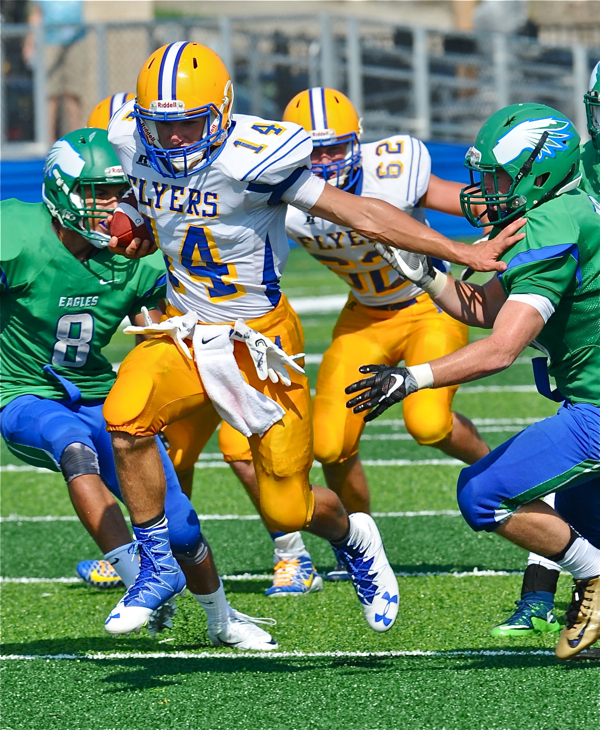 Duane Leugers – Marion Local High School

There is occasionally such a thing as a "slam dunk" in our selection of the weekly Who's Hot honoree on Press Pros – that player whose performance is so impressive and contributory to the success of his or her team that they cannot be ignored.  Such it is with the debut of Who's Hot for 2016-17.  Quarterback Duane Leugers (pronounced like "Tigers) of Marion Local had just such a game.  In the Flyers' opening game this weekend with Chaminade-Julienne Leugers carried the football 11 times for 112 yards.  But more impressively, he scored four times, the first four of five touchdowns in the Flyers' convincing 34-14 win over the host Eagles in their new downtown Dayton stadium.  To add a degree of difficulty, Leugers did it on a 94 degree day when the field temperature on the artificial turf soared well over 100 degrees.  "It was a total team effort,"  he shared with customary modesty.  "Everyone just did their job.  It was really hot, and some guys got tired, but we hung in there and got the victory."  "Duane was just being Duane,"  added coach Tim Goodwin.  "He'll get even better and hopefully we will, too."  Our congratulations and best wishes to Duane Leugers, this week's "Who's Hot" honoree on Press Pros.
For all your insurance needs…home, auto, farm and commercial…trust the professional experience of the Koverman-Staley-Dickerson Agency with offices in Troy, Covington, Tipp City, New Carlisle and Piqua, Ohio.  The Koverman-Staley-Dickerson agency joins Press Pros Magazine in congratulating this week's Who's Hot honoree, Duane Leugers, of the Marion Local Flyers.