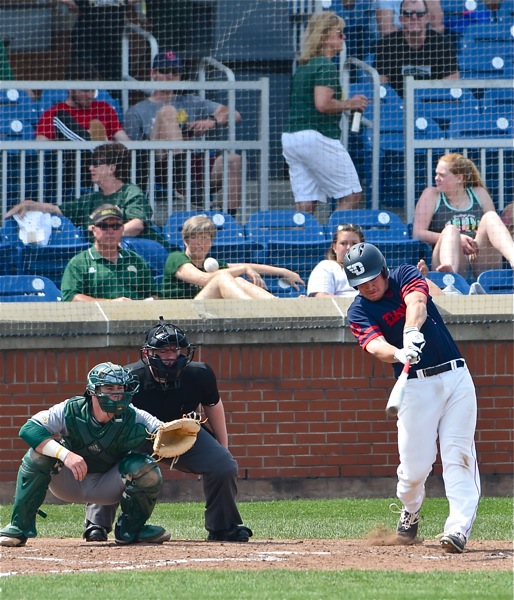 Brandon Smith – Dayton Flyers Baseball

Brandon Smith is a first!  That is, the Dayton Flyers redshirt freshman from Floyd Knobs, Indiana is the first collegiate player to feature on the Press Pros "Who's Hot" page…in the five-year existence of the page.  So you know he had to have done something pretty special.  To wit…in last Saturday's doubleheader against the George Mason Patriots Smith hit home runs in each of his first to at bats in the first game, an 8-6 eventual loss.  And in the second game, he homered again in his first at bat, his third of the day.  It raised his season's mark to seven home runs, but more impressively, for the weekend he raised his average 40 points to .289 for the season.  Even more impressively, he hit .469 for the week and was named the Atlantic 10 Co-Rookie of the week.   He also raised his slugging percentage to .609 and his on-base percentage to .449.  So congratulations to Dayton's Brandon Smith for a great week's work – and a first – this week's "Who's Hot" honoree on Press Pros. 

For all your insurance needs…home, auto, farm and commercial…trust the professional experience of the Koverman-Staley-Dickerson Agency with offices in Troy, Covington, Tipp City, New Carlisle and Piqua, Ohio.  The Koverman-Staley-Dickerson agency joins Press Pros Magazine in congratulating this week's Who's Hot honoree, Brandon Smith,  from the University of Dayton Flyers.