Kelly Turner – Ft. Loramie High School

Seldom in this day of sharing athletes in high school sports do you find an individual so committed to his or her sport as to have that person say, "This is what I do.  This is my passion." Ft. Loramie senior Kelly Turner is a notable exception.  Volleyball is what she does.  It's her passion, and her commitment to the sport has helped the Lady Redskins advance this week to the Division IV regional finals and a chance to qualify for next week's OHSAA state championship.  In the regional semi-final game on Wednesday, Turner had perhaps the best performance in her four-year career at Loramie in the Redskins' win over Minster.  Her 17 kills tied teammate Ashley Pleiman for team high, but more importantly, her confidence under pressure provided that intangible of leadership necessary to be a champion.  "I want to perform under pressure,"  says Turner.  "I want to be a leader in big games.  This is what I've trained for."  Her performance and attitude is more than enough to garner "Who's Hot" honors for the week, and good enough to keep Loramie in the hunt for yet another state championship.  Congratulations to Kelly Turner of Ft. Loramie High School…this week's "Who's Hot" honoree on Press Pros.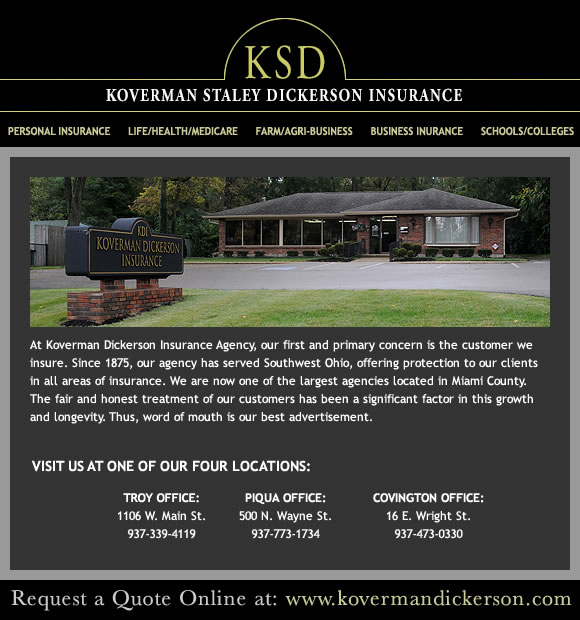 For all your insurance needs…home, auto, farm and commercial…trust the professional experience of the Koverman-Staley-Dickerson Agency with offices in Troy, Covington and Piqua, Ohio.  "KSD" joins Press Pros Magazine in congratulating this week's Who's Hot honoree, Kelly Turner from Ft. Loramie High School.