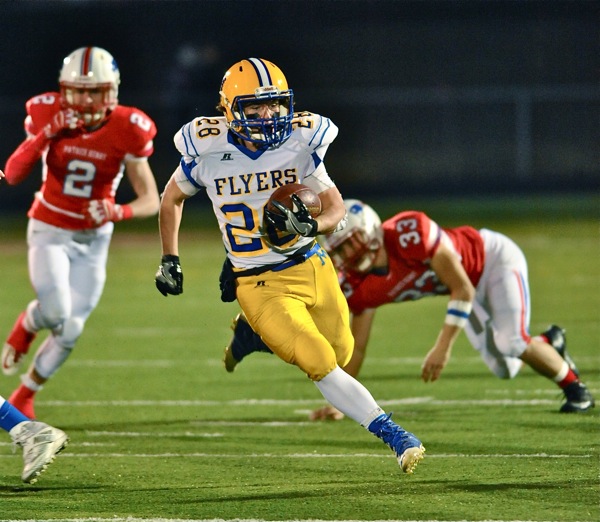 Nate Moeller – Marion Local High School

It gets increasingly challenging to settle on just one performance at this stage of the season – on that would be distinguishing for "Who's Hot" honors.  Appreciatively, Marion Local's Nate Moeller made it easy for us last week.  Moeller, a 5'9″, 180 pound senior, rushed for 230 yards on 17 carries, caught five passes for another hundred yards, and scored three touchdowns in the Flyers' 36-7  win over Patrick Henry in the Division VI state semi-final game.  His long was 50 yards, coming on the Flyers' first possession of the game.  "It came at a good time for us,"  said Marion coach Tim Goodwin.  "That's the best Nate's played for us all season."  Marion moves on next week to contend for their ninth state title, meeting Cuyahoga Heights in the Division VI title game at Ohio Stadium on Friday morning.  Congratulations to Nate Moeller of the Marion Local Flyers, this week's "Who's Hot" honoree on Press Pros.

For all your insurance needs…home, auto, farm and commercial…trust the professional experience of the Koverman-Staley-Dickerson Agency with offices in Troy, Covington, Tipp City, New Carlisle and Piqua, Ohio.  The Koverman-Staley-Dickerson agency joins Press Pros Magazine in congratulating this week's Who's Hot honoree, Nate Moeller of the Marion Local Flyers.