Nick Rourke – Lehman High School

The question for fans and followers of Lehman High School football in 2014 is obvious.  How can senior quarterback Nick Rourke surpass his phenomenal production and efficiency of last year.  Rourke led the Cavaliers to a 10-2 record last year and the district final round of the playoffs.  But the way he did was as quietly impressive as any Division VII quarterback in southwest Ohio.  He threw completed 168 of 293 attempts for 2,551 yards and 28 touchdowns, both school records, and completed 54% of his passes.  But as area conditioning camps open this week for the 2014 season, the exciting prospect for Rourke and the Cavaliers is his return for a final year with the majority of his receiving corps intact.  The Cavaliers will again be a threat for the playoffs, and Nick Rourke and his grasp of the spread offense will again be a nightmare for opposing defenses.  We, along with the  Koverman-Staley-Dickerson Agency in Troy, Piqua, and Covington, wish to extend congratulations to Nick Rourke of Lehman Catholic High School, this week's "Who's Hot" honoree on Press Pros.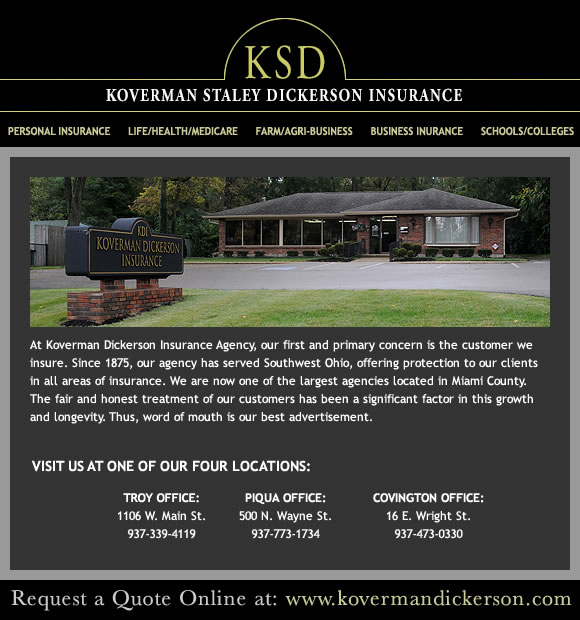 For all your insurance needs…home, auto, farm and commercial…trust the professional experience of the Koverman-Staley-Dickerson Agency with offices in Troy, Covington and Piqua, Ohio.  "KSD" joins Press Pros Magazine in welcoming this week's Who's Hot honoree, Nick Rourke of the  Lehman Catholic High School!