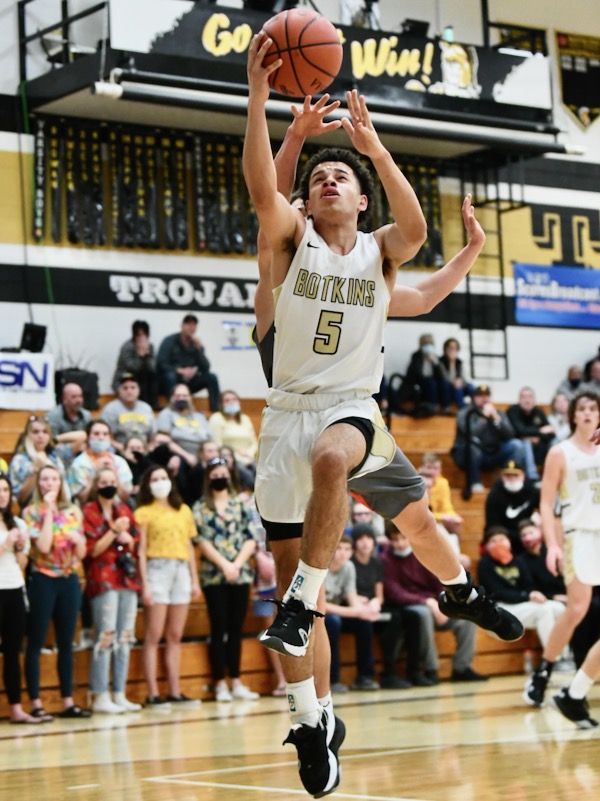 The Botkins Trojans

We saw this week the personification of the old phrase…what goes around, comes around.  And that is…the emergence over the past two seasons of the Botkins Trojans, out of the Shelby County Athletic League, suddenly the most talked-about basketball team in the area.  10-0 after their thrilling 29-26 win last Friday over Jackson Center, Sean Powell's Trojans are proving that they're not only capable of playing winning basketball against the best in the Shelby County League, but they're adaptable in doing it.  They are, after years of waiting and frustration, "What's Hot" in area Division IV basketball.
Adaptable?  Two years ago when Powell took the Botkins coaching position his teams ran and did their best to blow teams out of the gym.  "We like to get the ball up the floor as fast as we can.  I believe that if you can get the ball up the floor, with post entry or a swing pass, within nine seconds you have a great opportunity for a good look at the basket,"  he said then after a disappointing loss to Anna.
Friday night he and the Trojans proved just how adaptable they can be.  Against Jackson Center, a team known for controlling the pace of the game by playing defense, Botkins beat the Tigers at their own game, holding Jackson to just 26 points in a 29-26 Trojans win.  No one scored more than 11 points, they spread it around, and Jayden Priddy-Powell (above) score what proved to be the winning shot on a driving layup in the game's final minute.
"I've always taught defense, and we work on it every day,"  said Powell.  "But last year we learned to play a little slower and that's helped us.  We're more patient now, and it helps to have the size we have inside – Carter and Jacob Pleiman.  We can play defense, and you have to in a tough league like this.  Our perimeter guys make it tough to get it tough to get to the paint, and if teams do get there we've got those tall boys [to protect the rim]."
Jackson Center coach Scott Elchert paid Botkins this compliment after their win.  "They played our game better than we did."
With an impressive lineup that includes size, ball-handling, and shooting touch, the Trojans are turning heads in boys basketball for the first time in years.  Undefeated, they now face the second swing through the Shelby County League and the challenge of claiming that title before the even bigger challenges of the Piqua sectional and the Division IV district and regional tournament.  But that's weeks away, and for now…Botkins fans can simply appreciate the effort and the journey of Jayden Priddy-Powell, Zane Paul, Carter and Jacob Pleiman, Dillon Topp, Jameson Meyer, Denton Homan, et. al.  Congratulations on being this week's Who's Hot honorees on Press Pros.
Peace of mind is as easy as the relationship you have with your local bank, and the St. Henry bank is small enough to know you, and big enough to serve you.  The St. Henry Bank joins Press Pros Magazine in recognizing this week's "Who's Hot" honorees…the Botkins Trojans.