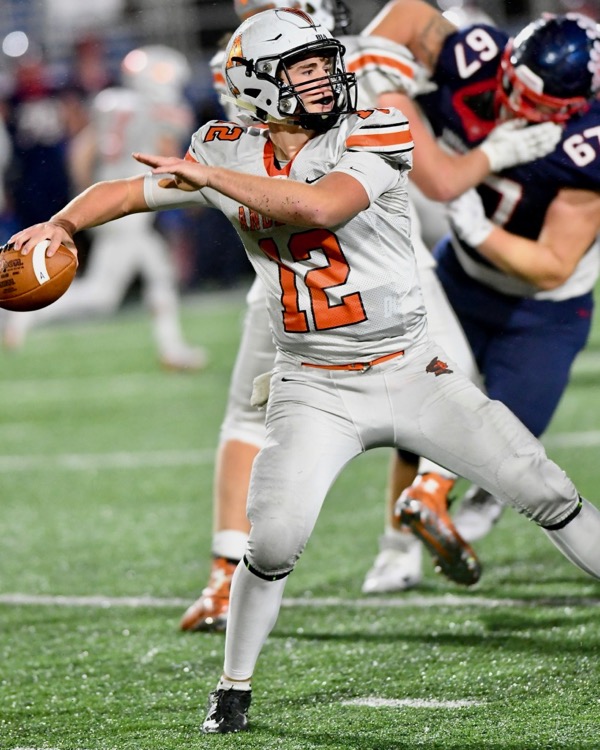 Jackson Kuhn – Anderson High School

It isn't often that it happens – when we highlight the accomplishments of a high school athlete outside our geographical market for the weekly Press Pros 'Who's Hot' column.  But we're doing it this week for the sake of Anderson High School quarterback Jackson Kuhn.  Read on.  We think you'll understand.
Kuhn ignited the winning drive in a 29-22 decision over Piqua last Friday night with a 45 yard touchdown pass with just :26 seconds left on the clock.  And as important that fact was, it pales in comparison to what he did before that throw.
For the night…Jackson Kuhn completed 39 of 57 pass attempts for a pair of touchdowns, 405 yards through the air (some had his numbers higher than that), and rushed for 54 yards and pair of touchdowns.  Even for Anderson, a pass-happy team out of Cincinnati coached by Evan Dreyer, what Jackson Kuhn did raised some eyebrows.
"We wanted to give him a chance to go out on a high note (Kuhn is a senior),"  said Dreyer.  "I wanted him to have a great moment, ride off, and hopefully make enough plays to get us to the next round.  We beat a good football team tonight, and a great football coach."
His start should have been an omen to coach Bill Nees and the Indians.  Kuhn completed his first fourteen passes, and eighteen of his first twenty.
"He just got it and threw it, and threw it with remarkable accuracy,"  said Nees later.  "It was like boom, boom, boom.  We just couldn't get any rush on him…he got rid of it that quick."
There were some other remarkable individual achievements over Week 3 of the 2020 playoffs – Mitchell Hays (New Bremen) played well in a Cardinal win.  Collin Moore played well for Fort Loramie, and Carson Bey (Versailles) was his usual consistent self in Versailles' Division V win over Cincinnati Hills Christian Academy.  All of them are quarterbacks.
But none of them threw it 57 times for 405 yards, two touchdowns, and ran for two more.  For that…Jackson Kuhn runs aways with this week's 'Who's Hot' honors, sponsored by the St. Henry Bank.  To compliment his coach's trust…he got 'em to the next round.
Peace of mind is as easy as the relationship you have with your local bank, and the St. Henry bank is small enough to know you, and big enough to serve you.  The St. Henry Bank joins Press Pros Magazine in recognizing this week's "Who's Hot" honoree, Jackson Kuhn, from Anderson High School.