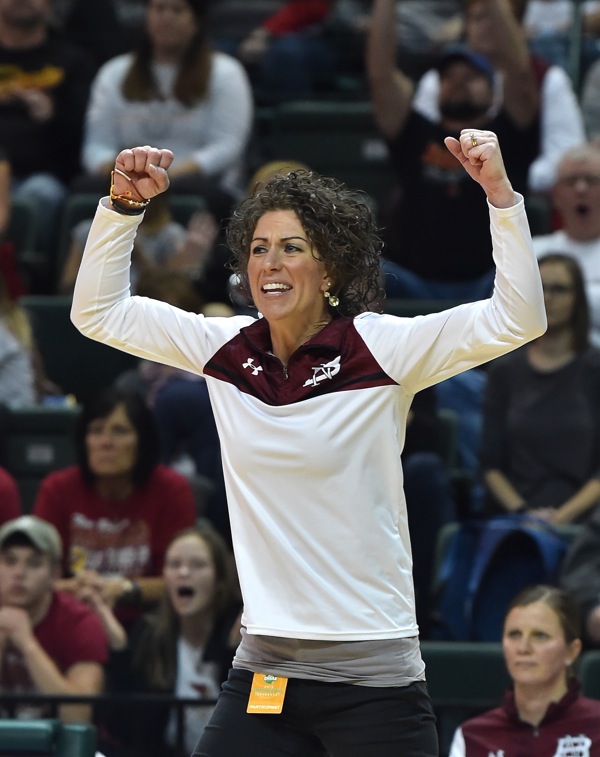 Diana Kramer – New Bremen High School

At the risk of a perfectly good relationship with one of the state's best volleyball coaches, the thought struck us during, and after, Saturday's Division IV volleyball finals at the Nutter Center in Fairborn that there really is no one hotter as a coach in Ohio volleyball right now…than New Bremen's Diana Kramer.  Her Cardinals captured their second state title on Saturday with a 3 games to 1 win over Fort Loramie, the perfect testimony to what Kramer had indoctrinated us with throughout the season.  Her girls, as she tirelessly preached, were as mentally and physically tough as she said they would be – as she had claimed since their opening match back in August.  Her mantra of 'high risk, and high reward' had again turned up aces as the Cardinals fearlessly hammered their way through the semi-final and final round of the OHSAA championships.  So while we've never featured a coach on the 'Who's Hot' page, there is no one more deserving, or fitting, than Kramer.  The relationship that we mentioned comes as a result of her patience to teach even a perfect stranger the 'ins' and 'outs' of volleyball, a sport about which her passion is limitless.  There is no greater ambassador, even to a journalist who while knowing sports…knew almost nothing about volleyball when we first met in 2017.  A former player at St. Henry and Duquesne University, in Pittsburgh, you can imagine how effective she is with adolescent girls if she takes the time to share the essentials with press people.  "She's a great coach, and she has a great team,"  said Fort Loramie coach John Rodgers prior to Saturday's championship match.  "They're tough.  They come at you hard and they do what they do.  They try to impose their will on you, so you have to adjust."  And the remarkable thing is…Diana Kramer does all this why being mother to four, wife to one, an elementary teacher to God knows how many…and a consummate friend.  She's also now a two-time state champion – two times in three years, along with three straight trips to the Final Four.  Surely, she'll object to this attention, or at least the photos.  Image matters, you know, when you're the state's top volleyball coach in Division IV…at least for a year.   On behalf of sponsor Eric Biggs, Press Pros congratulates New Bremen's Diana Kramer as this week's 'Who's Hot' honoree on Press Pros. Well done!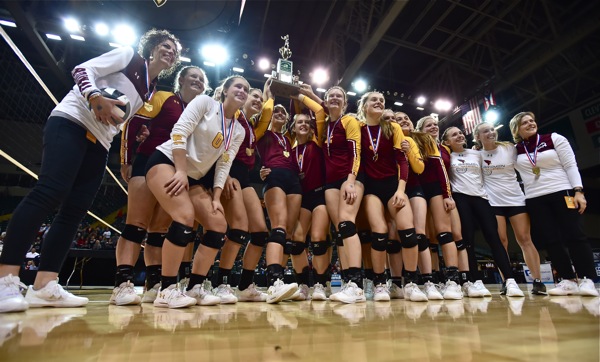 Peace of mind is as easy as the relationship you have with your insurance agent for auto, home, business, property, life and health.  If you're not sleeping well at night, call us.  The Eric Biggs agency in Versailles joins Press Pros Magazine in congratulating this week's "Who's Hot" honoree, Diana Kramer, of the New Bremen Cardinals.