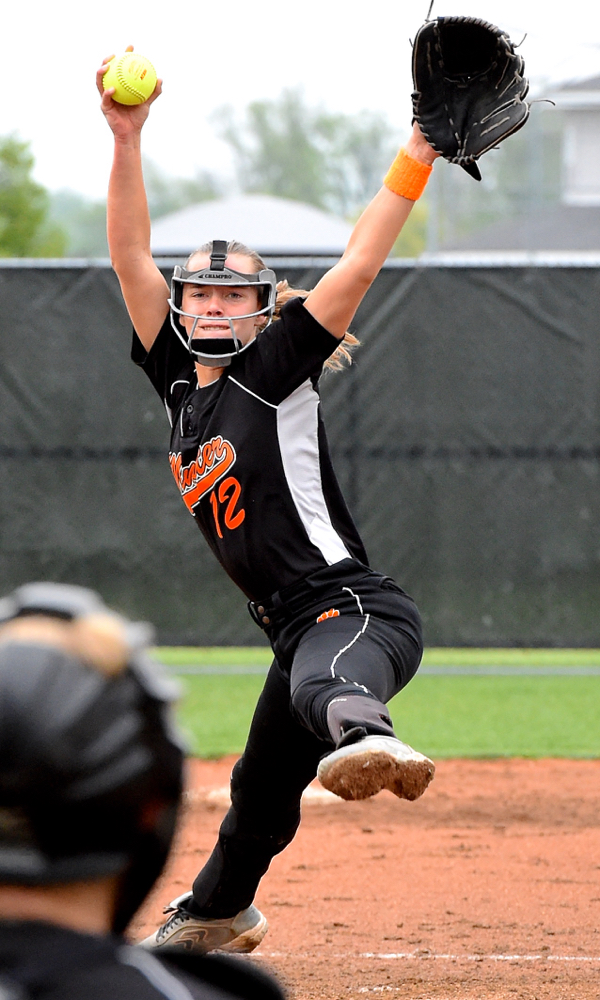 Jenna Poeppelman and the Minster Wildcats

By popular demand…a number of Auglaize County readers had inquired recently about "where are the Minster softball girls" on Press Pros?  And certainly, the #1-ranked team in the state (Division IV) is more than worthy of recognition in this week's Who's Hot page.   Led by senior pitcher Jenna Poeppelman (pictured above), the Wildcats under coach Robb Hemmelgarn raced out to an undefeated 18-0 start before losing for the first time last week to non-conference opponent, Lima Bath.  "What's impressive is our senior class,"  says Hemmelgarn.  "Some of them have played now for four years, before I was even here, and when things weren't so good as now.  They stuck with it, worked to improve, and they've supported each other."  But more impressive, of their 23 wins on the season 13 have been by 'run rule', leading an opponent by 10 or more runs after five innings.  "This is so much fun because we know the whole community is behind us, supporting us,"  adds Poeppelman.  "There's a lot more cheering going on than before [this year]."  With tournament season at hand the Minster girls will attempt to enhance the recent championship legacy of Wildcat sports, having won state titles in football (twice), girls basketball (twice), baseball, cross country and track and field, all since 2014.  On behalf of Eric Biggs State Farm Agency we're pleased to recognize the Minster softball team as this week's "Who's Hot"  honoree on Press Pros.
Peace of mind is as easy as the relationship you have with your insurance agent for auto, home, business, property, life and health.  If you're not sleeping well at night, call us.  The Eric Biggs agency in Versailles joins Press Pros Magazine in congratulating this week's "Who's Hot" honoree, the Minster Wildcats softball team.