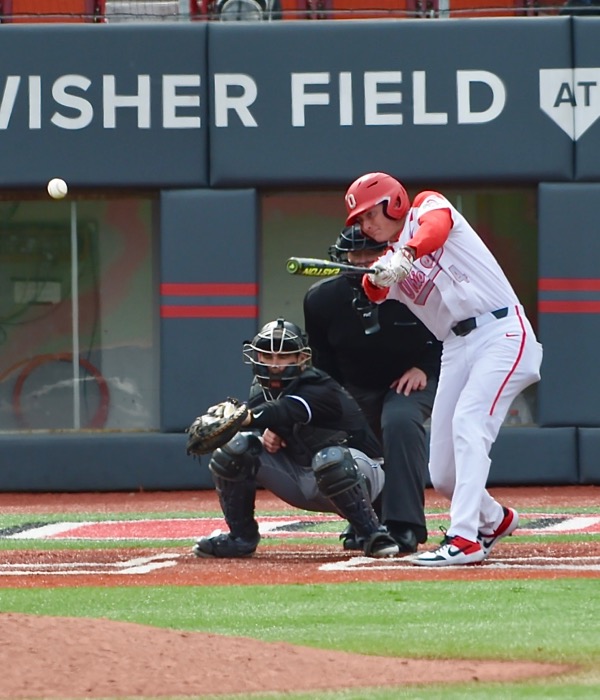 Zach Dezenzo – Ohio State Baseball

There's really no feeling like that of discovering that you belong when you set out to compete at the next level.  And few instances illustrate that discovery more than what happened last week with Ohio State freshman third baseman Zach Dezonzo.  Dezenzo, from Alliance, Ohio (Marlington High School) raised his batting average almost sixty points, to .271, by hitting .467  (7 for 15) and crowning his week with three home runs in the Buckeyes weekend series win over Lipscomb at Bill Davis Stadium.  In fact, he hit a pair of home runs in last Friday's home opener, his first official appearance as a Buckeye at Bill Davis (above).  It gets better.  For his efforts he was honored as Big Ten Freshman of The Week, joining fellow rookie Garrett Burhenn with that honor – Burhenn's coming for the week of February 18th.   The point is…Zach Dezenzo more than proved that he belonged in the baseball-tough Big Ten Conference, and for that fact we're pleased to recognize him as this week's "Who's Hot"  honoree on Press Pros.
Peace of mind is as easy as the relationship you have with your insurance agent for auto, home, business, property, life and health.  If you're not sleeping well at night, call us.  The Eric Biggs agency in Versailles joins Press Pros Magazine in congratulating this week's "Who's Hot" honoree, Zach Dezenzo from the Ohio State Buckeyes.