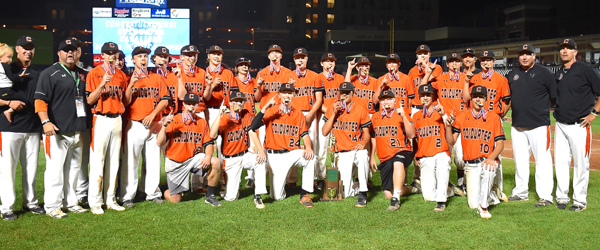 Coldwater Cavaliers – Div. III Baseball Champions, 2019

Where tradition's concerned you like to see history repeat itself.  And to that end…hats off to the 2019 Coldwater Cavaliers who recently won their seventh state title in baseball, 1-0, over West Lafayette Ridgewood.  "This one was very sweet,"  said coach Brian Harlamert.  "Because we started the season by losing our first three games.  But we never quit, we ran off an impressive winning streak after those three games…and then we finished the season with another 7-game win streak, including the state tournament."  Their win also marked the second title for Harlamert, who previously guided the Cavs to the 2014 Div. III title.  "I've been here eight times,"  he said last week.  "And with the talent we have coming up I hope to make a few more trips.  The tradition, and baseball, is obviously alive and well in Coldwater. On behalf of Eric Biggs State Farm Agency we're pleased to recognize the Coldwater Cavaliers as this week's "Who's Hot"  honoree on Press Pros.
Peace of mind is as easy as the relationship you have with your insurance agent for auto, home, business, property, life and health.  If you're not sleeping well at night, call us.  The Eric Biggs agency in Versailles joins Press Pros Magazine in congratulating this week's "Who's Hot" honoree, The Coldwater Cavaliers, for their latest OHSAA title in baseball.