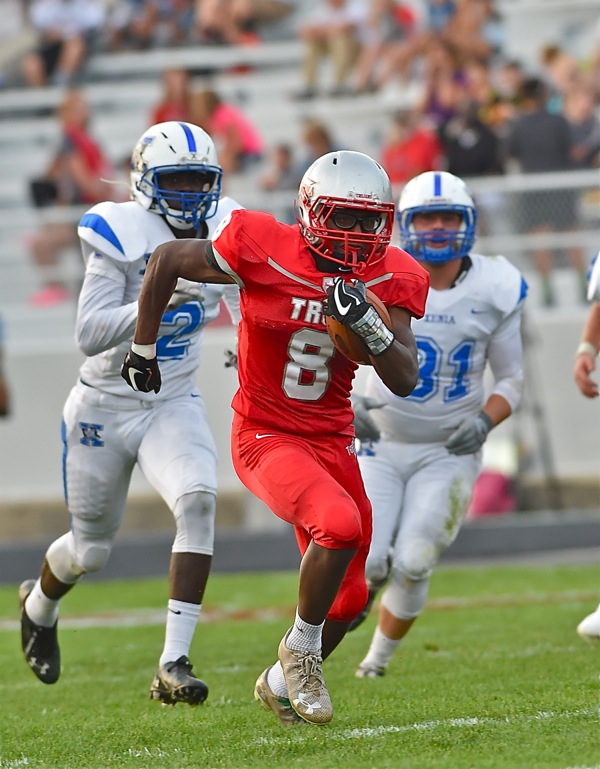 Jaydon Culp-Bishop – Troy High School
At Press Pros we're bettin' dollars to donuts that if you polled area high school football fans as to who's the most impactful, yet overlooked, offensive player in the area this fall…it would have to be Troy's Jaydon Culp-Bishop.  The bespectacaled, diminutive Troy junior earns this week's "Who's Hot" recognition, if not late, for his 33 carries and 229 yards rushing against unbeaten Sidney last Friday, a game in which he ripped off the longest Troy TD run from scrimmage since the days of Ryan Brewer…99 yards!  "I looked up and I saw Heaven and angels,"  he said afterwards.  "I just ran for it."  But he's hardly a one-game wonder.  For the year he's cracked the thousand-yard barrier (1,142 and a 6.5 yds per carry avg.) and averages 142 yards per game.  His eight touchdowns ranks him 5th in the Greater Western Ohio Conference.  "He's just a great kid,"  says Troy coach Matt Burgbacher.  "And I'll tell you, we moved him to running back just last year on the JV team, and he's done nothing but improve each week since then.  Very, very proud of what Jaydon's accomplished."  But to the point about be overlooked, he wasn't even the starting running back at the start of the season.  "And that's the beauty of what he's done,"  says Burgbacher.  "He's worked at it to become what he is."  And Jaydon, Press Pros is proud, too, and we say that you're deserving of week's "Who's Hot" recognition on Press Pros.  Congratulations!

For all your insurance needs…home, auto, farm and commercial…trust the professional experience of the Koverman-Staley-Dickerson Agency with offices in Troy, Covington, Tipp City, New Carlisle and Piqua, Ohio.  The Koverman-Staley-Dickerson agency joins Press Pros Magazine in congratulating this week's Who's Hot honoree, Jaydon Culp-Bishop of the Troy Trojans.