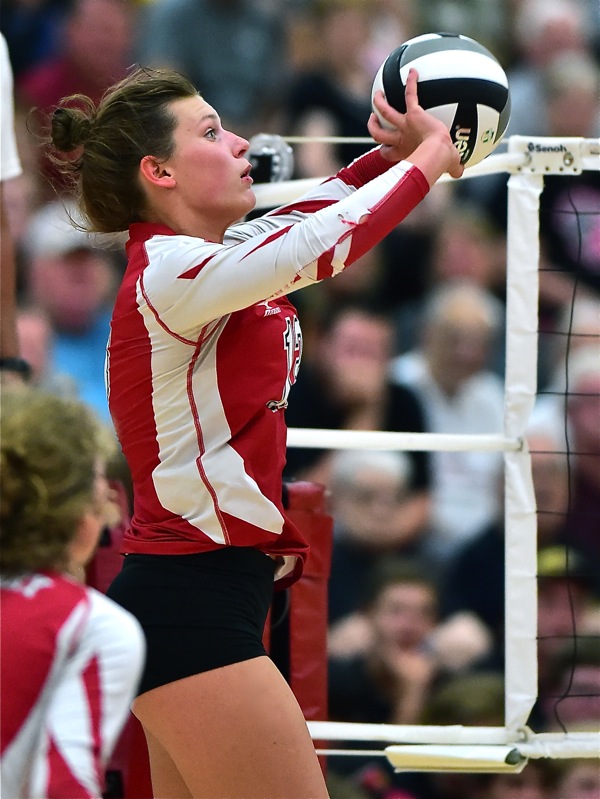 Hannah Bruns – St. Henry Volleyball

Under the heading of the best thing we saw last week…the performance of St. Henry all-state volleyball player Hannah Bruns, whose play in the Redskins' dramatic five-set win over unbeaten New Bremen was simply the difference come the end of the match. A matchup of the state's #1 and #2 team in Division IV, Bruns was everywhere in the deciding fifth set, scoring points on kills at the net, and saving points with her defensive dexterity on the back row. "She's a playmaker," said her coach Tricia Rosenbeck. "She made big plays when we needed to make big plays." Bruns led the Redskins with 14 kills in that match, and had 20 digs, second only to teammate Marlee Vaughn.  For Hannah, it's not the first time she's graced the "Who's Hot" page, and given the Redskins' ranking and anticipation for a deep tournament run, it probably won't be her last, either.  On behalf of the Eric Biggs State Farm Agency, in Versailles, we're pleased to recognize Hannah Bruns, of the St. Henry Redskins, this week's "Who's Hot"  honoree on Press Pros.  And, we look forward to seeing more.
Peace of mind is as easy as the relationship you have with your insurance agent for auto, home, business, property, life and health.  If you're not sleeping well at night, call us.  The Eric Biggs agency in Versailles joins Press Pros Magazine in congratulating this week's "Who's Hot" honoree, Hannah Bruns, of the St. Henry Redskins.