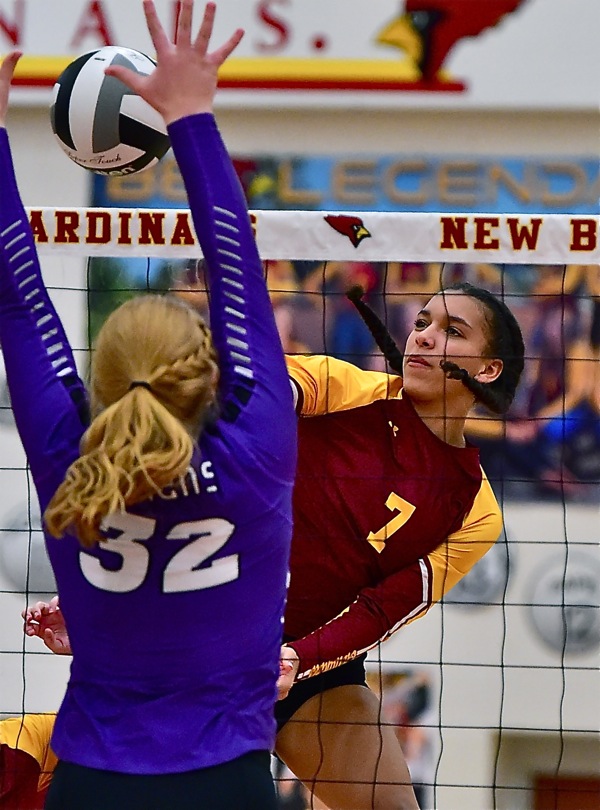 Area Volleyball, 2020…If They Play!

Perhaps this week it's a matter of not 'Who's Hot', but 'What's Hot'.  And based on the growing numbers proving its rise in popularity for the past three seasons, girls volleyball, particularly in the Midwest Athletic Conference and the Shelby County League, is individually and collectively as hot as anything we can feature on this week's page.
We got a glimpse last Friday, at the 5th Annual Mark Ruschua Classic held in New Bremen, the home of the reigning Division IV champion Cardinals, who've won the D-IV title twice in the last three years.  Twelve of the state's most competitive assembled (there were masks aplenty) for an important tune-up for what's hoped for – the most competitive upcoming season in west-central Ohio volleyball history.
And at the center of this speculation is New Bremen, who returns a strong cast to defend their title, including junior Kaylee Freund (pronounced 'Friend', pictured above)…and the reigning runners-up, Fort Loramie, which New Bremen defeated in four sets last November to take the 2019 championship.  Like New Bremen, Coach John Rodgers (Fort Loramie) returns all but four of last year's group to make another run, led by 6'0″ senior standout Kenzie Hoelscher.
"I'm sure Fort Loramie will be favored by some people because they return so many from last year,"  said New Bremen coach Diana Kramer.  "And I have so much respect for Kenzie.  She's a great talent.
"But there are so many great programs this year.  Our league (the MAC) may be the most competitive it's ever been.  Coldwater, St. Henry, Versailles, Minster, New Knoxville, Fort Recovery, Marion Local…and Delphos St. John was much improved when we saw them last year.  And then you add Anna, Jackson Center, Loramie and Russia from the Shelby County League, and Lehman…there's thirteen teams twenty miles apart that someone has to beat to be champion.  It's really hard to pick a favorite.  But of course, I like the New Bremen Cardinals, too."
But the bigger question – bigger than who's good – is will they play at all.  With opening weekend just two weeks away, there's still uncertainty from Columbus as to how to plan.  But despite social-media speculation to the contrary, the OHSAA didn't call a halt to the start of football two-a-days last Saturday, or other sports' practices in advance of their official start.
"It's our intent to proceed with our normal fall calendar of activities and sports,"  said Tim Stried, recently, the OHSSA's director of communications.
And for the sake of the kids who play, and the fact that volleyball continues to rise in popularity across the area, and the country, everyone hopes that comes to pass.  As an example, in 2019 volleyball surpassed football in overall readership for the first time in Press Pros' ten year history.
"I hope we can play,"  said Kramer last week, concern in her voice – an understatement.
We all do.
Our congratulations to area volleyball, for now…for raising the bar of hope and expectations for the upcoming school year. It's this week's 'Who's Hot' honoree on Press Pros Magazine.
Peace of mind is as easy as the relationship you have with your insurance agent for auto, home, business, property, life and health.  If you're not sleeping well at night, call us.  The Eric Biggs agency in Versailles joins Press Pros Magazine in recognizing this week's "Who's Hot" honoree, area volleyball for 2020.