Playing quarterback isn't something that's typically in your blood, or bequeathed from one family member to another. Things may be different in the Blasingame family, however, or at least it appears so after a breakout performance from Marcel Blasingame that leaves no doubt which horse Coldwater will be riding once Midwest Athletic Conference play begins.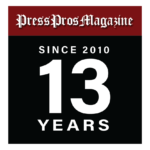 Bellefontaine, OH – The assembled masses on the home sideline got exactly what they expected Friday night.
It was the source that proved quite the surprise.
Expecting another chapter in the escalating saga of Division I quarterback prospect Tavien St. Clair, a partisan Bellefontaine crowd instead witnessed the hot-off-the-presses revelation that is Coldwater senior Marcel Blasingame.
Start with Blasingame's 32-carry, 228-yard, three-touchdown rushing effort…toss in an 11-for-16, 215-yard, one-TD passing performance…then top it with his nimble catch of a hard, two-bounce on-side kick to preserve the Cavaliers' 31-21 victory.
Blasingame doesn't have the Florida, Iowa State, and Tennessee scholarship offers St. Clair supposedly owns early in his sophomore season, but the guy Cavaliers' coach Chip Otten describes as, "pretty chill," certainly put the Chieftains on ice.
"I learned something about Marcel tonight," Otten said. "He showed a lot of toughness."
That was the unknown about Blasingame entering the season, given his isolated use as a runner from the flanker position he played the past two seasons.
Of course, Blasingame's brother, Myles, was the Midwest Athletic Conference MVP two years ago when he led Coldwater to Otten's fifth state championship.
"You could put the game on Myles' back and know he'd get the job done," Otten said. "We weren't sure about Marcel."
Bellefontaine coach Justin Brown disposed of that lingering doubt with a single syllable.
"Ha," he huffed, when told of Otten's pre-season concern over Blasingame's stamina. "There are no more questions about that now. He made a bunch of plays with his feet and made two or three throws that were just daggers."
As for St. Clair, he finished 15-for-22 for 128 yards and one TD, with 22 rushing yards on nine carries.
It is, though, hard to do much when your team seldom has the football, which Blasingame and the Cavaliers made sure of with repeated time-consuming drives behind a dominant offensive line.
Tackle to tackle, Coldwater dominated, pounding out 277 rushing yards – actually more, given end-of-game losses on intentional kneel-downs – and augmented that with 215 yards through the air to a host of receivers.
Besides the now-no-longer-unknown about Blasingame's durability, Otten wasn't sure what he'd have in a receiver corps trying to replace one of the team's best and deepest units from last season's Division VI state runner-up finish.
Graduation brought down the curtain on the careers of Jesse Meyer, Tanner Muhlenkamp and Tyler Schwieterman, and Blasingame moved behind center to direct the offense, furthering the inexperience concern.
But just two weeks into the season, things seem – as Otten might say – "pretty chill" at the position, given the balance Coldwater tormented Bellefontaine with throughout.
Blasingame spread his 11 completions around to five different receivers, each of whom accounted for a gain of at least 20 yards.
Braylen Harlamert led the way with five catches for 61 yards, via a long of 21.
His twin brother, A.J., had one catch for a 40-yard touchdown. Their cousin, Evan Harlamert, caught two balls for 50 yards. Curtis Duerr (two catches, 50 yards, including a 29-yarder) and Jack Broering (one catch, 32 yards) rounded out the receiving balance.
Blasingame had all the time he wanted thanks to a front wall that made life easy, stretching from left tackle Evan Homan down the line to Shane Ontrop, Cale Wenning, Braden Kosterman and right tackle Will Fox.
"We did what we needed to do," Homan said. "We kinda bullied them up front and imposed our will."
Duerr blocked Bellefontaine's punt after a game-opening three-and-out, setting up Coldwater at the Chieftains' 33.
Blasingame sped in for his first score from the 18 moments later, then capped an 86-yard drive with a one-yard run on the second play of the second quarter.
He set that up with a perfectly-placed, 29-yard spiral just over the defender, while rolling to the left. Duerr gathered it in and likely scored, only to be ruled down at the one.
Bellefontaine drew within 14-7 and had possession late in the half with a chance to tie, but Coldwater stiffened and regained possession at its 31 with 1:45 left.
Again, Blasingame rolled left, and again he dropped one into a phone booth-sized (look it up, kids) opening. Before he caught the pass, Evan Harlamert caught Blasingame's pre-snap signal to deepen his route against Bellefontaine's collapsing coverage.
"They were pressing up on us, so we changed it real quick," Blasingame said. "Me and our receivers, we have our signs, so we gave him some sauce and he couldn't have done a better route."
Blasingame scored his third TD from the five and the lead was 21-7 at the break, after which Coldwater consumed nearly 10 minutes before an end zone interception ended its possession to start quarter three.
When the Cavaliers regained control after forcing a punt, Blasingame finally connected on the right sideline streak route he slightly overthrew in the first half, and threw perfectly prior to his only turnover, but had a receiver drop in the end zone.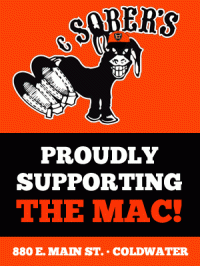 A.J. Harlamert's catch went for the 40-yard touchdown, giving Coldwater had an insurmountable 28-7 advantage and ample evidence that Marcel Blasingame might have more in common with his older brother than just a last name.
"He got (MAC) player-of-the-year, so a lot of people were expecting a lot out of me," Marcel said. "I'm just out here to give it all to my team and our fans every game. Hopefully, we make a big run in the playoffs again."
Bruce Hooley hosts the Bruce Hooley Show from 11 a.m.-1 p.m. Monday-Friday on 94.5 FM the Answer in Dayton and 98.9 FM the Answer in Columbus.