Motivated to write from a recent tribute to pianist Floyd Cramer, one reader took the time to challenge us, and ask for herself…whatever happened to the "Match Game" song? We're happy to fill you in.
One of the reasons for sharing information about music and musicians on these pages is that the response you get from readership is almost always positive;  and frankly, it's fun.
So wrote Karla Friedman this week, from Circleville, following our column last week about pianist Floyd Cramer.
"I so thoroughly enjoyed your story about Mr. Cramer and 'Last Date'. That was my dad's favorite song on the radio, and he frequently called our local station to request it.
"But can you tell me something about another favorite, "The Match Game" song from old TV days. I loved that song, too, and I haven't heard it for years."
Karla, I'm glad you asked.
The Match Game was a daily game show on NBC with a long run, hosted by popular personality Gene Rayburn from its inception in 1962 until Rayburn left the cast in 1969.  The show was funny, had a great set of panel personalities, and came on each day with one of the most recognizable theme songs of that generation.
The song was actually titled, "A Swingin' Safari", a composition from German composer Bert Kaempfert, originally penned in that same year that The Match Game debuted, 1962. When it was originally released as an instrumental single, it failed to chart. But when it was selected as the theme to the popular game show, it shot up in popularity.
Over the years its remained a favorite because of its happy, distinctive flute sound, and the chorus trumpet solo of famous German horn player, Manfred Moch.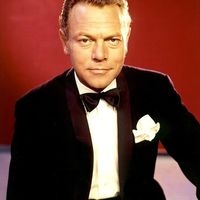 Ironically, Kaempfert had a huge string of instrumental hits following Swingin' Safari, now almost 50 years ago, but never lived long enough to enjoy their popularity, or the royalties. He died of a stroke at age 56 in June of 1980.  An outspoken supporter, and financial benefactor of the Florida Everglades for many years, I've read that his ashes were spread there as a lasting tribute.
Kaempfert's popular touring orchestra disbanded at the time of his death, but periodically over the years it has reorganized and performed on the road, playing the popular songs from the height of his popularity – Spanish Eyes, Wonderland By Night, L-O-V-E, That Happy Feeling, and the old Wayne Newton hit, Danke Schoen.
Bert's tunes are easily recognizable, and so popular still that it's actually hard to find CDs or albums on the secondary market. Many consider his music…collectible!
Here's a great copy of the Match Game song.  Enjoy!