A transfer from Texas A&M Corpus Christi University, senior Colin Purcell has followed some family roots in central Ohio, and the transfer portal, to come back and finish his college career as a Buckeye…to pitch for his "dream school".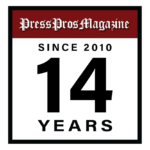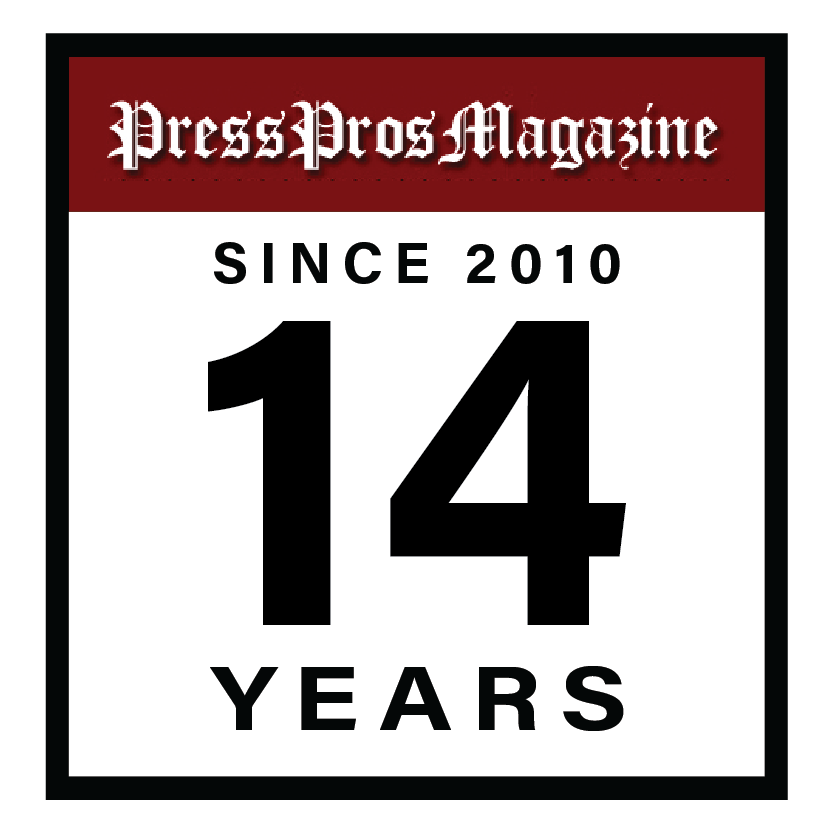 Columbus, OH – Senior pitcher Colin Purcell, a transfer from Tomball, Texas, believes, perhaps, that sometimes the best life decisions come when you simply follow your heart…or your roots, in his case.
"I have a lot of family roots in Ohio,"  he said Saturday at Bill Davis Stadium, after pitching in the Buckeyes' 12th inter-squad scrimmage of the fall.
"My mom grew up in Hilliard, born and raised, and she graduated from Ohio State.  Her brother graduated from Ohio State, and I have other family that graduated from Ohio State.  So it's a special place, for sure, for me and my family."
Pausing for a second, he added, "I'm extremely grateful for the opportunity to play my last year of college baseball here at Ohio State."
So where in the Wide World of Sports is Tomball, Texas, and how did he get there?
In practical terms, simply a family process.  We all have our stories, and a life journey.  But Tomball is in Harris County, Texas, about an hour northwest from Houston, and actually not far from Stagecoach, Magnolia, and Spring, Texas…if you want to go.
And how did he get to Corpus Christi, a satellite campus of Texas A&M University, on the Gulf Coast in Corpus Christi, on Texas' southeast coast?
"So, I wasn't high recruited out of high school (Tomball High School),"  he begins.  "And I just kind of rolled with the options I had.  So I took it as a chip-on-my-shoulder thing to get better, get stronger in the weight room, bigger on the field, and make the next step towards the next level.  I wanted to make a name for myself in Texas, and hopefully get some outside attention."
Did he do that?
"I think I did,"  he continues, with a grin.  "My freshman year was a learning experience.  My sophomore year was a little better.  And last year I had a breakout season, conference-pitcher-of-the-week twice, and able to become the ace of the staff.  It was another great learning experience to pitch against good competition from all over the country, and the enjoyment of playing at the highest level."
Transferring during the off-season, he believes that he has, indeed, arrived at that next level – the highest level – now as a Buckeye, following a junior season that saw him lead Corpus Christi (24-30) in innings pitched (81.2) and compile a record of 5-6 with a 4.07 earned run average in 15 appearances – 13 starts – against the likes of Utah, Lindenwood, McNeese State, and Nicholls State.
"They actually made me a pretty good offer to go back to Corpus for my final year, but I wanted to take the next step…to get to the highest of the highest and play at the Power 5 level, especially the Big Ten level.  I'm a risk taker, willing to bet on myself.  I want to play for a Big Ten championship, and play in a regional (tournament).  Those are my dreams."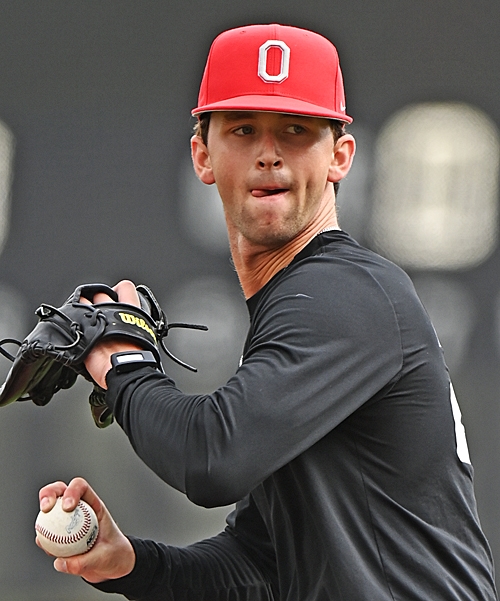 At 6'5″, and listed at 200 pounds, Buckeye pitching coach Sean Allen has welcomed Purcell to Bill Davis Stadium with open arms.
"He's a veteran presence, which we need,"  Allen listed on Saturday.  "He knows how to manage the game well.  He's a good strike thrower and you can tell that he's been through some battles.  The biggest thing is…he's been really consistent every time out this fall, and you know what you're going to get when you run him out there.
"He's a quiet kid, one of those leader-by-example types,"  he adds.  "He knows how to go about his business and you don't have to worry about him when it comes to his day-to-day preparation.  I think deep down…this is a place that he's always wanted to be.  He's got family in the area that are huge Buckeye fans.  He expects to go out there and pitch well, but so far he hasn't gone out and put huge pressure on himself because he's living out a dream.  He's actually enjoying that dream, and we'll see what comes in the spring.  But we anticipate big things."
He pitched one inning as the starter in Saturday's scrimmage…one of those days when pitchers miss location and get hit.  It was that one example, as Allen mentioned, of inconsistency this fall for Colin Purcell.  Fastball, curve, slider…it wasn't his best day, and one of those days if you're a pitcher at college baseball's highest level.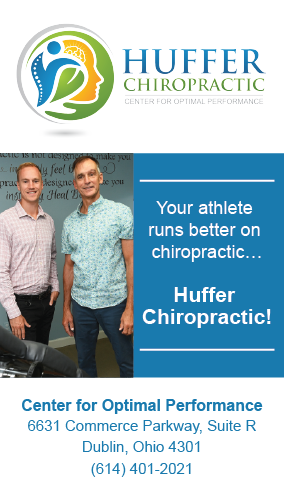 It didn't bother him, a symbol of his experience and knowledge of pitching.  Miss by an inch with your fastball and a routine fly ball can become a line drive off the wall.  To his goal of pitching against the best, he was reminded by the meat of the Buckeyes' 2023 batting order.
"It's one of those moments in baseball where you take it as information for your next start,"  said quietly, confidently.  "You just have to get back to it."
In that dream world Purcell will compete for one of the three weekend positions in the pitching rotation, and he knows there's competition, from both returning veterans and some impressive new arms in the program.
"The competitive nature this fall is a whole 'nuther world,"  he said Saturday, and impressed to be a part of it.  "This is pretty close to Texas college baseball…the depth here is as good as anywhere else.  The biggest difference is the weather.  I've had to get accustomed to wearing sleeves this fall."
He knows the numbers, aware of last year's pitching stats.  He's further motivated to have an impact in 2024, and you root for him – the courage to take that next step, a good soul whose life perspective is years beyond baseball.
"We keep it in the back of our minds,"  he says of fall progress with the pitching staff.  "There'll be a new mentality and mindset to improve from last year, every category in the stats.  Overall, what we can control is to go out and compete, one pitch at a time, your best effort to every hitter, and every pitch."
A dream come true…to be a part of that.