Ohio State doesn't need style points Saturday, just a victory against the Nittany Lions. Marvin Harrison Jr. might be the advantage the Buckeyes need to stay unbeaten.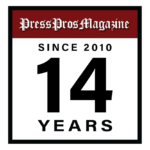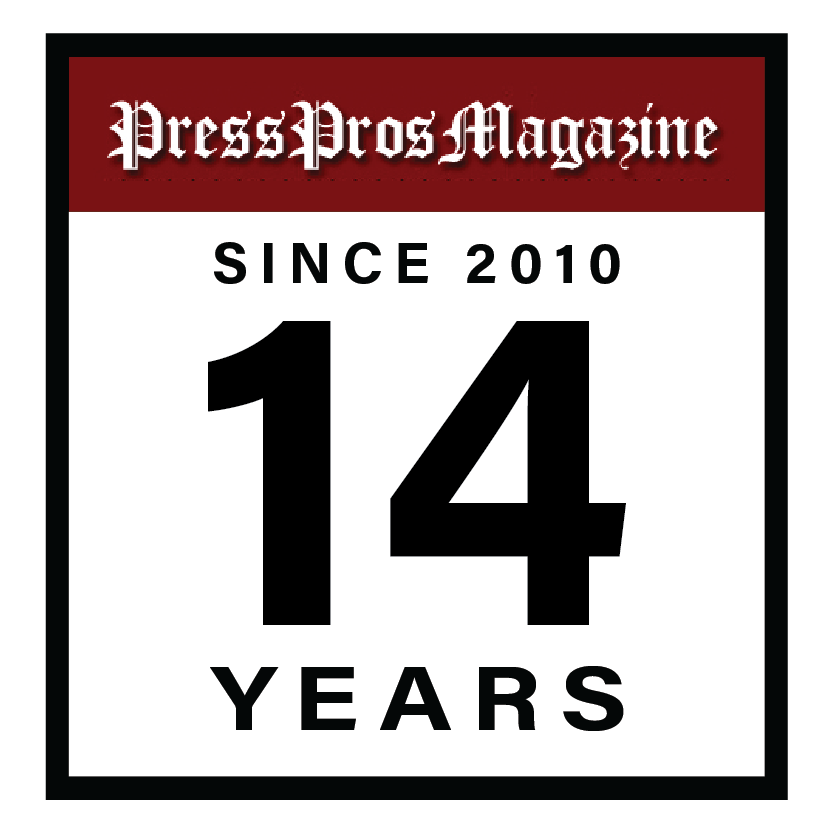 Columbus, OH – Marvin Harrison Jr. walked onto the field of Lucas Oil Stadium in Indianapolis on July 26 for the first time since he was little Marvin. He wore a gray suit, blue tie and blue and white Louis Vuitton shoes.
Blue? Yes, Indianapolis Colts blue.
As Harrison Jr. walked toward the table and microphone where he sat and answered questions for 32 minutes, he looked up and saw a familiar name in big letters on the Colts' ring of honor: Marvin Harrison.
"I wonder if that's coincidence that I'm right underneath my dad's name," he said.
Probably not.
A reporter asked Harrison Jr. if his blue and white designer style was paying homage to his dad, who played 13 Hall of Fame seasons at wide receiver for the Colts.
"Yes, that, and just to have some style as well," he said.
A closer look revealed a Rolex watch and Louis Vuitton bracelet and bag.
Before Harrison Jr. knew what designer fashion was, he saw his dad play. But his memories are vague at best. However, he remembers being in the stadium in 2008. That was the year it opened and his dad's last season.
"I'm just a kid at the time being amazed at how big the stadium is and the bright lights," he said. "I never dreamed that maybe I'd get an opportunity to maybe play in the Big Ten championship game or being in the stadium and doing Big Ten media day. I never thought of that at all. I was just a kid."
Harrison Jr. came to Ohio State expecting to play in his dad's stadium under his dad's name and those bright lights in Big Ten championship games. But Michigan earned that right the past two seasons by beating Ohio State. If Harrison Jr. gets a chance to play in the stadium as a college player, the journey to Indy begins Saturday at noon in a battle of unbeatens.
And in a game full of similarities, No. 3 Ohio State has at least one style of difference-maker No. 7 Penn State does not: the efficient and game-breaking Marvin Harrison Jr.
Both defenses have been stout. Both quarterbacks are first-year starters. Finding a stark difference is difficult. The game profiles as a low-scoring, defensive tug of war. But Ohio State's offense is statistically far more explosive because of Harrison Jr. A big-play, throw-it-to-Marv offensive identity could be a winning difference for the Buckeyes.
Harrison Jr. is 10th in the nation and first in the Big Ten by a wide margin with 100.7 receiving yards a game. He is 24th in the nation and first in the Big Ten at 19.5 yards a catch. Penn State's top receiver, KeAndre Lambert-Smith, averages 67 yards a game and 12.9 yards a catch.
More than any player in this game – based on what we know today about all of them – Harrison Jr. is the most likely to end up a member of an NFL team's ring of honor and in the Hall of Fame. Football games often come down to five or six defining plays. Harrison Jr. is capable of making two or three of those plays. He's done it before.
Penn State coach James Franklin spoke almost reverently this week about Harrison Jr. and his stylish play.
"No. 1, the thing that jumps out to me is his body control and ball skills," Franklin began. "He's got ability to contort his body into positions and catch the ball effortlessly. The other thing is he's just so smooth and fluid. You watch him on tape, and he looks like he's got good size, but when you see him in person, he's a big dude.
"He has consistently made plays. Obviously he makes the spectacular plays, but he makes the routine plays as well. He's obviously someone that we have to be aware of at all times, and we've got a ton of respect for him and how they use him."
Matching up against Harrison Jr. is more difficult than it was last season when he became a star. He lines up on the wide and narrow sides of the field. He lines up in the slot. He can play any style and look good doing it.
Penn State's defense is populated by future NFL players. Kalen King could become the program's first cornerback drafted in the first round. Cornerback Johnny Dixon and safety Keaton Ellis are rising draft prospects. And nickel Daequan Hardy could make it three cornerbacks drafted.
The Nittany Lions rank 79th in strength of schedule. But Buckeyes coach Ryan Day warns not to take a defense lightly that is plus-10 in turnover margin.
"You know what they are coming off last year," Day said. "They're a very, very good defense."
Harrison Jr. said the Lions look as good on film as anybody he's played against. Known as an extra-hard worker, Harrison Jr. put in extra time this week in the Woody Hayes Athletic Center because he dropped three passes last week at Purdue. Two were admittedly difficult, but he didn't care. He said he should have caught them.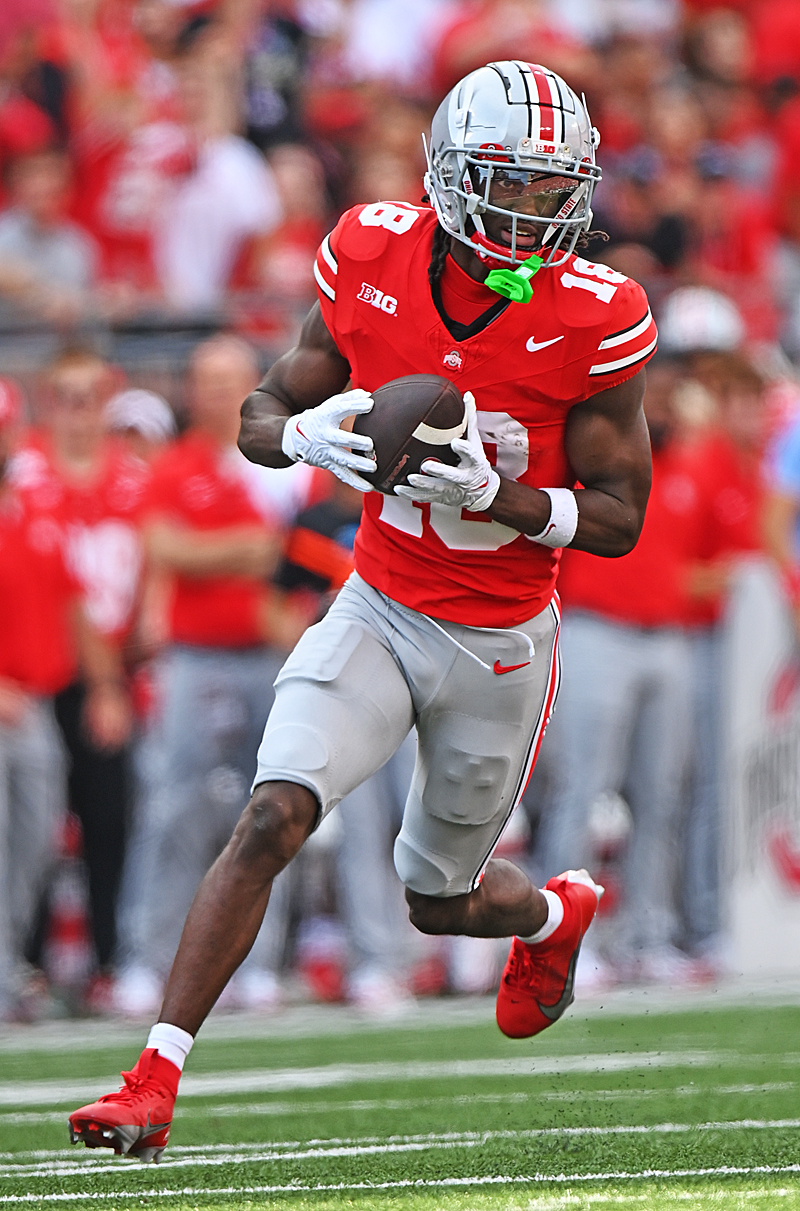 If Harrison Jr. catches everything Kyle McCord throws at him Saturday, he will feel much better about himself. A victory would be satisfying, but he will never be truly satisfied with his performance. And no matter how he plays he will be back in the Woody again changing things up to make sure those drops at Purdue don't happen again.
"I feel like I'm never playing up to my standard because the standard is perfection, and you can never be perfect," he said. "That standard is something that's never met at all. So I just continue to keep building and getting better. But I don't think there's ever a time where I'm playing up to my standard."
Harrison Jr. set a fashion standard last year against Wisconsin when he wore Louis Vuitton X Nike cleats. But it won't be the shoes – Louis Vuitton or not – making a difference if the Buckeyes win. The difference might be a Marvin Harrison Jr. performance Penn State has no answer for.
And he will most certainly do it with style.