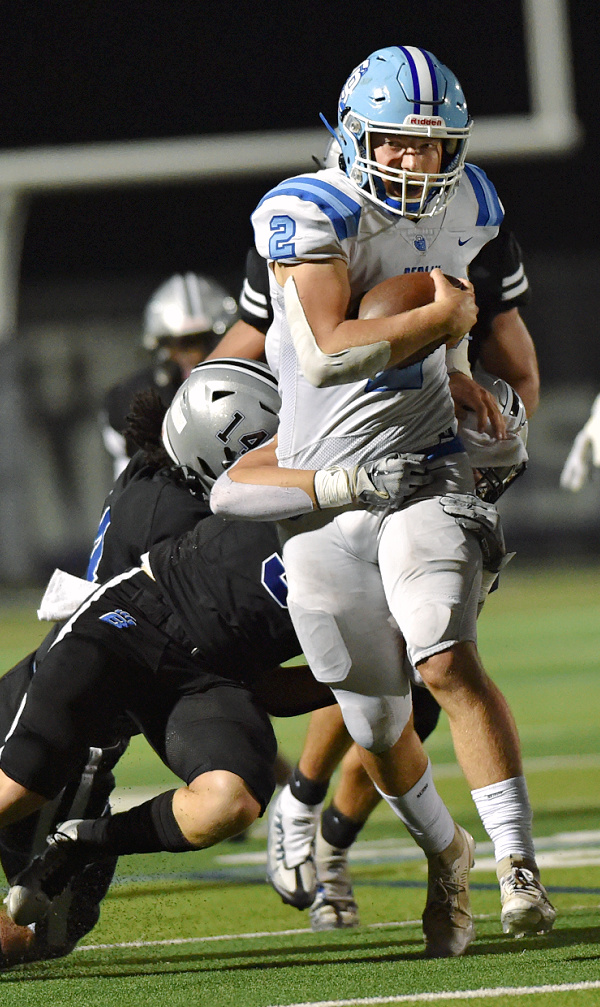 Berlin quarterback Harrison Brewster tried to rally his team from a two-touchdown deficit, but Bradley';s defense — like Damon Bordner on this tackle — held the Bears at bay. (PressPros Feature Photos by Sheri Hooley).
In a tight struggle between dueling dual-threat quarterbacks, Hilliard Bradley took advantage when Olentangy Berlin's attention to detail waivered ever so slightly, but just long enough to make the difference.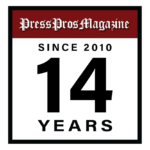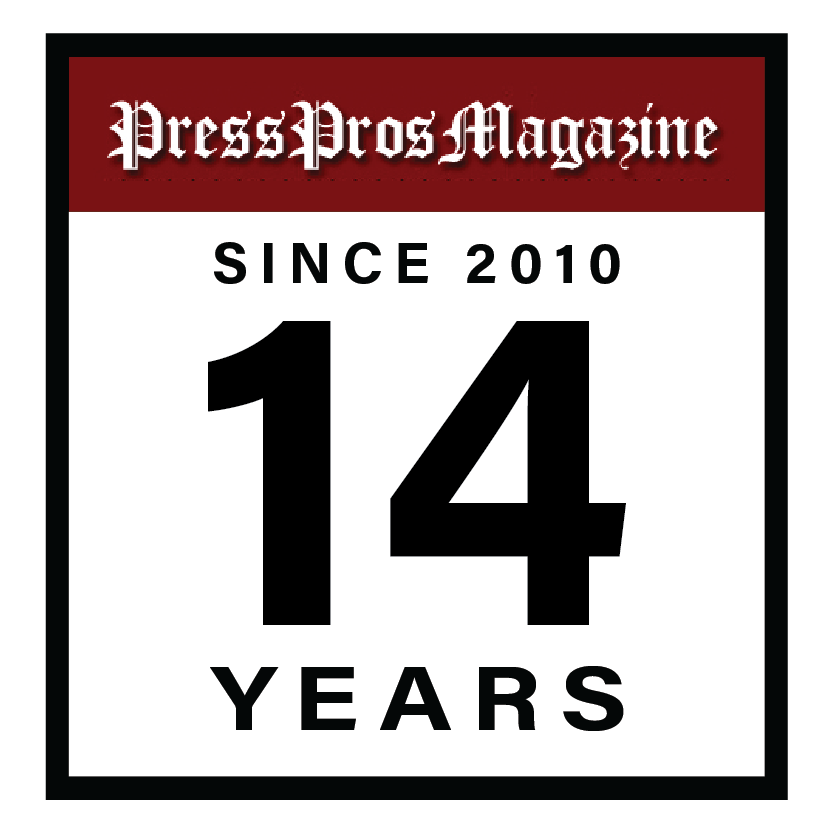 Hilliard, OH – There are much worse ideas than the one that detonated unexpectedly on Olentangy Berlin coach Mark Nori just before halftime Friday in the season-opener at Hilliard Bradley.
Selecting that 24-7 gas station burrito for breakfast or dumping every cent of your retirement in Silicon Valley Bank stock leap quickly to mind.
Down by a score with less that one minute left in the first half, Nori trusted his offense and veteran quarterback Harrison Brewster to rally the Bears from a momentary defensive mistake and instead doubled down on disaster to invite Bradley's eventual 20-13 triumph.
"We were getting the ball back to start the third quarter, so I wanted to stay aggressive," Nori said. "We had crawled back into it and tied the score. I thought we had an opportunity there. Sometimes, it just doesn't go your way."
Instead of going 80 yards to tie the score before halftime, then taking the third-quarter kickoff and scoring again to go ahead, Berlin compounded a defensive breakdown that allowed Bradley to take a 13-6 lead by throwing an interception that set up another Jaguars score.
"I was really surprised they gambled there," Bradley coach Mike LoParo said. "I was getting ready to burn timeouts to try to get the ball back. That was huge because we were able to get another score."
As has been the case the past two seasons, and will likely hold true again this year unless injuries intervene, whatever good things happen for the Jags will bear the fingerprints of three-year starting quarterback Bradyn Fleharty.
A Yale University commit, Fleharty dropped a 42-yard spiral from the clouds into the arms of senior Ethan Tebbets to erase a third-and-15 dilemma with two minutes left in the half and put his team at the Berlin six.
Two plays later, Flehary zipped a back-shoulder dart to Preston Wolfe for the TD, providing a 13-6 margin with 57 seconds left in the half.
That's when Nori – who'd opted for Spencer Conrad field goals of 22 and 24 yards in the second quarter when inside the Bradley 10 – bet it all on Brewster, his own three-year starter under center.
A dual threat magician, like Fleharty, Brewster threw his second interception of the game when Bradley's Terris Dudley picked off a second-and-10 throw from the 20 and returned it 29 yards to the Bears' 21.
"We trust in our defense a lot," said Wolfe, whose 28-yard TD catch midway through the first quarter put his team on top. "I think that's the strong point on our team right now. We have a lot of guys back over there."
As he did on the previous possession that broke a 6-6 tie, Fleharty converted another crucial third-down predicament to help get the Jaguars into the end zone.
This time, on third-and-five from the 16, he found Denis Shislo free in the left flat for 15 yards to the Berlin one.
After a Bradley timeout with 17.8 seconds left – LoParo's third and last of the half – Fleharty rolled right and split two defenders for a 20-6 halftime margin.
"He's our best player so we want to put the ball in his hands as much as we can," LoParo said of Fleharty, who moved into the district three summers ago when the offense at his former school in northern Ohio converted to the option. "The worry with that is, him getting hit. And he got hit pretty hard a few times tonight."
Fleharty, who threw for just shy of 2,000 yards last season while rushing for 412, finished the season opener with a team-high 40 yards on 14 carries and went 14-of-23 for 187 yards and two scores.
Brewster – a second-team All-Ohio selection last year after throwing for 1,500 yards and rushing for just over 1,000 – drove Berlin to midfield twice in the third quarter, only to face fourth-and-two and fourth-and-three on successive possessions.
"I was tempted to go for both of them," Nori said. "But I felt like our defense was playing well. I trust our guys. We have a weapon in our kicker, so I thought we could pin them deep and our defense would get us the ball back."
While the Bears held Bradley scoreless after halftime, Fleharty still made enough plays to milk clock and compound Berlin's comeback efforts.
His 38-yard strike to Ethan Tebbetts extended one series for valuable minutes and a nifty scramble near the six-minute mark converted a third-and-10.
Bradley's defense also came up big, pressuring Brewster into a fourth-down incompletion on a Bears' penetration to 27-yard line with nine minutes left.
He finally got Berlin in the end zone with a one-yard run at 1:43, ending an 81-yard march.
Bradley's Nicolaj Kisin fell on the on-side kick, however, which allowed Fleharty to kill another minute before the Jags punted back to Berlin and it ran out of time well short of being close enough to attempt a tying Hail Mary.
Brewster led the Bears with 36 yards rushing on 16 carries and finished 17-of-30 for 171 yards, with two interceptions.
"Everybody on our side shared in that loss," said Nori, whose Bears travel just down the road to rival Olentangy Orange in week two. "On third-and-15, the defense has to get off the field. We can't let them score a touchdown. Then the offense comes back and throws a pick. That's uncharacteristic of our kids. It's probably good some of that stuff happens to us, especially if it happens all at once instead of over several games."
Berlin bounced back from a season-opening home loss to Bradley last season to finish second in its division of the Ohio Capital Conference.
Bradley parlayed its early 2022 win over the Bears into a 3-0 start, then the bottom fell out, with six losses in seven weeks.
"It's very tough to start like that and then finish like we did last season," said LoParo, whose Jaguars visit rival Hilliard Darby next week. "Every game in high school is really difficult. Every team we play is well-coached and is very good. The margin is really thin out there, like it was tonight."