A house professional who bowls on tour about six times a year, Troy's Kyle Bigelow once again showed his ability to compete against anyone, anytime, Saturday in the opening qualifying round of the PBA Coldwater Classic.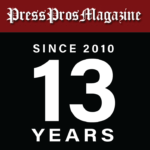 Coldwater, OH – It should come as no surprise if you know him…that Troy, Ohio's 'neighborhood pro', Kyle Bigelow was right in the mix and in the upper third of Saturday's first of three qualifying flights for the 15th annual PBA Coldwater Classic, sponsored by the Bowlerstore.com, in Versailles.
The operative word, in this case, being…if you know him.  Compared to Kyle Troup, EJ Tackett and others more notable on the PBA tour who are appearing in Coldwater this weekend, Kyle Bigelow is an unknown 'house' professional, but veteran of 12 years on tour.  How does he do it?  Well, for one, he gets all the free practice time he wants as proprietor of Troy, Ohio's only bowling center, on Dorset Avenue.  But being a small business owner, it doesn't leave much time for travel and competition on the Professional Bowler's Association national, or even regional, tours.
"Running the bowling center at home, and family, doesn't leave a lot of time for anything else,"  he said Saturday afternoon, after finishing 10th in a group of 30 bowlers competing in the first of three qualifying rounds at Coldwater's Pla-Mor Lanes.  "But I'll always come to Coldwater because of this bowling center, the Hartings family, and the way the people here treat us.  Age is catching up with me, but I'll still do it as long as I can."
While he doesn't rub elbows on a weekly basis with Tackett, Troup, and Jason Belmonte out on tour, Bigelow has long had a reputation for being one of the PBA's best executioners on the lanes…for his ability to make shots and score, as if on command.
"Frankly, he throws the ball as well as anyone out here,"  said a fellow pro at last year's Coldwater event.  "His 'rev' rate is right there with the best.  He just doesn't bowl enough on tour to be recognized."
And those words played true Saturday morning, in one of the tour's most difficult scoring venues, as Bigelow started with a 155 in his first game, then steadily climbed, averaging 201.75 through eight games, to finish tenth out of thirty, and squarely in contention with two qualifying rounds remaining for Sunday's semi-final round of 32.
In fact, Pla-Mor is so tough it not only has a reputation, but T-shirts printed in its honor – I got Coldwatered!
"I've heard that from other people,"  he smiles.  "But I started late on the tour when I was 35, I had a kid at a young age, I just couldn't go out and do it, and frankly if I had started in my 20s I probably would have made a career out of it.  And now, if I put a little more practice time in, it would probably be the same.  But I have other responsibilities, and I just can't do it on a regular basis.
"Coldwater, as I said, is an exception.  I'll always come here because of the reputation of this building, the Hartings family, and the fact that for one weekend I really enjoy the competition and testing myself."
If you know him it comes as no surprise.  We've covered that.  But Kyle Bigelow stands out for more than just his ability to throw a bowling ball and compete against the game's best on demand.  One, he's one of the tour's really good personalities, mingling with other bowlers and fans, even between frames;  and two, for the fact that despite not bowling competitively a lot, he has the uncanny knack of bowling with 'feel', and 'touch', and being able to adapt to the toughness conditions possible, as Pla-Mor Lanes, in Coldwater, is known for.
"I really don't know a stranger,"  he laughs.  "I'll talk to anyone, and that's just me.  But when you bowl here in Coldwater you, in my opinion, have to keep your mind away from the last shot.  If you worry about every bad shot you throw, you'll go crazy in this place.  So you have to separate yourself from that by talking to fans, and other bowlers, and try to have the best time you can.  It's just tough here.
"And I've always been a 'feel' bowler.  I don't go by the numbers on the bowling ball, or the differential or stuff like that.  I watch the ball roll down the lane, I see what I see, and I make my adjustments from there.  When you throw two bad shots, you have to make the adjustments.  It's all about hand position and definitely a matter of feel for me."
It's no fluke, or beginner's luck…or even catching lightning in a bottle with Bigelow.  In last year's Classic he survived the qualifying rounds, the semi-final rounds, and was one of the final eight, finishing just out of the step ladder group of five bowlers competing for the $10,000 first place prize.
"It gave me a lot of confidence to come back here this year and compete,"  he says.  "I'm probably in the ten spot from this morning, still, because I was as high as eight but a couple of guys had big games at the end to go past me.  I'm probably between ten and twelve, but I feel like I have a chance to be in that group of 32 for tomorrow's round.  I love bowling here, because of the people and the challenge, and the bowling center equals out the field.  Some really good bowlers are going to struggle, and some guys like me are going to be able to sneak through, and I feel real good about my chances this year."
He turns 50 in another year, and for his innate ability to compete he laughs at the prospect of competing on the PBA senior tour next year and taking his chances for at least a year on a regular basis.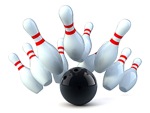 "Wes Malott, who's a year younger than me, and a hall-of-famer, told me I should do it for a year,"  said Bigelow as he packed his gear after Saturday morning's 8 am qualifier.  "But he said, 'I'll give you a year, then I'm coming after you.'  I'd have to bowl my brains out.
"I'd have to get what I can get before he gets here,"  he laughs.
The serious bowlers in the Miami Valley who know Kyle often refer to him as the 'neighborhood's' pro, for his commitment to his business at Troy Bowl, to family, and for his acknowledgment that the PBA tour, like the PGA, or any other daily competitive grind, has more down days than up.
"That description fits me to a 'T',"  he smiles.  "Look, I've been a pro for 12 years and my dad taught me one thing a long time ago.  If you want to be a good bowler…one you've gotten your PBA card you're that much ahead of the game."
If you know him…who can argue with Kyle Bigelow?