After one more season and 10-plus months under the athletic director that hired him, head football coach Ryan Day hopes for the same relationship and alignment with the next athletic director replacing Gene Smith.
By Jeff Gilbert for Press Pros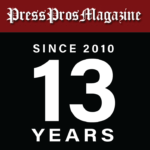 Ryan Day's mind never stops working, especially in August. So many decisions to make, so many conversations to initiate, so many challenges and opportunities to meet.
So it's good for Day, and by extension the entire football program, that the calendar will give him almost 11 months to prepare for a new boss. Gene Smith, the man who entrusted the program to him when Urban Meyer left after the 2018 season, will be enjoying retirement as Day prepares for the 2024 season.
Football, the sport Smith played at Notre Dame, brought him some of his greatest moments in his 18 years so far as the Ohio State athletic director. But his first two head football coaches also put him in fourth-in-long twice with the future on the line. And he had no choice but to punt.
So far life has been free of controversy with Day. They have managed Meyer's suspension and departure, the Covid season, the advent of the transfer portal and NIL, and more conference realignment. Day has every reason to be confident in his future. But a new boss starting July 1, 2024, could be the biggest change for Day. He's had it good under Smith.
New ADs come in with new ideas. Sometimes those ideas are about who should coach, especially the high-profile programs. Smith loves the job Day is doing on and off the field with the program, but Day must keep the new AD happy because the new boss isn't always the same as the old boss.
Smith was asked about how important it will be for his successor and Day to be compatible and like-minded. That will matter to Day, and it will matter to the entire program because football will always be king at OSU.
"That is critical," Smith said. "Ryan and I are aligned like it's never been. We've got an emotional tie because we share a lot of beliefs. He's just a good human being."
Smith will miss his regular football conversations with Day. They talk about the competitions for playing time, the evolving football industry and whatever else comes up. Smith also enjoys those talks because he says Day is smart. The problems, whatever they will be, won't be Smith's to solve. But he sure hopes football will continue its current path under his successor.
"That alignment has to exist – you can't have conflict there," Smith said. "And I look across the country, and all of you can see, 'Oh, they're not aligned.' I'm going to miss him when it's all said and done. He's the real deal."
Day stood at the same podium a couple hours later and talked about alignment – not realignment (he's leaving that to Smtih and others while he's deep in thought and film study about who plays left tackle, right tackle and quarterback).
"Constant communication and alignment is critical," Day said. "I felt like he and I were always aligned, and that was very important. I see across the country that isn't always the case, and I never take that for granted. Being the AD at Ohio State isn't easy. Being the head football coach at Ohio State isn't always easy. There's a lot of stuff that comes at us, but we stuck together."
No coach and AD will agree 100% of the time. But relationships like Smith and Day have made those times palatable and resolvable for both.
"A couple of times we disagreed on something but had great conversation and worked through it, challenged each other," Day said. "We just had a great relationship. Not only working relationship but also just as friends."
Day's appreciation of Smith began in earnest in 2018 when Day was named interim coach for the first three games of the season during Meyer's suspension. When Meyer retired at the end of the season, Smith knew his next head coach, even if it meant he would be a first-time head coach, was already on campus.
"What I owe, and my family owes him, I can't even really verbalize," said Day, who is 45-6 with three playoff appearances in four seasons. "When you leave some place, you want to be able to talk about the impact you've made on people. There'll be a lot of people that talk about that for sure. I'll be one of them."
Most coaches talk about other coaches they worked under or played under as mentors. Day has his coaching mentors to be sure. He didn't use the word mentor Wednesday, but he spoke about Smith in those terms.
"He'd come on a Friday morning and we'd talk about that game and he'd give you different bits of advice, whether it's how to manage people or what's coming down the road," Day said. "What to stay focused on, what not to listen to."
Day said Smith's support allowed him to have confidence to do his job because Smith believed in the values Day embraces in running his program. And he is appreciative that Smith has been at the forefront of paying assistant coaches well enough to afford what he calls one of the best staffs in America.
Whether you agree with every move Smith made from moving on from Jim Tressel, to hiring Meyer, to moving on from Meyer, to his role in conference realignment, his support of Day allows his coach to focus on football. Day is not looking over his shoulder, he's not making decisions to try to prove himself to his boss, he's not distracted.
The success of the football program from 2024, even at a place like Ohio State, is not immune to the mistakes of high-level leadership. Football prowess depends to some degree on who the next AD is. Will that AD let Day do his job? Will that AD get in the way? Those are true concerns in any job. For Day, Smith has been the perfect boss.
"I'm hoping with the new AD we can build the same relationship," Day said. "I know that [Gene] wants this to go really smooth."
If so, Day won't have to worry about the transition. He can just let his mind work on coaching stuff.