Ryan Day doesn't miss when he chooses a starting quarterback. But…will his next one at Ohio State be Kyle McCord or Devin Brown?
By Jeff Gilbert for Press Pros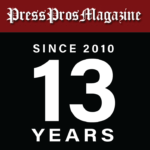 Columbus, OH – Cameras record every movement on the practice field. Then coaches and quarterbacks watch those movements over and over on iPads and big screens.
They point at the screen as they watch each rep. They tap or hit the rewind button and watch it again, looking for whatever they can find to take back to the practice field.
They discuss. They obsess.
In your job, you would call it micromanaging. They call this obsession attention to detail, picking apart mechanics and decisions. It makes players, coaches and teams better. It's the painstaking process for picking a quarterback.
Such is life these next couple weeks for Ohio State coaches and quarterbacks. The coaches know Kyle McCord and Devin Brown are talented enough to play. But what they don't know for sure, what gives them pause, what makes them watch those practice videos one more time is trying to discern how each quarterback will respond to stressful situations on Saturday with millions watching.
"They know the system," head coach Ryan Day said. "But now they've got to go play, and when do you really know? Once you start playing games."
Sooner or later – and sooner is what Day wants – the coaching staff must name a starter for the opening game on Sept. 2 at Indiana. Day has never missed on naming a starter. In his coaching career pre-Ohio State and Ohio State, his one-year starters succeeded. And his two-year starters – Justin Fields and C.J. Stroud – played great in year one. He knows a starter when he sees one.
"You're seeing things in practice that you're projecting to say, 'OK, we think that based on what we're seeing in practice, that they're going to do well in games,'" Day said.
Day said he believes both can play at starter level. He said both might play, at least early in the season, if he doesn't see enough separation between the two. He wants both to be ready because injuries are part of the game.
"You think about the year that the national championship was won here, it took all three guys," he said.
Day and quarterbacks coach Corey Dennis have a message for the four guys in the QB room.
"We need to be the best quarterback room in the country," Day said. "And whoever's playing, the other three guys need to support him. And they need to keep pushing each other to be the best room."
Kyle McCord….If there is a favorite to win the job, it's McCord. This is his third year. He started against Akron and won as a freshman when Stroud needed a week off to rest an ailing shoulder. He's even appeared on Heisman lists.
McCord followed Day to the podium last week on the eve of the first day of practice. As the most experienced of the two, that's been the pecking order. When asked about how he's preparing, he talked about the stuff outsiders find boring: Control what you can control. One day at a time. Get better every day.
Cliches or not, that's the job. That's the reason for staring at screens for hours.
"It's easy to get caught up in the big picture," McCord said. "You don't make any progress doing that."
McCord doesn't watch only himself. He's gone into the archives to watch J.T. Barrett, Dwayne Haskins, Fields and Stroud.
McCord's film-study mission: turn every weakness into a strength, learn the best ways to execute plays and situations and build confidence.
"No one will ever put higher expectations or a higher standard on myself than I will," he said. "You have to go out there and play with a lot of confidence, obviously, and hone in on every play."
McCord came to OSU with high school teammate Marvin Harrison Jr. That might have been part of the attraction, but Day is the reason McCord is a Buckeye.
"His track record obviously speaks for itself," McCord said. "You look at the guys that have stuck around at this program, they all go on to do really good things. Even though it didn't happen exactly right away for me, I knew that it was a marathon and that if I stuck around and trusted the process and kept getting better that I would put myself in a good position."
When McCord talks you hear evidence he is listening to his head coach. How many times has Day said something like the best decisions a quarterback makes are often the throws he doesn't make. Day's QBs, on average, hit 40 TD passes in a season and keep interceptions to around five.
"Sticking to the routine plays," McCord said. "And when the opportunities present itself to go out and make a big throw or make a big play, that's when let your talent be put on display. Just getting in the flow of the game is important."
Day wants more than a game manager who is afraid to push the ball down field. But he also wants his quarterback to manage the game intelligently and let his receivers and running backs catch a simple pass and make more out of it.
McCord seems to understand that idea. The stigma that follows him is that he isn't mobile, can't do anything positive as a runner.
"I feel like I'm good at that," McCord said. "And I feel like I can stand up here and I can say whatever, but at the end of the day, I think the film will speak for itself."
Devin Brown…After McCord spoke, Brown took the second reps at the podium and faced the blitz. He was asked if he and McCord are different versions of the same player or does one do some things better. He didn't completely sidestep the rush.
"Everybody has different skill sets, not everybody's the same quarterback," he said. "I would say I'm a little bit more athletic than Kyle, but we both got strong arms, both can make plays. And he's been able to make plays with his legs, too."
While experience is on McCord's side, the athletic difference and running ability have been the known differentiators for Brown. Who reads the defense better, who makes better decisions, who leads better and who competes harder are skills and traits for the coaches to discern.
Brown got behind on reps when a finger injury knocked him out of spring practice right before the spring game. He brushed off the possible effect of that missed time and is healthy now. Known as the more naturally vocal of the two, Brown said he made efforts to continue to lead in the locker room and weight room.
Whatever Brown thinks about the momentum of the competition, he's not saying. He was asked if he thought the race was even the day before the first day of practice.
"None of that's even crossed my mind," he said. "I'm just trying to go out there and help this team win. Whoever it is, we're just trying to be the best versions of ourselves every day."
Like McCord, Brown says he understands being the quarterback means doing his job and not trying to do everyone else's job.
"The biggest thing is not making it too big of a deal and trying to force things, or I need to make this kind of play or something like that," Brown said. "It's just doing my assignment."
Gebbia transferred this year with no expectation of being the starter. He is a seventh-year senior because of the extra Covid year and injuries. He stayed one year at Nebraska before transferring to Oregon State where he started four games in 2020 before injuring a hamstring. He sat out 2021 and threw five passes last year.
However, Gebbia's leadership abilities are evidenced by being a three-time captain at Oregon State. He wants to be a coach, so he decided what better mentor than Ryan Day.
"Coach Day is super detail-oriented," Gebbia said. "It takes a lot to be a coach in a program like this. I've been very impressed so far. Working with him day in and day out it's surprising how approachable he is and how much he wants to pour into you. I really love that."
Gebbia said quarterbacks never stop learning. And it's in Day's details that he continues to learn.
"Even something like as little as ball carriage," Gebbia said, then went on to demonstrate the importance of carrying the ball high when running to improve passing accuracy. "Something so small, but it helped me a lot."
The guys ahead of him on the depth chart appreciate Gebbia's presence in the room.
"Tristan has been an extremely incredible resource for us," Brown said. "This offseason I've grabbed Tristan every day and gone into the quarterback room and just watched tape. We've been watching tape of him at Oregon State, doesn't matter what we're watching. He's always given insight to different things that he did and different ways he performed, and he's given us a lot of tips that have been really helpful."
— — — — — — — —
Regardless of who ascends to the job, whether that happens this week or takes some games to fully determine, there is clear confidence from the head coach down that the Ohio State offense rests on a capable arm and mind.
And Day, who will still worry until his decision is proven correct, will almost assuredly have another QB on an NFL path. If it's McCord, and Brown sticks around for his turn and follows that path to the pros, this might be the most talented quarterback room in the country.
So Day continues to push them. The stars attached to their recruiting profiles don't matter now.
"You gotta go put it on the field – it isn't just going to happen," Day said. "I think these guys understand anytime you're going to be the quarterback at Ohio State there's a lot of pressure."