The Professional Bowlers Association tour comes to Auglaize and Mercer counties for the next two weeks…and may be as important as any two weeks on the sports calendar year to one of most overlooked class of amateur athletes in our midst…and maybe one of them is yours!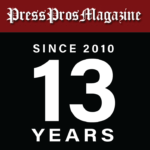 They won't get nearly enough attention from the media, but kudos to those like Gary Rasberry and a couple of others from area papers for faithfully writing about it in past years.
What is it?
This week's Kremer Roofing Classic, and next week's Bowlerstore.com Classic, when the Professional Bowlers Association tour comes to Minster and Coldwater for hometown professional excellence at its finest.  To better illustrate, in professional golf terms think of John Rahm, Rory McIlroy, and Scottie Scheffler coming to Arrowhead (in Minster) or the Elks course (in Mercer County) and playing for $2 Nassaus, and you get to watch for free?
Question:  Would you do it?  You bet you would, and that opportunity is available to you this week, only with names like E.J. Tackett, Anthony Simonson, and Shawn Maldonado…the same PBA touring professionals you watch on Fox Sports and ESPN on Sunday afternoons.
The Kremer Classic, sponsored by Kremer Roofing, in Versailles, kicks off Wednesday at Community Lanes, in Minster – the third installment of the event in its short history.
And the Bowlerstore.com Classic, sponsored by the Bowlerstore.com, in Versailles, has its 15th anniversary next week at Pla-Mor Lanes, in Coldwater.
If you think it's routine, think again, especially in a community the size of Minster and Coldwater.
If you don't think you have to have some pull, or pull out the stops, to get 72 of the world's best professionals to prioritize their schedule to come to Minster instead of Miami Beach, think again…again!
"Actually, it's easier in year three than it was at the beginning,"  says Community Lanes proprietor, Doug Davidson, himself a former PBA touring professional.  "By now our staff has taken the bull by the horns, the organization and pulling everything together, while I still do the publicity and the marketing.  And the Coldwater event next week has helped because it's more established.  The guys who have come here for the past 15 years know they're going to be treated well, and that helps for a mid-week event like ours.  We have a full roster of bowlers and for a mid-week tournament of any kind to be full is pretty special."
What's really special, especially this year, is to have the world's #1-ranked bowler on hand for both events.  Bluffton, Indiana's E.J. Tackett, is already a five-time winner in 2023, and a two-time major winner, having won the U.S. Open in February, and the PBA World Championship in April.  Career-wise, he owns 21 tour titles and is a former PBA Player of The Year Award winner for 2016.
Tackett, along with names like Simonson, and Maldonado, comprise a steep step in challenge for local pro Michael Davidson, from Versailles, who's had an up-and-down year on the tour.  But if you're ever going to have an 'up', why not this week – or next – in your own back yard with your own personal cheering section.
"There's pressure,"  smiles Davidson, still a varitable newcomer to the PBA tour after five years.  "I'd love to come out here and do well in front of familiar fans.  But you have to put your shoes on, put the pressure behind, and go to work.  Yeah, it would be awesome to be on the stepladder on the final day.  I'd love to win and make people proud and happy – family and friends."
But an ancillary ambition of Doug Davidson, wife Lori, and son Michael has always been to make an impression on the next generation – that if you want to bowl, you can. Amateur bowling, amongst the other, more highly-profiled sports, has long been overlooked in terms of its relevance.
But those like Davidson, Springfield's Chris Via, and Urbana's Graham Fach (who won last year's Coldwater tournament) are living, breathing examples…that if you want to make a living at it's possible,  if you're committed and do the work necessary to bowl with the very best.
"When we looked at buying a bowling center it was in our minds to someday host a tournament,"  says Davidson.  "Because, we thought it would be cool to have one or two kids get excited enough about bowling to want to compete as a professional, or impress a few adults to just come out and watch."
"I was twelve when the Coldwater event first started and the guy that I got to meet and talk to back then was Parker Bohn (a PBA hall of famer),"  says Michael.  "He was great to spend some time with me, give me some advice, and years later now we're good friends out here."
It's still that way.
"I've known E.J. (Tackett) and Ronnie Russell for years, and that relationship has been very helpful in getting them to make Minster and Coldwater part of their schedule,"  adds Doug.  "I was a veteran and just finishing up on the tour when Ronnie was coming up and the next big deal, so there's still a commitment to the next generation of bowlers, that way."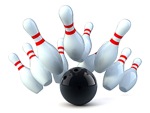 "And it helps when they feel appreciated.  That's the best part about coming to a place like Minster and Coldwater,"  adds Michael.
Wednesday's qualifying round at Community Lanes begins at 9 am for the morning flight…and approximately 1 pm for the afternoon flight.  A full day of action from the best in the world, and according to those we questioned…on one of the most challenging stops (this week and next) on the PBA calendar.
And…it's free!