Ryan Day once proved to Chip Kelly that he could be the man. Now Kyle McCord and Devin Brown are trying to prove to Day that they are the man to lead Ohio State's offense.
By Jeff Gilbert for Press Pros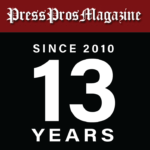 Columbus, OH – Before Ryan Day set passing records at New Hampshire, he had to prove he could run head coach Chip Kelly's version of the spread offense.
Day, a sophomore, pushed through three weeks of August practice and a final scrimmage wondering if he was better than his older competitor. Day won the job, but he wasn't finished proving Kelly made the correct choice.
Through his early games, Day's interceptions outnumbered his touchdowns.
"I got myself a little bit jammed up early on trying to be perfect," Day said Wednesday on the eve of Ohio State's first practice. "You start making interceptions because you're worried about being perfect instead of just going to compete and playing."
Day figured it out, kept his job and became Kelly's imperfect, yet highly productive, protégé. Now quarterbacks are lining up to be Day's protégé. As third-year Kyle McCord and second-year Devin Brown compete this month to be the next Ohio State starting quarterback, they will continue to be evaluated by a head coach who doesn't have to imagine their feelings.
Day also knows the feeling he wants to be convinced of as soon as possible. He's said it every time he's been asked about the QB battle since the start of spring practice.
"If you're asking for an ideal situation, you'd love for somebody to emerge here the first couple of weeks," he said. "Then they're taking the majority of the reps with the ones as you head into game week."
The evaluation process for Day, new offensive coordinator Brian Hartline, quarterbacks coach Corey Dennis and senior advisor/analyst Todd Fitch is layered. As McCord and Brown split first-team reps, not one statistic, one trait or one gut feeling will coerce a decision.
When the QBs are on the field, everything they do in every 7-on-7, every scrimmage session and every other competitive drill will be charted.
"I can't sit here and tell you there's a certain statistic or analytic that we can say, 'Yes, this is going to be our guy,'" Day said. "We want the most competitive guy on the field, and it doesn't happen overnight."
Day has said in the past that leadership, which is fueled by competitiveness, matters most. Both QBs have different styles. Brown is considered more vocal and outgoing. But McCord, now that Stroud is gone, says he feels freer to be more vocal and embraces the role. The best leader isn't necessarily who says the most or says it loudest.
The coaches are watching McCord and Brown interact with teammates and noticing attitudes and body language in the huddle, on the sideline, in the locker room, in the weight room and in the position room.
"There's the eyeball test of just what do you see when someone walks in the huddle before a drive, or that third-and-three or in the red zone when the game's on the line," Day said. "What's that going to look like? Because to me, that's where quarterbacks are at their best, when you have to win the game. They're the most competitive guy on the field."
Day knows what a starter needs to look like when he reflects on the quarterbacks he has coached at Ohio State. He said he saw it in Dwayne Haskins during a shootout victory over Maryland. He saw it in Justin Fields when he came back from a jarring hit in the ribs to beat Clemson in the playoffs. He saw it from C.J. Stroud in the way he attacked Georgia last year in the playoffs.
"Ultimately you just have to go compete," Day said.
Day was asked last week at Big Ten Media Days and again Wednesday if he would consider playing both quarterbacks early in the season. That's clearly not his preference, but he said again he would if necessary.
Experience tells Day that no quarterback is fully ready to be the man until he plays at least a game or two, maybe more, and quickly harmonizes with the rhythm of the game. He needed a few games when Kelly handed him the offense, and he's seen that same pattern as a coach.
In 2021, the Buckeyes opened with a 45-31 win at Minnesota. Stroud threw for 294 yards and four touchdowns in his debut, but Day didn't enter that game thinking that kind of a performance was a given. The first pass play was a short throw designed to get Stroud a completion to help his confidence. And Stroud executed the play.
"To say we went into that Minnesota game with C.J. saying that he was going to be a Heisman Trophy finalist in two years, that wasn't true," Day said. "You just kind of figure it out and you keep growing and you keep building."
In Stroud's second game, the Buckeyes were stunned in a 35-28 loss to Oregon in the Horseshoe. Stroud threw for 484 yards and three touchdowns, but Day said he put too much on his young quarterback.
"We should have played better defense and run the ball – we didn't," Day said. "He threw for over 400 yards, but he's getting a hard time after the game on social media. That was not C.J.'s fault. That was our fault. You learn from those type of things, but I think that's all part of bringing along a young quarterback."
The Buckeyes face a difficult schedule, but the season begins favorably for breaking in a new starter as it usually does. They start with their Big Ten opener at Indiana before tune-up home games against FCS Youngstown State and Conference USA favorite Western Kentucky. Then, if it hasn't already (which it's not supposed to), it gets real on Sept. 23 at Notre Dame.
Where will the quarterback situation stand when it's time to play the Irish? Day won't speculate. The last thing he wants to do is put extra pressure on either quarterback. Day has said more than once he's looking for one of them to emerge. But it's not because he lacks confidence in either of them.
"What's hard is when you don't have quarterbacks who can play," he said. "What's easy is when you have guys who can play, and you've just got to figure out who the best one is. But to say that they're ready to play right now, I don't know.
"I have a feeling that both guys are going to be starter level. Right away? I don't know. Halfway through the season? I don't know. And I don't know how the journey is going to go. It's a good problem to have if you have a couple guys that you feel like you can put into a game and go play. But we're not there right now."
So the evaluation of who the next starter will be continues. Day and his assistants will watch them throw to a group of receivers that would help any quarterback look good. They will watch them off the field. They will make mental notes. And they will pay close attention to how each one relates to his teammates.
"Those guys have to believe in the quarterback," Day said. "It starts in the weight room, and the guys see the work that's put in, they see the leadership and the ability to stand up in front of a group of guys and project and talk to them and lead them. It's not all on the field, but certainly, ultimately, that's what it's going to come down to."
And for the Buckeyes to be a true national championship contender, it might also come down to the next Ohio State quarterback being a Heisman finalist and playing like a future first-round draft pick.
"That's been the standard set and we've got to keep building on that," Day said. "Just because you're the quarterback at Ohio State doesn't mean that all those things are going to happen. It takes a lot of hard work."
And not trying to be too perfect.