It takes all kinds to make the world go around, or even to help with the promotion of this week's PBA tournament at Community Lanes in Minster.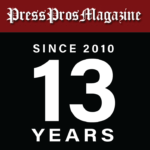 Versailles, OH – If you ask Jeff Kremer about why he chose to be the naming sponsor of this weekend's PBA tournament at Community Lanes in Minster, you get a wry smile and short, concise answer.
I know.  I asked him last week, because roofing contractors don't usually sponsor bowling tournaments.
"Well,"  said Kremer, who owns Kremer Roofing, an industrial roofing company on Murphy Road, outside Versailles, "I wanted to.  I think it's a good thing for area bowling, and I think it's a good thing for kids just starting out in bowling, as an incentive to practice, become competitive at the sport they like."
Kremer is a bowler, and a good one.  So he kind of understands the struggle to make your way to the top of the ladder.
"I never bowled until I got out of high school.  I played football," he said last week.  "But I took it up as an adult and really enjoy the sport.  I probably have about a 200 average.
"But I recognize the niche' that bowling provides for kids who aren't the kind of athlete that can play football – that aren't big enough or fast enough.  Kids who bowl love it, work hard at it, and I think this is a way for me to give something back to them.  Come and watch the best in the world."
And, it's a way to give something back to the community, and a fellow small businessman, in Community Lanes owners Doug and Lori Davidson.
"I think it's important,"  says Kremer.  "I think small business needs to support each other, help each other, and be there for events like this.  Doug has a business here in Versailles, and I wanted to help."
For more information on the Kremer Roofing Classic go to the Community Lanes website, online:  www.communitylanes.com.  Dates are Tuesday, August 8 through Thursday, the 10th, and everything under one roof at Community Lanes, on 3rd Street in Minster.  And the best news yet….it's free!
It's a good thing, made better by a guy named Jeff Kremer.