From the left coast I answer those who believe we're behind on our pre-season football writing.   If you are curious, just read on.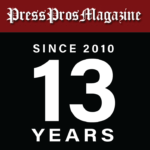 If you're accustomed to reading about pre-season football on Press Pros the last 13 years, you're about to notice to a few changes – what I've learned over those 13 years, about kids, football, and how quickly things can change.
Like, the school they played for last year isn't necessarily the school they'll be playing for this year.  As much as we talk about it presently the 'portal' has been around for years in high school football.  Dad gets a new job, you know.  And voila'.  All it takes is for a new, better, quarterback to move in.
It happened to Arcanum last year when Bryce Schondelmyer moved to Springfield because he wanted to play against bigger competition – to see if he could.  To see if it helped his recruiting opportunities.  It was all on the up and up according to the rules, and it worked out for Bryce, who took Springfield to the state finals in Division I.  It didn't work out so well for Arcanum, who finished 3-7.
Thankfully, for the sake of predictability it doesn't happen often, that way.  And for our purposes in writing pre-season, it doesn't happen that often among the area schools we cover.  So with just enough specifics to troll you on, here's five teams I'll start with, knowing that by week four the forecast may be something completely different.
Just one more day – August 1st- and we're officially on.
Number one…is Marion Local, of course.  There are two camps of people regarding the remarkable record and legacy of Tim Goodwin and the Flyers.  One, people who say that something has to be up with a static community where nothing ever changes except who takes the snap and the #1 option are running back.  Two, are those people who admire the consistentency, and the commitment of Marion football – who steps up and continues the tradition?
They lost some big people last year from their offensive line and defense – and they lost starting quarterback Tate Hess.  But 'the bigs' have always been the part that Goodwin says he enjoys working with the most.  It's the position he once played.  "And it always seems to work out,"  he says.  No argument, because if you're at least kind of aware you know that featured running backs (at least two of them) are back – Kyle Otte and Drew Lause.  And there's enough experience  from returning players that some of the offensive guys will move over to play defense and be just fine by week four.  Will they have six shutouts again?  Don't know.  But this is what keeps you coming back for more, if you're part of that second group.
If you're part of the first group.  Guaranteed, something's going to be up for you to question…again!
My number two…in this case, is Minster. For sure.  Coach Seth Whiting has a remarkable gunslinger at quarterback (Brogan Stephey) who threw for almost 2,000 yards last year, and a lot of people believe that's just the overture to the opera.  Because, Stephey has a corps of receivers back who caught all those passes then, and they're sure to catch a lot more this year.  Stephey is apparently recovered from surgery, he's mobile, and James Niemeyer, Devan Wuebker, and Chase Couse caught a hundred between them.  And there's more, in case you worry about depth.
There two questions.  One, will Minster be good enough to challenge Marion Local, because, you know…they are Marion Local?  And two, will Minster be threat enough on defense to keep people out of the end zone?  Minster finished last in team defense last year, so we're not making stuff up.  I'm telling you….it's going to be fun!
My number three?  Given what they did last year – won all the way to the state semi-final game in Division III – everyone is dying to see if Tipp City and coach Matt Burgbacher are the real thing, or that one team during one magical season that becomes legend for the next twenty five years?
This part sticks out.  Even with graduation and the loss of some very good players, Tipp has over 100 back in their program for 2023.  The starting quarterback is gone, some of that running back talent is gone, and Division III's best kicker, Jackson Kleather will be kicking for Bowling Green this year.
But hey, when you've got a hundred kids that you develop…there has to be talent and competition to play.  Will they be ready for Bellbrook on week 1?  Don't know yet.  But common sense tells you that there's enough competition for playing time to find the right people by week three, or four.  I'm not ready to write them off because Liam Poronsky (QB) and Jackson Kleather are gone.
My number four?  I am, again, intrigued by the Anna Rockets, and returning quarterback Alex Shappie.  To make it brief, I saw them twice last year, saw noticeable improvement, and just like the way coach Nick Marino goes about his business.
I could be way off here with the Rockets.  By Shappie finished third in passing last year with 1,600 yards and 13 touchdowns, tying Brogan Stephey for the MAC lead.
And the Rockets kind of lingered around in the middle of he pack when it comes to total team offense and defense…the perfect model for a team ready to quickly improve.  I'm just saying.  I like the way Nick Marino does his thing.
Who's number five?  I don't know if they'll even finish 6-4, but I'm going to be interested in the Fort Loramie Redskins, primarily because I'm anxious to see how things continue to work out with their independent schedule, and three road trips at the end of the year again Van Buren, Lucas, and Lima Central Catholic.  And, oh yeah, they start the season on the road at Minster, my number #2 team of interest.
Again, a lot of significant replacements for the Redskins, starting with quarterback Caleb Mauer and wide receiver Logan Eilerman.  But coach Spencer Wells has built a 'program' on 705 during his five years at Loramie.
So, will they come back to go 11-3 again?  Likely not, but Wells can coach.
And more questionable…how long with the 'Skins remain independent?
As the popularity for football in Loramie grows how long with the fan base be content with those awful road trips to the far points of Ohio just to play football?  They get a break this year with Van Buren (Hancock County), Columbus Academy (Franklin County), and Lucas (Richland County).
Did we miss some teams we should have mentioned?
Probably…including Ansonia, Versailles, Tri-Village, and without question, someone is going to write about Coldwater and Piqua, Troy and Sidney.  That's what they make weeks 1 and 2 for.
And remember…this all starts on August the 18th!  That's early.  But someone apparently believes it's a good idea.
Stay tuned.