When TreVeyon Henderson puts his previously injured foot in the ground and cuts off a block this season, he won't look like the guy who labored through 2023. He will play like a 5-star.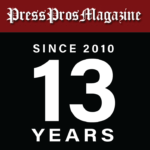 Depth at the running back position means three things, historically,  for The Ohio State University.
No. 1, and most importantly, depth is for when the best guy suffers an injury. No. 2, a trustworthy backup is for those two or three short stretches when the best guy needs a respite. And No. 3, depth is for that point in the second half when the outcome is assured.
Depth, except for rare exceptions, has not been about two guys sharing carries in a mostly equal way or anything that resembles a committee. Ohio State football has rarely been about playing the change-of-pace strategy with the speedster and the bruiser. The Buckeyes don't do thunder and lightning. They prefer to find a guy who brings the whole storm by himself.
And when they do, the running game peaks.
"We're obligated to play the best players to help us win games," running backs coach Tony Alford said during the spring. "That's the obligation."
The obligation, then, is for a now healthy TreVeyon Henderson to be the guy. He's the most talented, the most game-changing and, after last season's travails, no one is hungrier to play and prove himself to the masses. A prevailing national theory and a hopeful one for some OSU fans in the 2023 season: lots of carries for lots of guys. But if Henderson stays healthy, be ready for an Elliott or Dobbins kind of season.
Lowered expectations
As a true freshman and as a sophomore, the expectations were much higher than what the preponderance of online lists expect from Henderson this season. Going by last season's numbers, game tape and supposed career trajectory, the lazy call is to rank Henderson down the list. But it's not the correct call.
Henderson entered Ohio State as a 5-star recruit and the highest rated running back in the class of 2021. No one was surprised when he became the No. 1 option with a 270-yard game in Week 3 against Tulsa. He didn't always get the most carries, but in the situations that mattered the most he was the guy.
Henderson finished with 1,248 yards – 148 more than the rest of the backfield combined. He averaged 6.8 yards per carry and scored 15 of the team's 24 rushing touchdowns. Yes, there is a precedent for what should happen this season.
In a quick Google search for 2022 preseason rankings, Henderson was No. 2 behind Texas star Bijan Robinson. He was the No. 8 overall pick in this year's NFL Draft in an era when running backs are rarely drafted that high.
Search the web now and the highest you will find Henderson is No. 7. But mostly he isn't on those quickly compiled top 10 lists designed to get clicks. He's barely in the top five in the Big Ten. Michigan's Blake Corum is the consensus No. 1 in the nation. And before you find Henderson on a list, you will see Penn State's Nicholas Singleton, Michigan's Donovan Edwards and Wisconsin's Braelon Allen. Look deep enough and Ohio State's Miyan Williams is sometimes listed ahead of Henderson.
On the first drive against Toledo in Week 3 last season, Henderson broke a sesamoid bone in his foot. We knew he was hobbled, but he didn't reveal that specific injury until spring practice. He carried the ball four times against Toledo. Williams had 10 for 77 and true freshman Dallan Hayden gained valuable experience with 17 carries for 108 yards in a 77-21 victory.
Henderson felt better a week later and gained 121 yards on 21 carries in a 52-21 victory over Wisconsin. Williams gained 101 yards on 11 carries and Hayden gained 31 on eight. And depth mattered. Because Henderson's foot wasn't healed.
"That's the bone you need to actually push off," Henderson said. "Every time I tried to push off, I was basically refracturing that bone. And then I tore some ligaments and tendons. So my foot was basically beat up."
After Wisconsin, Henderson took a week off, played the next three, took the next two off, then tried to play against Maryland. He carried the ball 11 times for 19 yards. He was clearly not the same guy, and his season was over.
"It was moments where sometimes I'd be hopping around or it would take me a while to really hit the hole," Henderson said. "And that's just because I knew that if I would plant my foot that I would basically refracture that bone. Even when I was getting tackled, like at the beginning of every game, I'd basically re-tweak my foot."
Surgery followed and the reason for his inconsistent season became clear.
Depth matters only when it's needed
Henderson's spring absence stirred conversation of what depth could mean this season. The group of Henderson, Williams, Hayden, Chip Trayanum and Evan Pryor, who is coming back from a lost season because of a knee injury, is talented. They can all contribute. They expand the playbook.
But when this season ends, will Alford be saying anything like this: "We needed every bit of depth that we could have last year."
Not if Henderson stays on his feet. Because this is what Alford wants: "Hopefully that doesn't repeat itself."
Still, Alford is glad he can say this: "It's always good to have depth, and competition makes everybody rise. Everyone has different skill sets and traits that they're better at than maybe some others, and that's our job as coaches to put them in the best situation to help our football team."
That's what coaches say in the offseason. They must speak that way coming off a season when depth mattered. While one theory sees Henderson and Williams as co-No. 1s, that's a hard sell given the history.
Williams is a fan favorite and an excellent running back, but he is the clear No. 2. There is more chance that Trayanum will steal carries from Williams than Williams will steal carries from Henderson. Everyone wants to see what Pryor has, and we might see it in the role Xavier Johnson filled last year. Hayden, however, might have to wait his turn.
'Feel like myself again'
Henderson was on the practice field this spring but didn't participate in any live scrimmage situations. Instead, we saw a little bit of Williams and a lot of Hayden and Trayanum, who were impressive. Henderson probably could have played but why risk it when you know what you've got.
"I feel like I'm 100 percent," Henderson said in early April. "I'm running full speed, I'm back to cutting. I'm just finally being able to feel like myself again, get that confidence back and get going again."
That's a huge difference from his sophomore season challenges. He didn't practice much once he broke that bone for the first time. He couldn't perform the way he knew he could or the way the team needed.
He went into games wondering: "Will I be able to just cut again? Will I be able to be full speed again? Will I be able to just be myself? That affected me a lot."
To be what his talent says he can be would put Henderson back in the national conversation. It will set up storylines of RB vs. RB against Penn State, Wisconsin and Michigan. And as mercurial as the Heisman Trophy talk can be, a fast start to the season would put him in that conversation.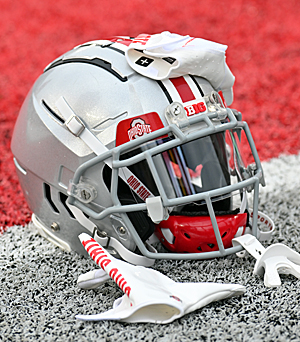 Marvin Harrison Jr., of course, is on the edge of that conversation already. It's mostly a quarterback award and last year's winner, USC QB Caleb Williams, is back. But DeVonta Smith's Heisman year gives a wide receiver a chance when he's the guy who makes a premium offense go.
Hard to imagine a running back holding the Heisman, but a healthy Henderson and a traditional role of being the guy will make him an option for voters.
The Buckeyes don't need a Heisman winner to contend for a national championship. Maybe they don't even need a clear No. 1 back who only leaves leftovers for the depth.
But TreVeyon Henderson on two good feet puts this team in better position to win it all.
"The way he's preparing, not just his mind, but his body," Alford said, "Trey's a totally different deal."
Be ready for special performances.