Nobody really knows what to expect, or the impact of name, image, and likeness.  Except, more and more football coaches are saying that it's a disaster.  The real question is, we know what it's doing for the beneficiary.  But what's it doing for the benefactor?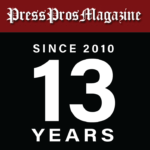 The Big Ten media days are coming up in just a few short ones, over in Indianapolis…and Press Pros will be there to see what cautious gems Ryan Day and Jim Harbaugh are willing to share.
Cautious?
If they were Custer, Day and Harbaugh would answer the question this way:  "What Indians?"
But they go, they showcase a few feature players, like Marvin Harrison, Jr., and they get out of there hoping to say less than Mississippi coach Lane Kiffin did this week at the SEC media day.
Kiffin, never one to miss an opportunity, took aim at the issue of NIL (name, image, and likeness) when he said, "the state of college football is a disaster."
"It's like free agency in [professional] football, except there's no salary cap. "
More….
He kept it up when he offered unprompted, unfiltered thoughts on "legalized cheating," "pay for play" and how name, image and likeness rights have transformed college football into "the schools with the deepest pockets get the best talent."
By the way, if you're still broad-minded enough to think of college as an institution of higher learning, there's never, ever, mention of NIL for medical students, engineers, or those seeking a degree in education.  Which prompted someone at the media lunch prior to the Notre Dame game last year to comment, "If my life's ever on the line and I'm on the operating table…I don't want to look up and see Terrelle Pryor dressed in scrubs."
But this is modern college football, and like it or not, Carmen Ohio an Script Ohio are secondary traditions now to law firms, or car dealers, willing to underwrite the country's most coveted five-star quarterback.
The irony, of course, is that they may not play a down.  Former Buckeye Quinn Ewers was said to have received a handsome GT Sports Marketing deal valued at $1.4 million just to sign autographs.  Of course, he was out of Ohio State and back to Texas before the ink was dry.  Currently, he's signed up with Wrangler Jeans, Lucchese boots, and reportedly drives an Aston Martin, like James Bond did.
CJ Stroud tooled around Columbus last year in a Bentley, and to demonstrate how far athletes have come since I played baseball 50 years ago…back then I tooled around in a Volkswagon Beetle, with the floor rusted out.  And I paid for it.
But where NIL is concerned, location, apparently, is everything.  Having dinner in Huntington over the weekend with a friend, he mentioned that no one in Huntington is driving a Bentley, much less the quarterback at Marshall University.
"It's small change here, compared to Ohio State,"  he added.  "One of the football players, I heard, got a bath soap deal with Squatch."
The question, of course, becomes…what does the company get in terms of return on investment.
Marshall tight end Devin Miller is not a household name, not even in Huntington.  And at $9 a bar, even with the benefits of 'Bidenomics', it's not likely that many households are going to switch from Irish Spring, at $1.95.
In Columbus, hardly anyone drives a Bentley, so it was always hard for me to imagine how CJ Stroud influenced anyone to buy one.
In Texas everyone already wears Wrangers and cowboy boots.
So, if there is a winner in the NIL chase it's can be deduced to this.  Only about 10% of the athletes in football really make money.  Another 10% are going to get personal appearance fees.  In a perfect world the money gets split up with the rest of the roster.  Perfect, that is.
But how many times can that Bentley dealer afford to ante up?  There's always going to be a five-star athlete coming to Ohio State and Alabama, and human nature being what it is, there's more Chevy dealers than Bentley, and Chevy dealers typically don't have to give one away to sell another.  And nearly every car dealer now makes his living now selling pre-owned cars…because they can't get enough new ones to sell.
Plus, the profit margin on car sales now is so small that you can't make it up in volume.
In the meantime only a very few rich schools are going to benefit from NIL, owing to Kiffin's statement.  Morehead State and Akron need not apply.
And the portal means that even if they come for a year, and get a new pickup truck, if there's a better deal through the portal next year they're out and gone…along with the return on investment!
Hence, "The state of college football is a disaster,"  said Kiffen, who in the next breath admitted to benefiting from NIL…"when I can."
Quinn Ewers left Ohio State without ever learning the lyrics to Carmen Ohio.  And for future reference, when you see teams standing in front of the band after the game, singing the alma mater, chances are they're mouthing the words.
The don't even recognize the fight song.  Just advertising jingles.