After years of working for someone else, Andy Lynd retired to marry a girl named Fulks…and to work even harder pursuing a life's passion.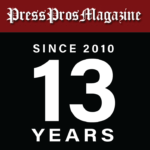 South Point, OH – Taking time this weekend to reunite with family and friends on the river, this has nothing to do with sports, just a story that has a lot to do with one of the really good sports in southern Ohio.
It's where I grew up for the first 14 years – Lawrence County – and frankly, along the Ohio River there are a lot of Press Pros readers who faithfully log in when we write about area high schools like Symmes Valley, Fairland, or Wheelersburg.
When Andy Lynd married my cousin Connie in 2014 I took it in stride.  He needed her, she needed him…you do the math – a match made short of Heaven.
What I didn't know about Andy was how he would come to stand out in our family – an 'eclectic' – if you take the time to look it up.  A guy who was interesting beyond just being one of the truly nice guys you'll ever meet.
Eclectic?  It means someone who has a variety of tastes, interests, and skills.
Andy Lynd is a FANTASTIC executioner of the craft of bar-b-cue.  Every family function evolves around food, and food is always anchored by Andy's brisket, ribs, and chicken.  Among the best you can find anywhere in Ohio, Andy's picture should be on a bag of Kingsford.
He worked for the Columbia Gas Transition company for more than 40 years, faithful to the job and his responsibility – always to his responsibility – before retiring five years ago.
Neighbors know him as in an equally faithful friend.  If you need help in South Point, Ohio, I think you probably call Andy.
Living at the crest of one of the hills bordering the River, he keeps bees, raises catfish in his pond, gardens, and supplements his income with time devoted to berries and beans and corn and pumpkins.  Doesn't need to…he just likes to.  Andy Lynd has a green thumb – a great big, throbbing, green thumb!
He is a cousin of the Lynd family in central Ohio who's operated the ultra-successful Lynd Family Fruit farm, on Morse Road, outside Pataskala, for decades.
His father, Merlin, raised apples and peaches in the hills along the Ohio River for nearly fifty years, while teaching others the craft of raising fruit.
"He never really did it to make a living,"  Andy told me recently.  "Dad would tell me, 'You've got a good job, I've got a good retirement, so if we get a good crop once in a while it's a bonus.'"
Merlin Lynd loved telling people about apples and peaches – loved sharing the good news of a good crop, taking pride in tree-ripened fruit sold at the peak of its flavor.  He usually had enough for people to anticipate, but he was small enough to treat everyone like a friend.
Little wonder, then, that when he retired from Columbia Gas – when he married Connie – it was just a matter of time until Andy Lynd planted an orchard of his own…five years ago.  Small enough to take care of with a tender, loving touch…and large enough to take care of everyone on Buffalo Creek, outside Chesapeake, with a taste for something special.
"It's kind of a passion of mine," he told me Saturday afternoon, giving me the private tour usually reserved for family, or any number of people who call Andy their friend.
"I really enjoy it.  It's a lot of work, but it really doesn't seem like work.  It's just something I like to do."
His young orchard will probably yield 500 bushels of apples this year, which pales in comparison to his cousins to the north.  And pales in comparison to the thousands of hours of invested.  But his quality will stand out – small enough to give the personal touch to every tree.
I recognize it because outside my own kitchen window I have my own orchard – small, only about 15 trees – but it's the same passion.  You plant, you nurture, you shape, you prune and fight the hazards that come with fruit trees…and you hope to beat the yearly April frosts that stand between 'fruit', or 'frustration'.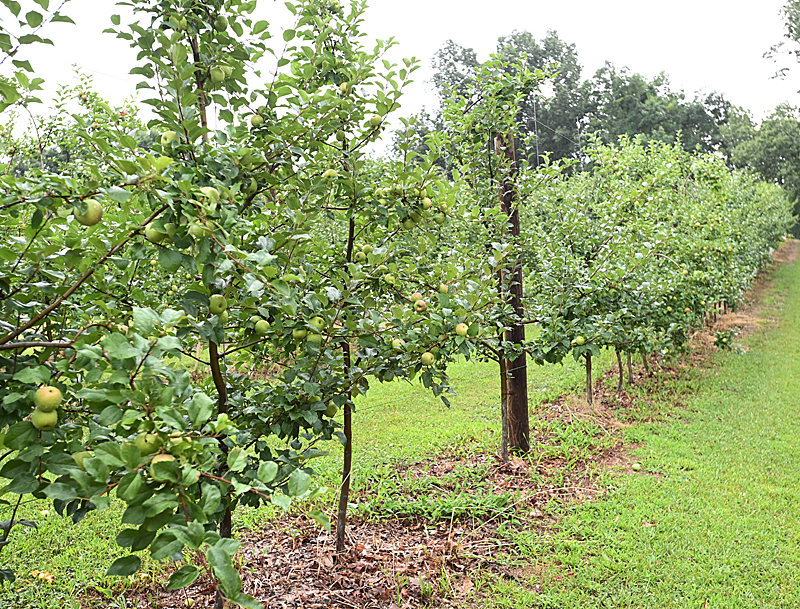 One advantage Andy has is elevation.  Killing frosts often settle beneath the hilltops that sit several hundred feet above the Ohio River.  The apples are out of harm's way.
Another is his eternal optimism…and Connie, a physical therapist who's equally comfortable with a pair of pruning shearers, and grunt work come harvest time.
And while his peach crop got stung hard this spring by the frost, his apple prospects, acute and long-term, bring a smile to his face.
A neighbor stops him on the road, to ask.  "You going to have apples?"
Andy smiles and tells them to come back in September, and "see for yourself."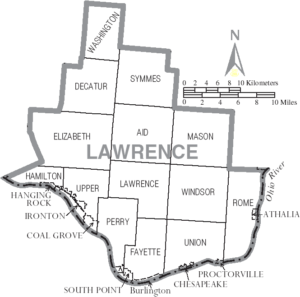 His own children grown and out on their own, his new endeavor gets the same responsibility and devotion.  His pride in producing something good, and something good for the community, cannot be mistaken.  We surveyed the rows of Yellow Delicious, Rome Beauties, and Evercrisp…his investment enormous, his optimism as broad as his smile.
And those who will read this…who read about him…will be as pleased as they are to have Andy Lynd in their midst.  A little recognition for just being a good guy.
Some love for life on the river.
A guy who delights in doing what makes him happy – family and fruit!