The anniversary of North America's biggest military battle happens next week, against the wishes of those who would just like to forget – put behind – the sacrifice and commitment of all those who fought to make America, good and bad, what it is today.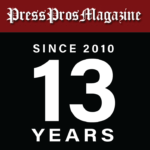 Gettysburg, PA.  Nearly anytime you go to Gettysburg, Pennsylvania you can feel the passion of those who make it a yearly pilgrammage to come here to pay their respects to history.
But in some cases you can cut the tension with a knife, between those who choose to still acknowledge and celebrate the sacrifice of 54,000 American casualties during the course of three days fighting on July 1, 2, and 3, 1863, at Gettysburg…and those who believe that perhaps we've celebrated it enough – too much, in fact.
When I was in Gettysburg recently I witnessed a conversation between a half dozen living history individuals (re-enactors) who come, along with others, to the battlefield on weekends to demonstrate to visitors what soldier life during the Civil War was like during the 19th century.  These individuals are very committed, respectful, and accurate in their portrayal, right down to sleeping on the ground overnight and enduring nasty weather – heat and cold, wet and dry.
Outside a downtown eatery where the six men had gathered to eat on a Saturday morning, they were approached by an individual who boldly addressed them.
"You guys need to get over it and quit celebrating war and the misery it's caused.  You need to learn to care about people's differences, instead of playing war over them."
The six men listened as this individual turned and quickly walked away, fading into the downtown foot traffic.  After a moment, one of them smiled and said to others who had witnessed the exchange.
"Maybe we should all appreciate freedom of speech, as well as the people who've died for that and the other freedoms we enjoy…even to protest."
That's always been the issue, of course, even as far back as the Revolutionary War. Because, there's never been such a thing as unilateral appreciation for the sacrifices necessary to live free.  In the 18th century many colonists loyal to the King of England, clashed with those who sought to wage war against King George for the right to live free, work, and worship…freely!
In fact, it wasn't any more popular in 1863, '64, and '65 than it is today, during a period when the Civil War was going very badly for president Abraham Lincoln and the federal cause to preserve the union.
But there's always been a passion, too, and that passion was on full display last week during the annual Gettysburg Historical Artifact Show, when thousands showed up to buy, sell, trade, and appreciate the uniforms, weapons, battle flags, photos, and even preserved letters from the American Civil War.
"We should nor forget that time in history,"  said one exhibitor.  "You may not like the Confederate statues, and forts being named for Confederate generals…or schools…but it's still our history and you have to learn from it.  If you don't you're bound to make the same mistakes again."
How serious are those who are willing now to pay any price to preserve the memory and appreciation for the sacrifice?
An accountant from Lynchburg, Virginia, Russell Hicks, had in his possession the actual battle flag of the 11th Virginia infantry that was carried in Pickett's charge during the climactic final action of Gettysburg's third day.  Its color bearer, was shot down during the charge, and subsequently the flag disappeared for more than a century before being discovered in Memphis several years ago.  Hicks, an avid memorabilia collector, purchased it, and was offering it to the highest bidder at the show.
In the crowd, standing in line with other curious observers reading the history of the flag on display, was a man named Steven Kent, from Pennsylvania, whose ancestor it was that was shot down while carrying the flag for the 11th Virginia on that fateful day in 1863.  The flag, if it sold, was expected to bring a sum in the high six figures.
"If I could win the lottery I'd pay all of it to own that flag,"  said Kent, who lives in Adams County, Pennsylvania, and obviously wanted to reclaim ownership for the sake of his his family's heritage and history.  That wasn't to happen on this day, but there were other authentic artifacts that did go to the highest bidders.
There were personal letters written by John Burns, the citizen soldier to took his old Revolutionary War musket and joined the Union forces to fire upon the Confederate advance on July 1st.  Burns was wounded, but survived, and was later visited by Abraham Lincoln when he came to Gettysburg on November 19 to dedicate the national cemetery later that year.
Some who looked for needle-in-a-haystack photos of an ancestor…actually found a few amongst the thousands of daguerreotypes on display, and bought them.
From buttons to books, kepis to battle swords, the show enjoyed a robust crowd of the curious who either came to look…some hoping to find some vestige of their own family history.
"This is symbolic of every freedom we have,"  said a historian from Ohio.  "The freedom to bear arms, freedom to assemble, freedom of speech, and the freedom to come together after all this time and appreciate what a generation of Americans were willing to sacrifice for future Americans they'd never know.  There are all kinds here, from North and South, and they all respect each other."
On the battlefield itself, one of the most popular, and photographed, monuments is that of the magnificent tribute to the state of Virginia, with Robert E. Lee seated upon his horse, Traveler, stretching some 41 feet high, from base to crown.
"I had a relative that was killed here fighting in Lee's army,"  a couple from Texas shared with me several years ago.  "We try to come back to Gettysburg once a year to reflect – to respect the soldiers."
And while some scoff, and others demand that the symbols of the Civil War and the Confederacy be torn down, the late historian Edwin C. Bearrs knew every foot of the battlefield like he knew the palm of his hand.  This is what he said this during a dedication ceremony in the national cemetery in November of 2018.
"They can protest…they can gripe all they want about the monuments,"  Bearrs said.  "But the real monuments are the human monuments buried here, both sides.  That's history that you cannot rewrite."
Generations of survivors – families – from all the wars can attest to that;  and in a matter of days the 160th anniversary of the greatest battle fought on American soil will be remembered again.
Lest we forget!