You don't learn about a lot of things until it's too late, until you're too old to correct your mistakes.  But along the way I've learned that I learned a lot from my dad, a man about whom I once wondered…if he was ever, ever young!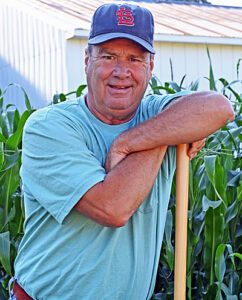 I want to take a few brief words to wish Happy Father's Day to all you guys out there who do your due diligence…who work, dedicate, and are committed to your adult responsibilities to family and home.
I want you to know that I, in my own final trimester of life, spend a lot of time observing you…admiring the fact that so many of you have had the same kind of adolescent experience that I had.  "Remember who you are,"  my dad used to tell me when I'd go out at night.
"Don't embarrass yourself, and don't embarrass me."
Here's another Glenn Fulks gem of wisdom:  "There's nothing good that happens after 11 pm.  So make sure you're home by 11:01."
It didn't mean much to me at the time, but now when I look back his views on a lot of things had the wisdom and forethought of the United State Constitution.  And I know a lot of you have the same…because I see so many of you who make the same kind of conservative, reasonable decisions on how you live your life and raise your families.
I know where it came from –  from a generation of people, post-war and post-Depression, that took nothing for granted…even the next meal, and the roof over your head.
I never really had what I would consider the tight-knit relationship with him, the kind that you see in the commercials.  But I loved and respected him.  We had a lot of mutual interests, beginning early in life when he taught me baseball – took me to Reds games at Crosley Field (at great cost at the time, and investment), and he made sure that I got the opportunity to play baseball.  In fact, he taught me how to throw the curveball!
There was an old upright piano in our house that belonged to my mother, and I took a shine to music, teaching myself to play by ear.  Dad took the next step to see that I got private lessons.  That music thing eventually led to me getting a pair of degrees from Ohio State and three years as a member of the Buckeyes' marching band – the best damned band in the land.
Dad was a math teacher, a subject for which I had no interest or particular intellect.  He liked to figure the volume of things, he talked about fractions and decimals, and how that knowledge would one day help me to know if I was making more money than I spent.  I was more interested in reading and writing, which frustrated him  – although he loved to read – because he believed I could be doing something more productive.  That's how he thought.
He was conservative to a fault, I believed.  Narrow in his perspectives on things, if the Apostle Paul didn't write about it Dad was cynical.  We had many long discussions on the Bible and scripture – on Calvinism – which he learned to embrace in his 30s and he never looked back.
There were some confusing times between the two of us, even during the best of times – times when he taught me things that I still do.  I heat my house with a wood-burning stove.  I garden a lot, keep an orchard, bee keeping, and by all means…learn to live within your means.  He preached that to me until we were both blue in the face.  The problem being, it was hard for him to appreciate my own vision, and later, my sister's.  When I eventually went to work in the photo industry he could not understand how people spent their money on something that frivolous.
We both eventually figured it out, and when I started the website in 2010, a year before he died, I think he knew by then that he'd done his job well enough.  He had put me on the right path.
A lot of us have this same experience, and I lot of us still fret over our own kids, regardless of their age –  whether they're going to make good life decisions.
But the reason I'm so committed to competition and sports is because I understand…now…this one important thing that Dad did for me.  I think he knew that competition is intrinsically good, an opportunity that he never had for himself.
He knew, like many of you…..
You learn to play by the rules.
You learn that other people are going to be better on a given day, and you have to adapt.
You learn to appreciate the efforts of others, of your teammates and coaches.
And you learn to appreciate how the challenge of sports is relevant to the challenges of life after sports.
And he knew that a little fun never hurt anyone.
Dad knew…that it was good thing for a ten-year-old boy.
On this Father's Day, I can say I learned a lot from him, just like you did from your dad.  We didn't always agree, but now after the fact it's amazing how much like him I really am – with a few different twists.
One last thing.  I still don't care about Pi R squared, and the volume of a silo.  Sorry, Dad.
But I am home by 11:01.
Because, there really is nothing good…that happens after midnight.