The Big Ten's decision to change how the league champion is determined is further proof that league titles and rivalry outcomes aren't what they used to be. It's all about the playoffs.
By Jeff Gilbert for Press Pros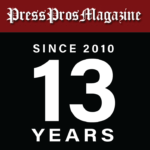 The year 2024 represents an irreversible shift in college football priorities.
With a 12-team playoff and a new way to crown the Big Ten champion established, will beating rivals and winning league titles still matter? Yes. But the importance of such achievements will continue to be less important mountains to climb. The gridiron began to resemble the hardwood when the four-team playoff began. And it will only get more difficult to tell the two apart.
The counting of playoff berths and the length of playoff-making streaks will be much more important talking points and contract-negotiating points than how many league titles you've won. And – hard as it is to imagine for some – more important than how often you beat your rivals, or rival in the extreme rivalry case of Ohio State vs. Michigan.
When you are forced to defend the OSU program in the wake of consecutive losses to Michigan, which accomplishment do you fight back with? Three playoff appearances in Ryan Day's four seasons. If you are fighting against this unstoppable trend of college football being more about the postseason and less about the regular season, you will lose the argument more and more.
The Big Ten's decision to disband divisions in football and change how it will determine its champion is further proof that being in a conference is more about winning the media rights negotiations than it is about winning the conference. A hundred years from now it is unlikely that all 14 members plus the two to come next year will own a league title banner. But they will have beautiful facilities.
Basketball is the forerunner on the college landscape. Pro sports have added just about every layer of playoffs they can because they have understood for decades that the playoffs matter more than anything. Baseball was criticized harshly for adding a third division in each league and wild cards. But people like it now.
When March approaches, what matters most to college basketball teams and fans? Making the NCAA Tournament.
In the big-time conferences like the Big Ten, who's counting league titles? And does it matter who wins the league tournament? For the purposes of playing in March, it really doesn't matter whether a team already holding a ticket to the Big Dance even makes it to its league semifinals.
College basketball programs and head coaches are measured by tournament berths, Sweet 16s, Final Fours and national championships. Going forward, and it's already happening, college football programs and head coaches will be known for playoff berths, semifinal appearances and national championships.
I've lived through the 10 Year War, the 2-10-1 Cooper years and the Tressel-Meyer glory days. I get it. The rivalry will always matter. But here's the truth.
Do you, the Ohio State fan, still want to beat Michigan? Absolutely.
Will a Michigan loss still be utterly frustrating and kill your Thanksgiving weekend vibe? Absolutely.
But if the Buckeyes make the playoffs and win at least one game, will that help you get over a Michigan loss? Absolutely.
If the Buckeyes win it all, will a Michigan loss cease to matter? Absolutely.
That's where this has been headed since the invention of the BCS title game. Now the time is here to embrace the new paradigm and enjoy the present. What your team does in the playoffs will be – by far – what matters most. And if the Buckeyes beat Michigan but somehow don't make the playoffs, that satisfying W will be a salve for a day but no longer.
Because not making the playoffs means something like 9-3 or worse and a bowl game that will have a different title sponsor than it has now. And you will be upset about a lot more than losing to Michigan.
Back to the decision by the Big Ten to disband divisions next year when the great westward expansion brings USC and UCLA into the money. Remember, it was originally named the Western Conference.
From sea to shining sea, the Big Ten will contend for no worse than two playoff spots every year, probably at least three, and will almost always include Ohio State. Winning the conference, obviously, won't mean what it used to mean. A likely first-round playoff bye will be at stake, but that's not going to be as much of a program and head coach resume builder as simply making it in and winning some when you get there.
If Ryan Day decided to put an "Open To Work" status on his LinkedIn page, those three playoff berths would attract plenty of suitors. The Michigan losses wouldn't hurt his chances of landing plenty of interviews.
So, what do we make of no divisions in the Big Ten with the top two teams playing in a conference championship game instead of division winners?
Truly, it seems unfair for a team to win the regular season title outright, then have to win the league title again in a dome on a neutral field. That's what Michigan would have faced this year – beat Ohio State two weeks in a row. Seems unfair. And the playoff committee didn't care about Ohio State not winning the Big Ten.
Nobody complains about it in basketball. When the ACC started its tournament in 1954, the winner earned a berth in the NCAA Tournament, not the regular-season, first-place team. Since 1961 the league's bylaws have stated that the tournament winner is the recognized ACC champion. Nobody in the ACC hangs a banner for finishing first in the regular season. They're just playing for seeding.
The Big Ten ought to do the same. The only title that really matters in this new age, the one that might get you a playoff bye, is the one that gets awarded on the first Saturday night in December.
Still, I get why it seems unfair to the 9-0 team to do away with divisions and still play a title game. But the league clearly doesn't care. It wants good TV and playoff teams above all else.
When the Big Ten added Nebraska and expanded to 12 schools in 2011, the sensible thing, we were told, was to create two nongeographic (and hopefully balanced) divisions in football and play a championship game.
When Rutgers and Maryland pushed the total to 14 schools, divisions were realigned geographically. This move tilted the power to the East and virtually assures the East winner of winning the league title game. Still, it was deemed sensible to keep the divisions model. And the title game makes the league more money. That's the real reason it exists.
The main argument against divisions the past couple of years has been the disparity between the two. An Ohio State-Michigan rematch this year would have been far better TV than Michigan and Purdue. And shouldn't we see the two best teams play?
That's what we will get starting next year. Because realignment and expansion – more teams are sure to come – have never been about divisions or league championship games (except for the revenue they generate). It's about college football moving from its regional roots and bowl tie-ins to a national playoff stage.
When the Big Ten has 18 or 20 teams (and maybe even divisions again), when the playoffs expand to 16 teams (don't bet against that), and when you think more change is impossible, all that will matter will be playoff appearances and what you do with them.
A dozen Ohio State playoff appearances and two or three national championships from now, the way it used to be will seem so old-fashioned. And this year's Big Ten decisions will be a footnote on a Wikipedia page.