The school year draws to a close and time for reflection on what we've seen, heard, and what we might yet see over the next ten days.  The last, and best, of the OHSAA state tournaments is at the doorstep.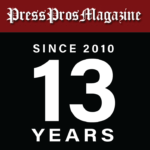 The years go faster now than they did in 2010.
Back when we launched Press Pros we spent a lot of time just trying to figure out what buttons to push to get things to appear online.
Now, we spent all that time trying to figure out how to be five places at once.  This, more than any other revelation, is what has defined to the 2022-'23 sports year.  How do you do it all?
You can't, of course, but what we have seen has been spectacular.
Starting in the fall, New Bremen and Marion Local winning titles in volleyball and football.  No question about it, Diana Kramer and Chris Schmidt (from New Bremen), and Tim Goodwin (Marion Local) had three of the best coaching performances that you'll see if you watch for another quarter century.  And there won't be a better title game in football than Marion's 14-10 win over Kirtland…unless it was Versailles' win over Kirtland the year before.  Such is the quality of MAC football – what you expect to see, and it never lets you down.
Exciting hardly describes Tipp City football last year, and the Red Devils' 13-2 season before bowing to Bloom-Carroll in the Division III title game.  And hardly one-and-done, the Red Devils will reload to compete for the MVL title and beyond again in 2023.
Women's basketball delivered, as well, with Tri-Village winning its first Division IV title after 17 seasons of commitment and patience by head coach Brad Gray.
And while they didn't win it all, how about the run from out of the Shelby County League, from Russia and Jackson Center.  Combined, the two won 51 games and lost 6!  Russia boys advanced to the OHSAA state tournament before losing to the Milwaukee Bucks, 66-51, in the Division IV semi-final.
These are just some of the ones we saw, and there were that many more than we didn't.  How do you do it all?
And while it counts on the previous year's calendar, that same Russia won the Division IV baseball title in Akron, a week from this coming week, defeating Lincolnview in the title game.  The Raiders hope to get back there again, playing this week in the Division IV regional round in Springfield, meeting Berne Union on Thursday.
In fact, Russia is one of three Division IV teams playing this weekend, and frankly, I like them all to win their semi-final round games.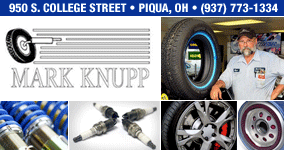 Russia will face New Berne Union, out of Sugar Grove, a team that has feasted on teams that finished under .500 this season (Grove City Christian and Rittman, for instance), while struggling against teams like Circleville (20-12) and New Catholic (18-8).
The Bradford Railroaders won 20 games under first-year coach Bill Sturwold, and advanced to this week's regional round where they'll face South Charleston (Clark County) on Thursday. The Trojans finished the year with a winning record, but again, the strength of overall schedule favors Bradford, who owns impressive wins over St. Henry and Fort Loramie.
And St. Henry, winners of 22 games, will face North Central on Thursday in Elida.  Again, strength of schedule overwhelmingly favors the Redskins as North Central played a lot of non-competitive teams during the regular season.
And farther down the road I like Chaminade's chances in Division II, facing in CHCA on Thursday;  and then the most prohibitive team in Division II (my opinion), Hamilton Badin, who plays Hebron Lakewood.
And lest I forget…the Parkway Panthers are appearing in this weekend's state softball tournament, where they face Hopewell-Loudon in the Division IV semi-finals.  Congrats, Lady Cats!
I've said this before, and it bears saying time and again.  Baseball is the toughest of the OHSAA titles to win for one very BIG reason.  And that's pitching.  There just aren't that many good pitchers in high school baseball, and teams that are fortunate to have one are rarely fortunate enough to have two, which is what you have to have in the regional tournament where you have to play the two biggest games of your season back-to-back.  And then defense, and individual responsibility…because no one can hide on a baseball field.  Sooner or later the ball's going to be hit to you;  or sooner or later you're going to come to the plate with the game on the line, with the bases loaded, and two outs.  You have to get the hit!
To me, it's what makes baseball (and softball, to a different degree) the toughest of all titles to win.  It takes all nine to win, where you can hide a couple in football, or you can win in basketball with one principal scorer if he's good enough and you play defense like Jackson Center.  But in baseball you have to have that pitcher;  and this weekend, and next…two of them!
On a final note, here's something we've witnessed throughout the year – the decrease in people who follow and respond via Facebook and Twitter.  Why?
Well, listening to talk radio from Columbus last week there was a guest who made the point about how people are increasingly afraid of social media outlets like Facebook, where they believe they can become targets for retribution from comments they make online.  That, and the ever-increasing concern over personal security if you put your name, hometown, and birth date out there for people to see.
Or, click once on a post that interests you, but you're unfamiliar with the source, and suddenly your Facebook account becomes a dumping ground for everything you never knew you didn't want.
The person on WTVN estimated that 30% fewer people are now communicating via facebook, and from personal experience I believe that, reflective of the number of people who respond personally to the Press Pros Facebook page, while the number or views are actually up.
Privacy matters…more than ever!