An Ohio native who has traveled the country looking for the next great adventure graces the pages of Press Pros for the first time, and as an upcoming regular feature. We hope you enjoy a good story, now and in the future, from Ray Reilly.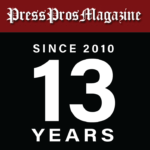 I begin this relationship with Press Pros Magazine with humility and appreciation for the opportunity to share with what I know is an avid community of outdoors interest in southwest Ohio.
I know, because I'm a Buckeye myself, native to Mahoning County, and very knowledgeable about what spring and fall means to Ohio sportsmen.
I grew up reading Erwin Bauer, in Outdoor Life, and set my sights on following in his path, knowing there wasn't much money in it, and there wasn't.  But man, no one has had more fun struggling to pay his bills.
I also appreciate what I know is a committed platform for the outdoors through Press Pros. I've done my homework, read past posts, and can promise you that I will continue in the tradition of hunting and fishing story-telling shared by talents like Tom Cappell and Jim Abrams. I can also share that most outlets like this don't have committed sponsors like Olde English Outfitters, who cater to the ethical appreciation of the outdoors and all that it means.  That's impressive, too.
My career now spans more than twenty years writing for publications dedicated to people who like to hunt and fish, and my Ohio roots tells me that come March, a lot of those sportsmen set their appetites for a mess of fresh bluegills around the spring solstice.
I learned it well, bluegills from the creeks and farm ponds south of Canfield, using as little as a cane pole, and when I was really flush I turned to a Zebco rod and reel from the local hardware store. As I got more sophisticated I bought more stuff, but I never caught more fish.  And, I never had more fun.
With fishing, I've learned over the years that timing is everything. Bluegills can be an aggressive fish, and easy to catch. And they can also be as stubborn as a bull, especially the big ones, and impossible to catch!
The trick is how to attract them, and especially in cold spring water I try to give them what they want, and what's natural. After years of spinning reels and fly rods, of jigs and flies, I've found that simple is often better. Which is why I'm sharing with you here, as fish go to their beds to spawn right about now, simple bait fishing can be the quickest way to a fresh fish dinner.
Frankly, bluegills aren't picky eaters, they're just picky about when they eat. Ever notice that fishing can be hot as a match one minute, and ten minutes later impossible to get a bite? Their moods can change in the time it takes you to bait a hook.
And they're also selective about where they hang out. I try to fish structure as much as possible, where you find submerged trees and junk piles, because underwater cameras have shown me that big bluegill are like big bass. They feel protected by cover, where they're free to ambush small food sources at will.
Depth matters, especially after the spawn, and where you find one you're likely to find a dozen. And when one hits your hook by all means land him and get that hook back in the water. The term feeding frenzy was invented, I'm convinced, with the bluegill in mind.
I've caught them on night crawlers, wax worms, and larvae of one kind or another. But frankly, if you have a good supply of slightly bigger grubs, and an proportionately-sized hook, it can get very interesting, and very quick.   And better fishing, because a bigger hook and a bigger bait means fewer, annoying small fish!
The biggest one I ever caught was a bit more than 12 inches, in Florida, using a cane pole, a medium red-and-white bobber, the smallest weight I could find in my tackle box, and a common garden-variety grub worm. There's just something about white that seems to attract the big bluegills.
The last thing I'll add is that cold water is the reason why bluegill fishing is better in the spring than summer. I've caught them in the summer, but never in the heat of the day, and the big ones are down beneath where most people fish with a hook and bobber. And when you get down there, there's always the chance of getting something better than a blue.  Because, where big bluegills hang out is where big bass hang out and they bite, too.
Finally, don't waste your time. If you're not on fish within fifteen minutes change something, starting with where you're fishing. Always look for structure, and in the spring always look for the spawn beds.
And remember that there's two things that make bluegills strike. They get aggressive, or protective, and they get hungry.
Beyond these simply points, all the gear in the world won't help you catch one – just enjoy it more. The lighter the tackle the better, because they can fight like nobody's business.
I've enjoyed it. Till next time…..