Getting just enough contact to extend her decisive plate appearance, Parkway's Adria Miller finally found her pitch and came through for the Panthers with a two-run triple that lifted them to a regional championship and berth in the state semifinals.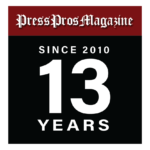 Clayton, OH – There are versions of softball played at picnics and on playgrounds where four foul balls count the same as three swings and misses, but there was far too much at stake Friday in the girls regional championship game for those rules to apply.
So as Parkway's Adria Miller battled to stay alive at the plate in the bottom of the fifth inning of a 2-2 struggle, no one yelled, "Four foul balls..you're out," as Miller sent pitch after pitch after pitch after pitch careening out of play.
Instead, Parkway coach Trey Stover gained confidence with every consecutive piece of contact that heightened the drama.
"I knew once they gave her something to drive, she was going to get it done," Stover said. "I just knew."
Clairvoyance comes a bit easier in the aftermath of a big moment like Miller's subsequent drive to the center-field fence, which eluded the twisting catch attempt of Covington's Karyanne Turner and scored Parkway runners from second and third base.
That gave the Panthers (20-2) a 4-2 lead, which they expanded with Emery Temple's two-run single later in the inning, part of a five-run fifth that made the difference in an eventual 10-3 final.
"I knew coach Stover had all the confidence in the world in me," Miller said. "I knew I could get a piece of it. I was hoping to smack it somewhere, and that's exactly what I did."
Covington (28-5) came in with the same expectation of success at the plate. After all, the Buccaneers had hammered their way past all comers late in the season and throughout the tournament, riding a seven-game winning streak into the regional finals via a collective score of 105-7.
No opponent held Covington to fewer than nine runs over that span, but Parkway's Meg Henkle limited the Buccs to five hits and single runs in the first, fifth and sixth innings.
"Their pitcher moved it around on us," Covington coach Dan Cain said. "I thought we would hit her better than we did, but we didn't do it. We'd been lighting people up, so hat's off to her. She did a great job and they made some great plays behind her."
Miller's stab and assist on an inning-ending smash in the fourth inning followed shortstop Mara Newhouse's back-hand pick and just-in-time throw to first that ended the third, with both gems stranding a Covington runner that would have scored.
What the Panthers' defense didn't do, Henkle accomplished with effective wildness – spacing out six walks – and smart strategy, dodging trouble with two more intentional free passes to Covington's most dangerous hitter, Nigella Reck.
Parkway sent Reck to first to load the bases with no outs in the top of the fifth, after which Henkle walked in a run that put the Buccs in front, 2-1.
But with the sacks still pregnant and still no one retired, Henkle induced a pop-out, a force at the plate and a fly to center that ended the Covington threat with no further damage.
"That was huge," Cain said. "Just huge. We had them loaded with no outs and the only run we got out of it was from a walk. We were right where we wanted to be in the order, but we couldn't get the big hit.
"Our big hitter was walked twice, but the base was open, so that's what you're going to do. We didn't hit well behind her. And, they made the plays. They were diving after everything and made some nice defensive plays."
Parkway gleaned far more from its own bases-loaded, no outs threat in the bottom of the fifth, pulling into a 2-2 tie after Brittyn Bruns leadoff single, Madison Louth's seeing-eye single to left and Paige Stephenson's RBI single to center.
Stephenson went to second base and Louth to third on a wild pitch, which set up Miller's decisive plate appearance that tilted the outcome to Parkway.
"That girl has had so many clutch hits for us this year in the middle of the lineup," Stover said. "She's just so steady. She doesn't get too up or too down…She's been clutch for us all year. I knew she was going to do it."
Covington added a run in the sixth to creep back within 6-3, but Henkle fought back from a 3-0 count on No. 3 hitter Maggie Anderson to retire the side on a shot back through the box, stranding runners at first and second.
The Panthers put it away with four more runs in the bottom of the sixth, using Stephenson's third RBI single of the game, a Miller drive to left that scored two more when Covington couldn't make the play and a Maddie Jacobs' single that scored Miller.
Suddenly, what had been a tight affair through four and one-half innings had become a blowout.
"We love these kinds of games," Miller said. "We don't like the games where we run all over everybody. We like the close, tight games. We have all the trust in the world in each other."
Parkway advances to play Hopewell-Loudon (30-0) at 3 p.m. Friday in Akron.