The season ended on the high note anticipated throughout.  The ups and downs of 2023 were for the time put aside, as the Buckeyes finished 31-25 with a sweep of the team up north.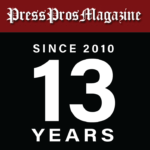 Bill Davis Stadium, OH – It ended the way it was anticipated in February.  The problem was…the bumps in between.
After beating Oklahoma to win the Frisco Classic – swept by Indiana, swept by Penn State, series lost to Maryland, Minnesota, Michigan State, and Iowa.
Not many bright spots…a series win over Illinois three weeks ago, a team with its on issues.
Then, the turnaround…non-con wins over Central Florida and Central Michigan.  A sweep over another non-con, UNC-Greensboro, and with the series final win over Iowa the Buckeyes enjoyed their longest win streak since March – when they reached 6 after the Dayton win on March 17.
And eliminated mathematically from the Big Ten Tournament, there was nothing left to play for except Michigan, a team already in the tournament and looking for momentum from the season's final weekend.
That momentum was denied Saturday afternoon as the Buckeyes finished a  three-game sweep of the Wolverines with a shocking 7-2 win, leaving TTUN with that same empty feeling that Ohio State felt a year ago, beaten two out of three, and frankly, embarrassed, leaving Ann Arbor with a 12-23 record.
They more than atoned on this final weekend of the season, taking all three games from Michigan in similar fashion.  They outpitched, outhit, and outplayed TTUN in every phase of the game.  And they wrapped up 2023 on a 9-game win streak (31-25, 9-15 in Big Ten), their longest win streak since 2009.
"I think it's impossible in baseball to end on a nine-game win streak and not be playing anymore,"  said Bill Mosiello.  "So how crazy is that?  But a lot of lessons learned by all of us, myself being super-humbled, but I'm super proud of the kids because they never wavered.
"And again, the staff gets huge credit because of the way they handled themselves.  They're not an emotional group, they kept the focus on improvement, and hey…I'm the emotional guy, so they did an incredible job of keeping everyone going."
The won it with a dominant pitching performance by sophomore Gavin Bruni, who may have once-and-for-all demonstrated the kind of predictable qualities that made him the state's #1 recruit two years ago – 6 innings, 2 runs, 5 hits, and 12 strikeouts.
"To sweep them was huge, and it was the only thing on my mind today,"  said Bruni, who finished 5-3 for the year.  "I wanted to give the team that chance.  Today was similar to the start against Grand Canyon, but I limited the walks and ultimately…I just felt confident out there."
They won it with that same timely hitting that started the 9-game win streak – 7 runs on 10 hits, with home runs again my Cole Andrews (his 8th) and Henry Kaczmar (his 7th).
They won it by playing error-free baseball…two out of the three games again Michigan, as to support the quality displayed on the mound by the pitching staff.
And they won it out of the bullpen…again on Saturday, three innings of no-run, 3-hit baseball by Will Pfennig, Josh Timmerman, and Wyatt Loncar, combining for 5 strikeouts against just 1 walk.
Emotional?  Mosiello could not hide the fact that a team he had regularly chastised during the season for reverting to their losing ways in 2021 and 2022 had come back at the end to show a quality such as to build upon in 2024 – their 31-25 record a ten-game improvement on the 21-30 record of a year ago.
And more, 2,268 people showed up at Bill Davis to watch it, many with brooms, anticipating the sweep that served to salve the worst of times this year, at one point the Buckeyes being 3-13 in Big Ten play.
"This means so much to me,"  said senior Wyatt Loncar, afterwards.  "It didn't go our way, but to finish like this, with these guys…hopefully it means something good for the future.  This place has meant the world to me, along with the people who brought me here and gave me this opportunity.  And having that final inning today, especially against the team up north…it was perfect, like something from a movie."
As has become their custom, they struck first in the second inning on walk to Mitch Okuley, a stolen base, and an eventual sac fly from Tyler Pettorini to take a 1-0 lead.
An inning later they added on one-out double by Marcus Ernst, Cole Andrews' 8th home run of the season, followed by an opposite-field homer by Kaczmar, his 7th of the year…4-0, Buckeyes.
In the fourth Michigan answered with a two-run homer to left by Jack Van Remortel to cut the deficit to 4-2.  But that was an aberration, as it turned out, as Gavin Bruni immediately got back on form to strike out 4 of the final 6 outs he faced through the sixth.
The Buckeyes added a run in the fourth on three consecutive singles by Pettorini, Lipsey, and Graveline…5-2…and padded the lead further in the bottom of the seventh on a leadoff walk to Kaczmar, a single by Nick Erwin, and a two-run double by Caden Kaiser…who else?…who continued his sizzling finish of the season and his senior year with two more hits in three at bats.
The bullpen?  So oft-criticized for its inefficiency and reliability, was once again 24 karat.
Will Pfennig, the veteran, pitched the seventh, allowing a hit, while striking out 1, using just 15 pitches.
Josh Timmerman, the plebe, pitched the eighth, striking out two of the three outs he faced, with 19 pitches.
And Loncar, whose physical size is matched only by the size of his heart and appreciation for four years as a Buckeye, finished the job with a pair of strikeouts, and true to form…he got his money's worth, throwing 24 pitches.
The Buckeyes won it with 7 runs on 10 hits and played flawlessly with the gloves.
Michigan lost it with 2 runs on 8 hits and no errors, and boarded the bus back north with serious questions as to their readiness for the Big Tournament in a matter of days.  The Wolverines looked like a shell of the team that manhandled Ohio State a year ago in April.  This time…it was the Buckeyes who did the manhandling!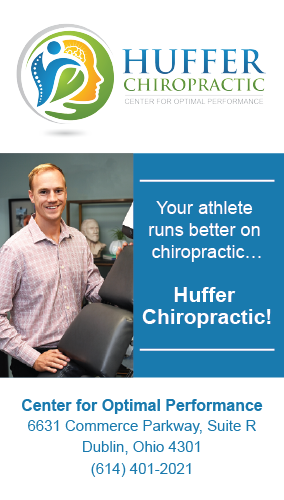 "It taught what we already knew,"  added Mosiello.  "To sustain this in 2024 we have to have the kind of pitching Gavin Bruni gave us today.  Baseball is pitching, pitching, and more pitching.  And confidence, and you can't just go to Wal-Mart and buy confidence.  You have to earn that.  You have to be confident before you have success.  If you wait to have success before confidence, it'll never come.
"It's super important to have winning players in the program who have won enough to know what it looks like…and have lost enough to know that it's not fun.
"Gavin Bruni was the power lefty that we needed today.  He's had good days, but not as good as he was today, and he showed that the program can be a big deal next year with him coming back.  But we all have to get better, as a team, and starting with me.  I'm going to have to do a better job.  If I had done a great job this year we'd still be playing next week."
They'll scatter like quail in matter of days, off to summer baseball to build on the final nine games…and to consider now what's obviously possible in 2024, given a fresh start and the hope in baseball that always springs eternal.
The one notable exception…senior Marcus Ernst, who went out swinging Saturday, 1 for 4, and narrowly missing his eighth home run of the season on his last at bat as a Buckeye.
"I was swinging for a home run, I won't lie to you,"  he smiled.  "I wanted to hit it off the scoreboard.  But sweeping Michigan in my last series is a great way to go out."
No one in the modern history of Ohio State baseball has dedicated themselves more, or squeezed as much out of five years, than Ernst, who labored through minimal opportunities in his first three years, then Covid, before igniting in 2022 to hit .337.
"Coming here…it was always my dream to be a Buckeye,"  he said, his eyes reddening and fighting the emotion in his voice.  "My dream came true and I don't think I could have given more…to the university, this team, and the guys in that locker room."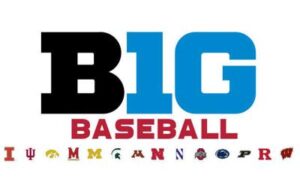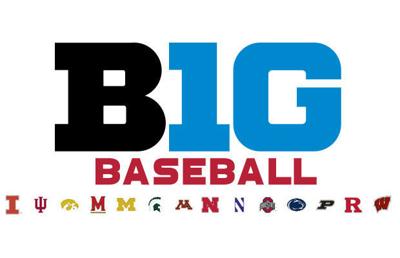 And short of making the tournament…could it have ended better for Marcus Ernst?
"No, getting to beat them three times is something I'll never forget…and I was happy as hell for my guys.  Everyone this weekend stepped up in such a big way.  Everyone played their best ball against those guys.
"It was awesome."
And nothing to add.  Marcus Ernst and the Buckeyes said it all.