Coldwater's Jenna Leugers and New Bremen's Evan Eyink have been chosen as the 2023 MAC Conference Scholar-Athlete award winners, with stunning credentials.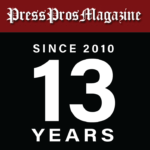 In one of the most competitive fields of recent MAC scholar-athlete applicants for the annual Press Pros sponsors' MAC scholar-athlete awards, Coldwater's Jenna Leugers and New Bremen's Evan Eyink have been selected as this year's recipients of the Stan Wilker Memorial Scholarship award.
Wilker was the former athletic director at Marion Local High School, long-time coach, and one of the architects of the conference's impeccable reputation as one of Ohio's premier collections of outstanding student-athletes.  A former Press Pros associate, Wilker passed away prematurely in 2018.
Jenna Leugers is a primarily two-sport athlete at Coldwater, and a team captain this past year in both volleyball and basketball.  But, she has an impressive track and field background, as well.
She helped lead the Cavaliers to the Division III OHSAA state volleyball championship match, where the Cavaliers came up short by falling to Mentor Lake Catholic.
But her list of accomplishments at Coldwater, on the court and in the classroom, certifies her status as a true 'student-athlete'.  Highly involved in numerous clubs and activities, she served as her class president in each of her freshman, sophomore, junior, and senior years.
"The highlight of my athletic career has been leading my volleyball team to the state finals match at Wright State [in November],"  she writes in her applicants essay.  "I always dreamd of playing on a stage as big as that one, and with hard work and dedication my teammates and I climbed the state tournament ladder all the way to the top.
"I feel that my athletic experience has only strengthened my leadership [qualities] and outlook on life.  I am incredibly proud and grateful to have represented Coldwater and the Midwest Athletic Conference over the past four years, and cannot be more grateful for everything athletics has given me."
An outstanding student, Leugers plans on attending the University of Findlay this fall to pursue a degree in exercise science.
Evan Eyink, from New Bremen, is a two-sport athlete for the Cardinals, having participated in football and basketball, serving as a captain on New Bremen 2022 Division VII state championship team.  The Cardinals won their second OHSAA title in three years.  Eyink gratefully played as an interior lineman in that game, after missing a significant part of his junior season, and the entire basketball season, with a broken ankle.  The Cardinals beat Warren John F. Kennedy for a second time in the title game, 38-6.
An outstanding student at New Bremen, he lists his GPA at 3.94, and has scored 30 on the ACT test.
His college plans include Bowling Green State University, where he plans on pursuing a career in engineering.
In his application essay, he explains a dramatic turnaround in life perspective, given that something that meant so much to him was taken away, and his coming to terms that "life was going to go on, with or without me."
"After being told that I couldn't play football for four to six months, I was in denial that this could happen to me, and that all my hard work seemed to be a waste.  However, I woke up the next day and found that life was going on, with or without me, and I decided quickly to make the most out of the situation.
"The rehab process was challenging, and at the time I was only focused on all that had been taken from me.  However, in retrospect the injury was something that enriched my life in ways I couldn't have imagined.  Adversity made me more confident and mature, and taught me how to use setback and failure as an opportunity for growth.  The experience taught me to be more mentally tough, not just in sports, but in all areas of my life."
Recipients' applications are ranked by panel of independent retired teachers and guidance counselors, based on grade point average, ACT/SAT score, athletic accomplishment, and personal essay.  Jenna Leugers and Evan Eyink will each receive the Stan Wilker Memorial Scholarship in the amount of $2,500 to help further their academic pursuits this fall.  The Press Pros sponsors MAC scholar-athlete awards are made possible by the following area companies and contributing sponsors:
Lefeld Welding Supply (Coldwater), Midmark Corporation (Versailles), Keyhole Pizza (Newport), McSobers (Coldwater) Leugers Insurance (Maria Stein), Kremer Roofing (Versailles), The Mr. Shoppe (Coldwater), 49 Degrees (Coldwater), the St. Henry Bank, Carriage Werkes (St. Henry), Moeller Trucking (Maria Stein), Phelan Insurance (Versailles), VPP Industries (Versailles), Kaup Pharmacy (Fort Recovery), H.A. Dorsten Construction (Minster), Minster Bank,  Westrich Furniture (Delphos), Minster Dental,  Sharps Bar & Grill (route 47, Sidney), Knapke Kitchens and Baths (Versailles), Park National Bank (Greenville, Versailles, Celina), Wilson Sports Medicine (Sidney), Logan Services (Vandalia), People's Bank (Coldwater), presenting sponsor, Securcom.com (Minster), the Davis Foundation (Columbus), and the Massey Trust (Portsmouth).