The rematch had overtones of their first meeting three weeks ago.  Loramie took advantage of one disastrous inning (the fourth) to beat rival Russia 4-1, and capture the outright baseball title in the Shelby County League.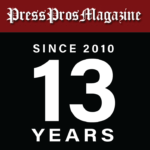 Russia, OH – On his way to amassing 500 wins as the coach at Piqua High School, hall of famer Jim Hardman used to say:  "Strike out three times less than the other team.  Put three more balls in play.  You never know what might happen.  They might give you the game?"
In a nutshell, that was the game story Thursday afternoon at Russia in the Shelby County League rematch with front-running Fort Loramie for the outright title in baseball.  Loramie scored three unearned runs in the top of the fourth, on a pair of Russia errors, and made that stand for an eventual 4-1 win over the defending champions in Division IV.
In a game highlighted by pitching and defense, it was Loramie's pitching and defense that won out, with Fort Loramie sophomore Christian McGee spinning a complete-game four-hitter in which he struck out 5, walked 2, hit 3, and as a result of that one inning – the top of the fourth – came out on top.
"I told our guys…when you minimize your mistakes and your strikeouts, and make the other team make more plays, sooner or later you're going to get a break,"  said Loramie coach Jeff Sanders.  "Something's going to give, and even against a great defensive team like Russia you might get a break like we got today.  Today wasn't their best day, and they're going to improve.  But the important thing was…we took advantage of it."
After a scoreless first, Loramie's Maverick Grudich drew a leadoff walk in the second off Russia starter Xavier Phlipot.  Teammate Max Cotner followed with a double to the gap in left center to score Grudich, and just like that the Redskins had the game's first lead.  But not for long.
In the bottom of the second Russia's Ross Fiessinger drew a two-out walk and scored on a double by freshman catcher, Cooper Unverferth.  That game was even again at 1-1.
It stayed that say until the top of the fourth.  Cotner led off with a single off Phlipot.  Darren Eilerman followed with another single, but a pair of throwing errors by Russia's Hayden Quinter and Brayden Monnin allowed Cotner to score with the go-ahead run.  Logan Eilerman followed with yet another single, and Russia made a pitching change – Phlipot out and Braylon Cordonnier in.   Collin Lessing then cued one off the end of the bat at Quinter at third and he airmailed the throw past the first baseman for a third error in the inning, allowing both Eilermans to score – a three-run inning – and a 4-1 Russia lead without benefit of an 'earned' run.
From that point on it was pretty much about Christian McGee, and his ability to throw strikes, pitch to contact, and allow his defense to make the plays that Russia didn't make in the disastrous fourth.
Having pitched a no-hitter against Minster a month ago, McGee wasn't nearly as sharp on this day, but he caught the Raiders in the middle of an offensive funk that's threatened them for almost a month.  In short, the Raiders had a precious few good swings against the Loramie left-hander, and the couple of hard hit balls they had were gobbled up by a play at short by in the fifth by Grudich on a line drive by Cordonnier…and a running catch by Logan Eilerman on a sinking liner to center by Brayden Monnin.
Beyond that…crickets!
"He's got kind of a long, lanky delivery, and a big stride,"  said Sanders of his young lefthander.  "The ball kinda' gets on you, and he has just enough of that lefty whip that the ball has good late movement.  He can mix things up, and sometimes he can be effectively wild.  But he competes.  He's had some ups and downs this year, but when he's out there he competes."
Not blessed with great command on this day, when he challenged Russia hitters with the fastball the late movement time and again got the best of them – popups and routine fly balls to the outfield.
Russia coach Kevin Phlipot was disappointed, but took the Raiders current hitting woes with some perspective.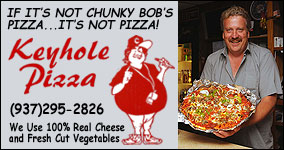 "It was kind of the same thing that happened over at Loramie,"  he lamented.  "There was that one big inning, and right now we're not limiting that one big inning.  We let things slip away and snowball, and that's what we talked about after the game.  You have to avoid the big inning.  Today was disappointing, but if we can do that we'll be alright.
"We had a couple of good swings, but that's the way things have been going.  If we hit a ball hard today it was at someone.  So it's too many weak outs, and if we want to call ourselves a good team – sure, we have a bunch of wins – but we're not hitting like a good team.  Right now if we're going to win ballgames it has to be about pitching and defense."
These are the defending Division IV champions we're talking about, which only emphasizes how baseball, as a game, can humble you when you least expect.  All it takes is a particular pitcher on a particular day.  Russia has seen its share.
"We lost 1-0 to Wapak, then won two tight games, 4-3 and 2-1, lost a 2-1 game…we can win like this, but it's not easy.  We've got to be damned near perfect.
But the four errors in Thursday's loss was far from perfect against an ascending team like three-time champion Loramie.
The good news for Russia….?
They're 19-5, and have a couple of remaining games to cure some of their issues at the plate.
The good news for Loramie…?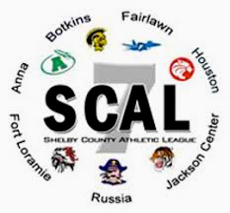 Well, it's always good news when you don't have to share the league trophy, and the Redskins (19-4), finished the SCL schedule with a perfect 12-0 mark.
The better news…?
They've never felt better about their pitching, and defense, and the simple fact of putting the ball in play and see what happens.
Sometimes…they might give it to you.