Tied 3-3 in the top of the seventh, Kendra Clune's dramatic three-run homer shocked everyone and lifted Coldwater past #2-ranked Minster in a MAC thriller, 6-3.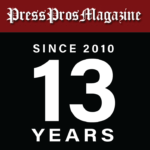 Minster, OH – Afterwards, Coldwater senior Kendra Clune admitted, "I've never had a walkoff home run like that before.  But I knew I had it in me."
Hardly loquacious, the Cavaliers senior, in fact, seemed far more comfortable crushing her three-run home run in the top of the seventh inning off Minster pitcher Mikaela Hoskins than she did talking about it.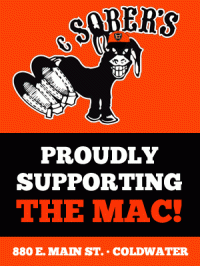 But in the moment, she did, in fact, have it in her, driving a fastball over the left-center field fence, the winning runs in a thrilling MAC 6-3 decision over #2-ranked Minster.  The win boosted Coldwater to 14-6 for the season (4-3 in the MAC), while Minster slid (?) to 20-2 for the year (5-1 in the MAC), and for the moment tied for the league lead with Parkway.
How it started should have been an omen.  Batting the top of the first Coldwater drew first blood when Claire Steinke scorched a fastball off Minster's Brooklyn Osterloh for a two-run home run to give the Cavs and pitcher Madison Wendel an immediate 2-0 advantage.  Wendel, a Marshall University commit to play softball in Huntington next year, wasn't as dominant as usual, but she made enough good pitches to strike out 7, allow Minster just 4 hits, and was the beneficiary of some brilliant defense behind her.
Minster chipped away in the bottom of the second, scoring on a walk to Hannah Oldiges, a stolen base, ground ball out, and a sac fly from Hailee Albers to score Oldiges…2-1, Coldwater.
Minster would tie it in the bottom of the fourth when shortstop Lyndi Hemmelgarn singled to lead off the inning, she stole second, and advanced all the way home from second on a pair of throwing errors to knot the score at 2-2.
But 'knot' for long.
Coldwater came right back in the top of the fifth when Avery Knapke led off with a single…Madison Wendel followed with another single…and Minster coach Rob Hemmelgarn walked Claire Steinke intentionally to load the bases with no one out, choosing to take that chance over allowing her the opportunity to hit a second home run.  Brooklyn Osterloh then struck out Jordan Hemmelgarn for the inning's first out.  Kendra Clune came to the plate and hit the first strike she saw to left field for a sac fly, scoring Knapke from third to retake the lead, 3-2.
Minster is a really good team…for the fact that they limit strikeouts and put the ball in play, even against a pitcher the status of Madison Wendel.  In the bottom of the sixth Rylin Trego led off with a punched single to right field, then promptly stole second base and advanced to third on a ground ball by Lyndi Hemmelgarn.  One batter later she tagged and scored on a fly ball to to left by Mikaela Hoskins…and the score was tied at 3-3.
To the dramatic 7th, which more often than not characterizes softball because everything is closer – the mound, the bases, the fences – and there is that sense that one well-struck ball can create havoc in the blink of an eye.
Reliever Mikaela Hoskins had taken over on the mound for Osterloh in the sixth and retired the side in order.  And to start the seventh she quickly set down leadoff hitter Avery Knapke and Madison Wendel on a pair of fly ball outs.  Up steps Claire Steinke for her third at bat…and with no one on Rob Hemmelgarn again chose to put her on intentionally, rather than risk the threat of a home run.  Jordan Hemmelgarn followed with a ground ball single through the infield.
However, Hemmelgarn didn't figure on Kendra Clune, who already had a double and single in the game, and had been one of Coldwater's most consistent hitters of late.  And with two outs,  she again lined the first fastball strike she saw for home run over the 200 foot marker to the left of center field.  Knapke and Wendel scored ahead of her, and if you listened closely you could hear the air hissing out of Minster's hopes for the bottom of the seventh….6-3, Coldwater.
"I think this makes six home runs,"  she later said, sheepishly.  "But I've never had a game-winning home run.  For sure this is the biggest I've had.  I was not expecting that to happen, but I knew I had it in me.  I was just hoping for a hit, and I knew right away…it felt great and it was going to go out."
The bench met her at home plate, as dramatic moment as there had been in MAC softball all season, and Clune, not Claire Steinke, had set off the game-winning fireworks.  And for the day – she finished 3 for 3 with a sac fly, 4 runs batted in, and the game-winning homer.
"She changed everything with that home run,"  said Madison Wendel.  "It changed the momentum, and everything.  It took the pressure off us in a 3-3 game, and it took all the momentum away from them in the bottom of the seventh.  I just relaxed and tried to pound the strike zone."
Which is exactly what Wendel did, allowing a leadoff single, but then retiring the side on a fly ball, a ground ball to first, and closing in style…she struck out Brooklyn Osterloh for the final out.
Coldwater won it with 6 runs on 7 hits (three by Kendra Clune) and committed 2 errors.
Minster lost it with 3 runs on 4 hits and played error-free.
"That was a big hit for Clune,"  Minster coach Rob Hemmelgarn acknowledged, afterwards.  "She hurt us last year, and we knew that she'd been hitting well in recent games.  We did our best to pitch around Steinke, but Clune had the big hit."
"That was such a big moment for Kendra,"  said her coach Kyle Ahrens.  "And I'm so proud of that kid.  She's been through a lot in the last four years so it's hard to put in words how happy I am for her to come through like she did in a game like this…as a senior.  She's been swinging a hot bat and she came to play today.
"It was a big game for us, but we talked about it last night…we came to win.  We have a lot of respect for everything Rob does over there because Minster's a great team and they're having a great year…but, we came to win.  We're going to face a lot of good teams from here on out, so we expect to win games."
They just didn't expect to win this one like they did.  No one did.
Not even Kendra Clune.