We learned that the public address voice of the Buckeyes died suddenly on Sunday, a guy a lot of people never knew…except by his unmistakable personality behind all the announcements.
I was driving home from the Ohio State-Illinois baseball game on Sunday when my phone rang with the news:  "Hey, Bob Kennedy died today.  Did you know?"
Did I know?  Heavens, no.  I had just talked to him the day before at Bill Davis Stadium, laughing as we always did about all those public address announcements he'd aired for decades.
"Bob,"  I said.  "No one does the Coca-Cola read like you do…the way you end it with that feathery touch you put on the word, 'Enjoy….'   Just one more time I'd like to hear it."
Never knowing.
From his seat behind home plate and the plexi-glass he laughed raucously, and said to an assistant, "You see what I have to put up with?"
I missed him on Sunday, figuring he had another gig somewhere, because Bob was always somewhere…working…and often, I think, for free.  Someone else did the Coke read, and it wasn't the same.  It will never be the same.
He was 59 years old and it was widely known that Bob had been in failing health for some time.  But Bob Kennedy loved his job, and he loved the people that came with his job.  And if you ever doubted, just sit down with him and start a conversation.  Bob would take it from there.
He had been with Ohio State since 2003, and knew every name on every roster, from every sport, from just about every event he'd ever worked.  He knew the people in the stands.  He knew the cheerleaders. He knew the managers, and the 'Red Coats'.  And on Ohio State trivia (what he called minutia) you didn't dare challenge him.
He was a big man, whose appetite for the audience was as big as his taste for the media buffet.  He loved people and he loved the anticipation of seeing the familiar faces that came with the next game…always the next game.  He was known to leave an afternoon game at Ohio Stadium and hours later work a high school playoff game, somewhere…anywhere…for the chance to be around the people who appreciated his unmistakable voice – his gift.
"More like a curse,"  he laughed to me during a press box breakfast at Ohio Stadium last fall.
He worked radio in central Ohio.  He knew music, musicians, and his memory for dates, and songs, and personal appearances was unbelievable.  Someone once mentioned a Brook Benton concert at a club on the north side near Morse Road, from years before.
"I remember,"  said Bob, and no one questioned, or doubted.
People will remember him at Bill Davis for the unmistakable joy he took in entertaining people by just doing the routine…from the Coke read to the way he narrated the shell game with Brutus Buckeye on the scoreboard between innings – which hat is the baseball under?
"It-t-t-t-t's up….and T-shirt time!  His voice would ring out between the fifth and sixth innings.
I would challenge him to do impressions of iconic public address men from other sports, and other leagues.  He knew them all – Paul Summerkamp (Reds), Bob Sheppard (Yankees), and Sherm Feller (Boston Red Sox).  And his imitation of the slow, deep, measured Sherm Feller cadence (not Bob Feller) from Fenway Park was right on the money.
"39…Conner Pohl…Arcanum…first base", Bob would do it – simple, entertaining, and articulate.  He knew that someone was being entertained, and he lived for it.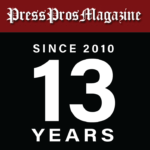 I'm blessed for having had our final conversation, and sure enough, during his Saturday pre-game reads I heard it from beyond the third base dugout while I waited for the game to begin.
"Wherever you go, there will always be Buckeyes…and there will always be Coca-Cola.  E-n-j-o-y…..!
There's a photo online of Bob – I think from the Lantern student newspaper (above).  It's worth more than a thousand words in describing Bob's personality and enthusiasm for what he did.
We'll have to do without that now.
A lot of people will miss Bob Kennedy!