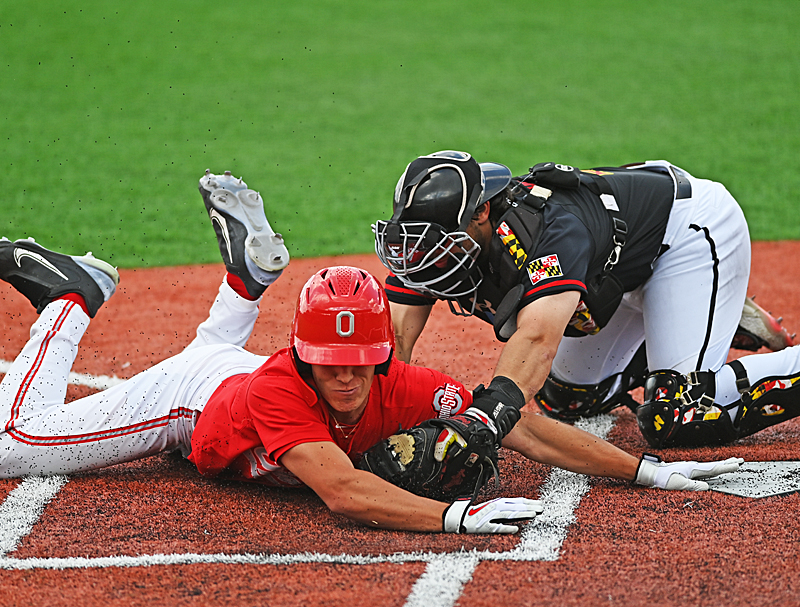 No one saw saw it coming like it has, but the Buckeyes' slide in the Big Ten baseball standings can probably be explained in simple human terms.  Fear of failure is an enemy worse than Maryland or Michigan.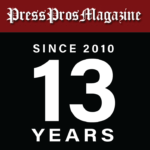 State College, PA – To a man, when Bill Mosiello was hired back in June to replace Greg Beals as baseball coach at Ohio State they all thought the same…that a new vision, a new way, and a new personality was necessary.
In fact, think the old adage:  A new broom sweeps clean.
Then  think again.  A new broom works best after it's broken in…has that bend to the bristles that allows for more instinct, and dependable work.  Until then, you just push the dirt around, but maybe not predictably.
And that thought has crossed my mind more than once over the past two months.  There are things you see with Ohio State baseball that are predictable by its unpredictability…against the best (Mississippi State and Oklahoma), as well as the lesser teams…Akron and Bowling Green, for example.
Statistically, they're better in some areas.  They're hitting six points above last year (.270), and defensively, they seem a world better (.969 with 30 double plays).  Last year for the season they barely turned 20.
But the easy to explain reality of his team can be summed up in life-sized examples.
As a team it hasn't pitched well, first and foremost, and that will get you beat every time you take the field.
There are individual exceptions, without pointing them out…but they simply walk too many batters – 343 strikeouts to 227 strikeouts walks.
We talk about walks to strikeout ratio?  It should be about 2o% at this level of baseball.  Ohio State's is almost 67% – two-thirds!  Flip that one statistic and one can easily imagine this team being .500 in the Big Ten – those big innings against Indiana, Michigan State…and again in the seventh inning Saturday night against Penn State.  Extra base runners who scored…and didn't have to earn it!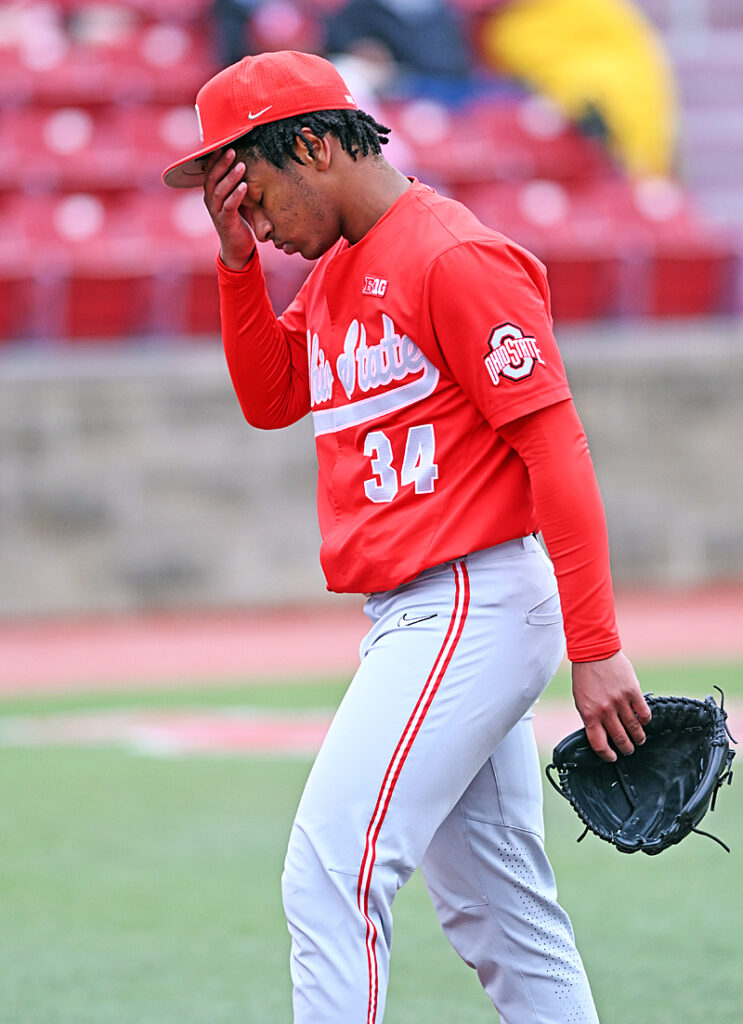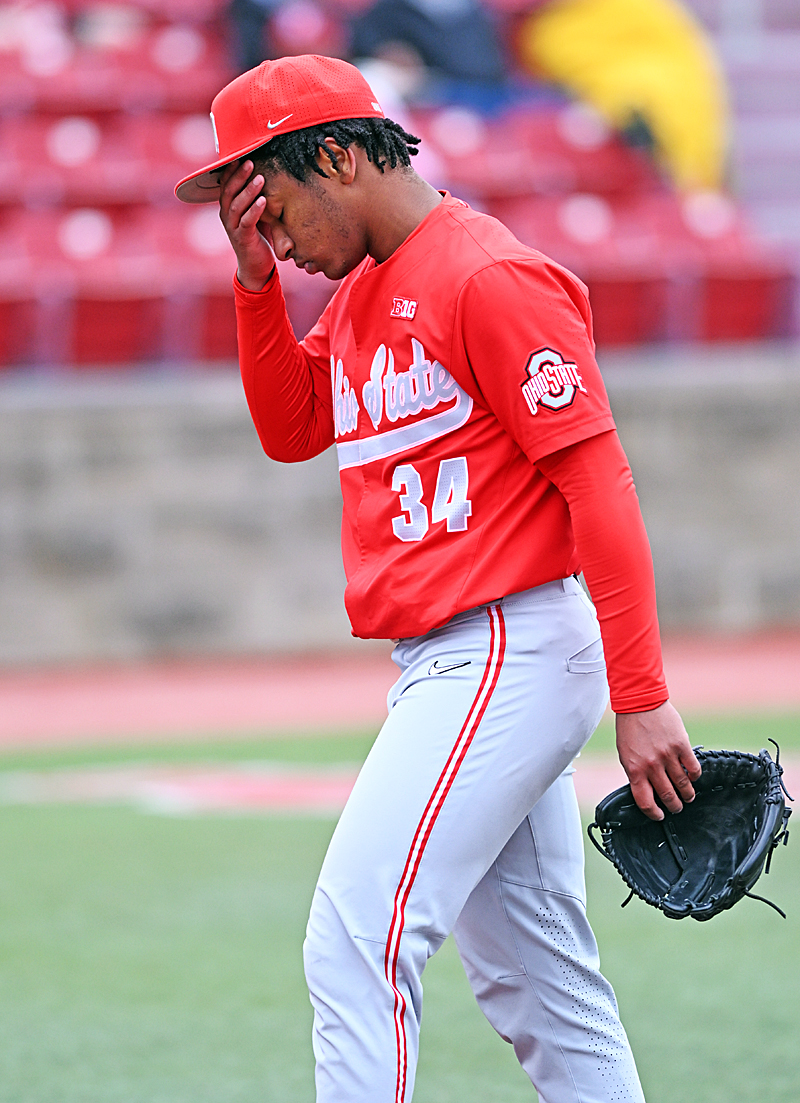 Issue two is simply this.  Humans operate best when they call upon positive muscle memory – the glass half full instead of the glass half empty.
Mosiello drilled them all fall on recognition and reaction – when to be aggressive to take the extra base, and how to recognize and swing at the right pitch.  And while we've seen some of that – they've stolen 51 bases in 66 attempts – there's also some station-to-station going on, too, for lack of instinct – positive muscle memory.  When you're 20-19 (or 3-11 in the Big Ten) mistakes are magnified and no one wants to make a mistake.
And then, as we wrote about in February, you've got to be healthy. No excuse…just fact!  Isaiah Coupet (hamstring), Josh Timmerman (shoulder), Marcus Ernst (shoulder), Trey Lipsey (groin), and Kade Kern (recent knee bruise) have all missed time and this team doesn't have the kind of depth that withstand that.  Not yet!
This is a team that really embraced the new broom, but 56 games is not a lot of time to get the bend just right, regardless of what argument anyone makes.  There is talent…yes.  It's very apparent that the core future is on the field.
But it's equally obvious that they play, collectively, with diminished expectation – a very common human frailty.  And like most college baseball programs, the roster is stocked with good kids who've never known this kind of competitive stress – never had to worry about making their high school baseball team.  They've all grown up in 'select' baseball, where if you had the money to play travel ball you're were going to be on the team, stress-free!
Now it's different.  When you enter the game with the score tied and two men on base the last thing you can afford to do is walk the leadoff hitter.
With the bases loaded in the ninth inning the last thing you can afford to do is strike out.
Offensively, put the ball in play and make the other team make a play.  They make errors.  Put down a bunt and let them throw it down the right field line.  They may give you the game!
When you're the tying run standing on second base you can't get picked off.
These are HUGE glass half-empty examples that better baseball teams turn into glass half-full.  Do more by doing less.  Focus on positive.  Execute against someone different like you do against yourself in practice.  Everyone's human.  Throw strike one the pitcher has the advantage 60% of the time.  Throw strike two that figure jumps to 80%.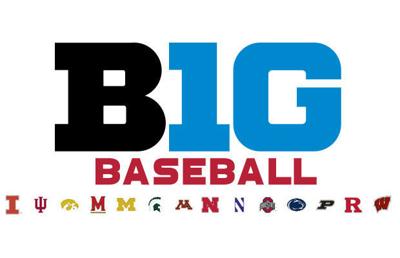 I think the coaching change has had its merit.  I've seen it.  I've heard it.  Different personalities, but brilliance is not hard to spot in baseball because at its core baseball is an easy game to teach and learn.  But it's a hard game to play with instinct when you don't trust your instincts – or when you're not ready to throw strike one with the bases loaded and two out.
So fix that between now and next year.
Think about putting pressure on the other team, instead of them putting pressure on you.
Have some fun.  Geezus…have some fun!
This is what Mosiello is talking about…every day.  And of course, in his own way.
Does it work?  Of course.  look at the standings and understand that Nebraska, Michigan State, and Indiana were in this same position last year.  This year they're going to make the conference tournament.
You can see the glass half-full.  And you love what you see.
It's just that half-empty is so frustrating…when you're thirsting for more.