Kyle McCord plays four quarters while Devin Brown watches with a bandage around his throwing hand. About the middle of August is when Ryan Day will let everyone know what he's thinking.
By Jeff Gilbert for Press Pros Magazine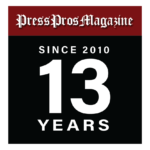 Columbus, OH – Only a mind reader could know if Ryan Day's brain is closer to making a quarterback decision. But who would want to read his mind?
Imagine the amount of information in there. The scenarios he plays out. The decisions he ponders. And that's just about who should start. And not just at quarterback. But at left tackle, right tackle, in the secondary.
The evaluation of Kyle McCord's quarterback acumen is surely at the front of Day's mind. That process continued in Saturday's spring game in about a half full Ohio Stadium. The junior QB Day identified as his guy during McCord's recruiting season completed 18 of 34 passes for 184 yards and a 37-yard touchdown pass to true freshman Carnell Tate. McCord's play didn't make a statement that said, "I am absolutely the guy."
That's not to say he can't do the job. He just didn't show he's clearly QB1.
"What you saw in the game was similar to what you've seen in practice," Day said of McCord's performance. "Some good things, some things that you'd like to see a little bit better. But he's growing."
McCord talked about the natural progression from year one to year three. He said he believes he's much better than the guy who started against Akron as a true freshman when C.J. Stroud needed a week off to get his throwing shoulder healthy.
Saturday's chance to be the only QB to run with the first team also came about because of an injury. Devin Brown, a year behind McCord in the program, missed the game because he injured a finger on his throwing hand earlier in the week. Brown said he will be throwing again in four weeks.
Brown's chance to win the job comes in August. Did he fall too far behind Saturday? Perhaps.
The two QBs stood next to each other answering questions after the game. They are teammates and friends, but the moment surely felt awkward and probably made them stop short of saying all they were thinking.
"The competition is great, and we both know what it is," McCord said. "Devin is definitely making me better, and I think vice versa as well."
With that comment, McCord looked toward Brown and Brown nodded in agreement.
McCord continued, "Even though there's not a winner of the job yet, that's going to benefit both of us."
The transfer question came up and both said they are staying with the Buckeyes no matter what.
The question Day won't answer yet: Did McCord do enough to make it his job to lose? Can't read his mind, but the probable answer is probably not.

The receiving corps, as deep and talented as it is, was not fully at McCord's disposal. Marvin Harrison played in the first quarter and caught three passes for 62 yards. There was no Emeka Egbuka, no Julian Fleming. Day made note of that.
McCord's touchdown pass to Tate came on the first play of the fourth quarter. They didn't draw it up in the dirt, but they had time to figure out the best play possible. Tate got open deep, McCord hit him in stride at the goal line and said what all good quarterback leaders say.
"When all those things come together the result is a touchdown, but I think it's a tribute to the 10 other guys and everybody doing their job," McCord said. "When that happens, good things happen."
The offensive line vs. the defensive line isn't the fairest of fights right now, which put McCord on the run a bit even though the defense didn't blitz. The D line starters are settled and overall more experienced. The O line is a work in progress. Tegra Tshabola and Zen Michalski split time at right tackle until Tshabola got some back-to-back series with the first team in the third quarter. And Carson Hinzman, who has four years of eligibility left, shared center duties with transfer Victor Cutler.
"Inconsistent," Day said of the O line play. "There were some good thing,s but we need more consistency there. The good news is on defense we're getting in the backfield and creating confusion and chaos."
Of course, quarterbacks weren't the only players auditioning Saturday.
The running backs expected to get the most work are TreVeyon Henderson, who was out with an injury, and Miyan Williams, who got four carries for 14 yards. Chip Trayanum made the most of his opportunity with a 65-yard touchdown run and 110 yards on three carries. He looks faster than last year.
"He's put on some weight and is able to carry it," Day said. "He's got some high-end speed."
On defense, linebacker C.J. Hicks and safety Sonny Styles were the guys who flashed. The flash plays show what a player can do, but don't guarantee consistency. The coaches want consistency because consistency builds trust that a player will do what coaches want more than anything: be in position to always make the routine plays.
Both of them played with the ones and the twos and both broke up two passes. Styles' best play was on a pass over the middle that he stretched for and got his fingertips on. Hicks also made some good stops filling the gaps on running plays.
"I'm going to put a new category in there," Day said of Hicks. "He flashed more. You're still looking for that consistency, but you're starting to see it more and more."
Other observations:
Jayden Ballard is known for his speed. He got open deep once, but McCord's pass was underthrown just enough to get tipped away. He also showed good hands with a one-handed sideline catch and a fully extended two-handed catch over his head.
The secondary's coverage was strong. Harrison got open a lot, but he is the best receiver in the country. Otherwise, there were few openings downfield.
The starting front defensive four: Jack Sawyer and J.T. Tuimoloau at the ends and Tyleik Williams and Mike Hall in the middle is stout. They will be difference makers.
This team could play for a national championship in January. The defense must be better than last year, and it appears to be. The offense must be explosive again. And when everyone is healthy there's no reason to think it won't be no matter who plays quarterback.
Will anyone on this team win the Heisman? Impossible to know. But a two-time Heisman winner made an unexpected appearance.
With 5:23 left in the third quarter, No. 45 jogged onto the field. McCord handed off, the defense stood aside and Archie Griffin slowly ran 25 yards for a touchdown. Still, it wasn't enough as the defense won 40-31, being rewarded for good plays throughout the afternoon.
In the middle of praising Trayanum for his performance, Day deadpanned as best he could.
"The offense needed a little help at the point, too," he said. "So we felt like call it into the bullpen and pulled in 45. That was good."
No mind reading needed in that moment. A grin slipped through.