Minster's off-season bonding has helped the Wildcats' on-field success …. which continued with a 6-0 victory against St. Henry on Thursday. While Minster was making the most of six hits, including three for extra-bases, pitcher Brooklyn Olsterloh was striking out 14.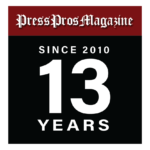 Minster, Ohio – Before Hannah Oldiges' two-run homer, Mikaela Hoskin's two-run single and Lyndi Hemmelgarn's RBI double … the Minster Wildcats were connecting.
Months before, in fact.
Open gyms, team-bonding events and travel ball have all contributed to the Wildcats' 9-1 start this season. It all came together again Thursday evening … albeit after a slow start … to knock off the St. Henry Redskins 6-0 at Four Seasons Park.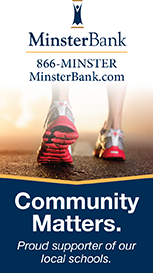 Timely hitting, solid defense and strong pitching have the Wildcats in the hunt for a fourth Midwest Athletic Conference title in five seasons. Minster's streak of three straight MAC titles was snapped by Coldwater last season. It was the 'Cats lone conference loss.
Those voluntary batting sessions in the cage on the gym stage took on added importance following last season's runner-up finish. But the Wildcats made sure to keep it fun, too. Now they're enjoying both line drives and laughs.
"It's hard practicing inside but everyone showed up in the off-season and stayed to get those hits in," said Hemmelgarn, a senior shortstop. The more the reps, the more you see the ball, the connectivity. We talk a lot about connectivity with our team even before the season starts. It helps out a lot."
That teamwork showed up in the third inning on Thursday. Hoskins, a junior first baseman, struck out against St. Henry senior Carlee Rethman in the first inning. Hoskins chatted with Minster coaches after retreating to the dugout.
In her next at-bat in the third, Hoskins came to the plate with the bases loaded … all on walks. Hoskins singled to left to score Reece Albers and Rylin Trego for the 2-0 lead.
"The at-bat before I was definitely not on it," Hoskins said of striking out on four pitches. "In the dugout we talked about at-bat adjustments. So I decided to back up a little bit, get my hands through a little further. … We just kind of talk to each coach individually and ask what did you see."
Rethman, for her part, responded by striking out the next three batters.
"Carlee did a great job," said St. Henry coach Ashley Knapke, whose team starts two upperclassmen with one senior and one junior. "She kept her composure pretty good. We could have fallen apart there and Carlee stayed tough."
St. Henry (5-5) retired the side in order in the fourth before Minster added to the lead in the fifth. Trego led off with a double. Two outs later, Oldiges turned on a pitch and smacked it over the 200-foot marker in left field. Her fourth homer this season gave Minster a 4-0 lead.
"Honestly, I thought the opposite," Oldiges said when asked if she knew it was gone. "I thought, "That looks foul."
Minster added two more in the sixth. Reece Albers reached on an error … and sprinted to third on the play. She scored on a wild pitch. After Trego walked, Hemmelgarn doubled her home for the 6-0 lead.
"I thought we were smart on the bases and not too overaggressive," coach Hemmelgarn said. "We're a hitting team … we're like that bull that comes out of the rodeo pen all amped up and ready to go. We can be a little over-aggressive. I felt like we were early. We need to work on our discipline at the plate and a little better pitch selection, but we did that when we needed to."
Minster made the most of six hits against Rethman, who struck out nine and walked five. The Wildcats also reached base on two Redskins errors.

"Robb does a great job with those girls," Knapke said. "I think we needed to come in with a little stronger mindset because (Minster) is pretty solid. (Brooklyn) Osterloh kept us guessing. She got us swinging at a lot of rise balls."
Osterloh, a sophomore, struck out 14 … and in clutch situations. In the top of the first, Rethman and Jalynn Everman stroked two-out singles. Osterloh ended the inning with a strikeout.
After Everman led off the fourth with a double, Osterloh struck out the next three batters.
"She's rolling right now," coach Hemmelgarn said of Osterloh (2-1, 1.11 ERA), who has 31 strikeouts in her last two outings and 57 overall in 38 innings pitched. "She ended the game with a pop up, which is something we've been working on with her. She had a great day and her defense was spot on."
"She's doing amazing this season," added Hoskins. " … I feel really good about everyone's energy. We're all connecting which is nice. A lot of team bonding going on in the off-season, which has really helped us this year."
During the off-season the Wildcats got together for pizza parties and movie nights at the Knights of Columbus Hall. After games you can usually find them at Buffalo Wild Wings. And usually smiling.
"All of us, we all play summer travel ball," Kaycie Albers said. "We're playing this sport all-year round so when spring comes around we're ready to go. We love playing with each other. We enjoy going to practice and making it fun.
"We feel good but we're not satisfied. Coach always tell us be happy but don't be satisfied where you're at."
After Thursday … that's atop the Midwest Athletic Conference.