After 17 seasons fate and talent finally smiled on Tri-Village girls coach Brad Gray, whose Patriots claimed the school's second state basketball title…and just as important, the the girls' first.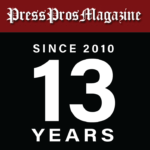 Some say they had it wire-to-wire – that the Tri-Village Patriots took on all comers in 2022-'23 to prove that their talent and confidence was legit…confirming an old adage that failure and disappointment is indeed life's best incentive and motivator.
But still, you have to prove that, and in 2022-'23 Tri-Village women's basketball coach Brad Gray never let his girls overlook, or take for granted, years of being a bride's maid when they so desperately wanted to be the bride.
And when it happened last month, they did it with a flourish reserved for only the best of past OHSAA champions – undefeated (30-0), and center stage.  And after 17 seasons, Brad Gray finally got the attention and recognition he so richly deserved personally, after years of being just off stage.  Part of that recognition includes his being our 2023 Press Pros area Coach of The Year in girls basketball.
"It's been a long journey for this group,"  said Gray back on championship Saturday at UD Arena.  "But it's been an even longer journey when you consider all the heartbreak over the last 10 or 12 years.  We 've had other good teams that let it slip through their fingers, but those teams led us to this moment.  It built us for the moment."
But no more than Gray, himself, who remained outwardly stoic and committed during those years of disappointment, that included one previous trip to the Final Four back in 2012.  He became, if not a better coach, a realist to understand that to become the best you have to prepare against the best.  And so in period since 2012 he burned up the phone wires scheduling the best that he could find – at home, or on the road – to forge steel with steel.  His calculations, and all those phone calls, paid off.
When Toledo Christian made a second half run to wipe out a 13-point Tri-Village lead in the Division IV Final, Gray's girls responded according to script.
"You expect a championship response like theirs (Toledo Christian's) in a game like this,"  said Gray.   But our kids have been really resilient all year. Their response when things have not gone our way has been really good. There was never a moment where doubt seeped into our minds."
They took back the momentum on the shooting of their three senior stalwarts, Rylee Sagester, Morgan Hunt, and Tori Richards, reverting to form in the manner seen so many times against the competition that prepared them for just that moment.  Up by seven points in the final seconds, they sealed a 52-50 win at the foul line, made closer by a desperation half-court shot by Toledo Christian at the horn that went in.  Fitting for the moment, the sacrifice, and the journey.
"It's indescribable, the things we've been able to accomplish," Sagester said.
And easy to describe now as Brad Gray takes his place as a champion coach amongst the ranks of the best – those recognized from past titles.  But for now…we're happy to recognize him, ourselves, as the 2023 Press Pros area girls basketball Coach of The Year.