Last year Jack Sawyer was a square-pegged defensive end in the round hole defensive coordinator Jim Knowles calls the Jack. The experiment didn't work and Knowles still doesn't have a Jack, but the guy named Jack is ready to team up with J.T. Tuimoloau to be what the Buckeyes hope will be a dominant pair of ends.
By Jeff Gilbert for Press Pros Magazine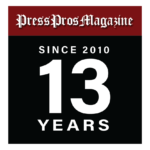 Columbus, OH – Coaches talk repeatedly about putting players in the best positions possible for them to succeed. Jack Sawyer's opportunity to be who he was recruited to be is finally here.
Sawyer came to Ohio State from Pickerington North High School in 2021 to play defensive end. But not to be just any defensive end. He came to be the next great Buckeye pass rusher, an All-American, a first-round draft pick, a guy with his name on the marquee.
When the recruiting sites call you a 5-star and rate you the No. 5 player in your class, great things are supposed to follow. Time has certainly not run out on Sawyer to have a Hollywood ending. But last year, his second in the program, turned into a detour through no fault of his own.
New defensive coordinator Jim Knowles showed up with a defense different from the one Sawyer and the rest of the defense were recruited into. Knowles brought his safety-driven scheme from Oklahoma State with secondary positions he calls the Adjuster and the Bandit.
His other invention is the Jack, a hybrid role that is part end, part linebacker and maybe part something else hasn't worked yet. When the Jack is in play, the D-line is a three-man front, which is a big departure from what line coach Larry Johnson has always done.
The key thing to know: the Jack is standing up when the ball is snapped and his assignments are not the same as the ends. Last season, Knowles identified Sawyer as a guy who could play the Jack. That meant Sawyer repped in practice as the Jack and as an end. It was more of an experiment than an audition. But no more.
"It was kind of a lot with the plays, but it was what it was," Sawyer said after Thursday's practice in the Woody Hayes Athletic Center.
Sawyer's focus now is the position he was born to play. He will start every play with his hand in the little black rubber bits of the artificial turf.
"I'm just excited to get back to defensive end where I feel at home," he said.
Sawyer spoke diplomatically about last year, saying it was fun to do both, that the coaches did a great job with him and that it's not a big deal that he is back where he belongs. But he did call defensive end home and referred to last year as "it was what it was" more than once.
"It was a conversation me and the coaches had together, and we came to an agreement," Sawyer said. "We both felt the same way about what we wanted to do. A mutual thing between the coaches and I."
Knowles admitted after the first day of spring practice two weeks ago that the experiment didn't get rave reviews.
"He didn't have the improvement or the big jump that he could have last year because he got involved in the Jack stuff," Knowles said. "Maybe he wasn't as focused as he could have been to make those improvements at D end. I want to make sure I keep him at D end opposite J.T. (Tuimoloau)."
Johnson, the man who recruited Sawyer, is happy to have him back focused on laying out quarterbacks with the football still in their hands.
"That's why we brought him here," Johnson said. "It was a good experiment. But now let's go play football. That's the best position for him. He feels happy where he's at, and that's important, too."
Where does Sawyer's move back to the line leave the Jack?
First, Knowles didn't use the position nearly as much as he expected in his first season in Columbus. He estimated the position was operational 15% of the defensive snaps. He said he will continue to work toward it being a part of the defense this season. But he said usage still won't approach the amount he used it at Oklahoma State, which was well over half the time.
"It just didn't seem to develop with our personnel," he said. "This spring I want to focus on the fundamentals of our four down and really getting better at the fundamentals."
Before Knowles makes such a fundamental change as the Jack to Ohio State's traditional scheme, he must find the right Jack. Two players recruited as linebackers are candidates in their third year of eligibility.
Mitchell Melton appeared to be the guy last year until he suffered a torn ACL in last year's spring game. He's still not full go. The other is C.J. Hicks, a five-star from Kettering Alter. He's blocked at the two linebacker spots by returning starters Tommy Eichenberg and Steele Chambers.
"I have thought about that for CJ because when directed, he's skilled, and he can get from point A to point B quickly," Knowles said.
But for Knowles, Melton is the most Jack-like at 6-foot-3, 253 pounds. That's an inch shorter and 12 pounds lighter than Sawyer and five pounds heavier than Hicks. Knowles moved Melton from linebacker to the front when he arrived, and the Jack experiment began in spring of 2022.
"He jumped out – he really did, to Coach Johnson and to me, and the things that he did," Knowles said. "I just want to see him back there."
Hicks said during the first week of practice that he had not spoken with Knowles about being the Jack. But Hicks wants to get on the field for more than special teams.
"I feel like I can be a good player at the Jack 100% ," he said. "I feel like I can get to the quarterback for sure."
Who plays and who excels will be watched closely in spring practice from position coaches to fans. The perceived defensive improvement under Knowles looked like a mirage in losses to Michigan and Georgia. Spring optimism says there's a good vibe in the Woody about the secondary, that the linebackers are experienced playmakers and that the front four has enough experience for the talent to take over and dominate.
Every position is important, but D ends are the showstoppers. Sacks. Everyone wants sacks. When the Ohio State defense harasses quarterbacks, it makes the rest of the defense better.
Sawyer and Tuimoloau may well be a dynamic duo. That doesn't mean one of them will be the Robin to the other's Batman.
They could both be leading men.