Marcel Boyce keeps his head and finishes off an exciting Division II championship game for the Griffins to bring the school's first state title back to 1040 Copley Road in Akron.
By Jeff Gilbert for Press Pros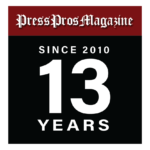 Dayton, OH – Marcel Boyce saw no reason to hesitate. No reason to overthink the situation. No reason to not seize upon the trust his coaches have in him.
The situation: 18 seconds left in a pulsating state championship game, score tied with the hopes of a team, school and city riding on his decision.
The stakes: Akron Buchtel was on the verge of its first state basketball championship. The Griffins had been here seven times before from 1936 to 2019.
Rocky River Lutheran West stood in the Griffins' way after nine ties and 11 lead changes. The Longhorns, also trying to win state for the first time, overplayed the Griffins on the sideline inbounds play. They wanted a steal or a tip that would slow the Griffins and maybe lead to a hurried shot. Buchtel was happy to hold for a final shot, but head coach Rayshon Dent wasn't married to the idea.
In the timeout, assistant coach Steve Culp relied on scouting and knew an opportunity could be there for Boyce to score. Boyce put his wide receiver skills to use and created enough separation to catch the pass. Then he headed for the rim like it was the end zone. He shot and missed, but he was fouled.
Boyce calmly (at least he appeared so) made both free throws for a two-point lead with 14 seconds left for the last of his game-high 18 points. The Griffins had to sweat out the replay decision of a final basket by West that threatened to send the game to overtime. But, then, as most in the arena expected, the shot was waved off and Buchtel's celebration of a 51-49 victory and state championship began.
"It was definitely one of the scariest decisions because we had no say on it," senior Amire Robinson said. "But I definitely was very confident if we went into overtime that we would get the win regardless."
Instead, Boyce's play made the difference. He knew he could score or at least shoot free throws.
"I had faith and confidence in myself to take the ball," he said. "It was the right place at the right time."
Dent loved the idea of the play Culp had ready to go for such a situation.
"I feel like if we had a good shot, I don't worry about last shot," he said. "It's more so just getting the lead at that time. It worked out pretty good for us."
There was still the matter of the free throws. Boyce said he had flashbacks to when he was little and dreaming of pressure-packed moments. Finding a way to feel calm, he said, wasn't easy.
"When you see one go in, that's a good feeling to hear the crowd," he said. "Then you got to block everybody back out. And then you got to do the same thing over again."
But there was still time for West to win it or send the game to overtime. Buchtel had a foul to give and gave it with 3.8 seconds left. The pass went in from the right sideline to leading scorer Jayson Levis. A crease was open because of some screening actions that were meant to deceive the defense.
Levis penetrated looking to shoot a short jumper, but his right foot and the ball came together. He went to the floor and scooped the ball to 6-6 sophomore Joshua Meyer, who picked up the ball and laid it in just after the buzzer sounded.
Meyer's twin brother, Matthew, made a similar shot Friday morning with two seconds left to beat Chaminade Julienne in the semifinals. Then CJ's George Washington III missed an open three-point shot at the buzzer off a three-quarters-court pass.
"I said in the semifinal it's a game of somebody's got to win and somebody's got to lose," West coach Jordan Duke said. "It's a game of who makes the last shot, who misses the last shot."