The rematch of 2022's big-school title game predictably came down to the wire again. While the last two Mr. Basketball winners, Devin Royal of Pickerington Central and Gabe Cupps of Centerville, put on a show, it was Markell Johnson's 10-foot, left-handed hook shot in the lane with 1.3 seconds that gave the Tigers a 57-53 win.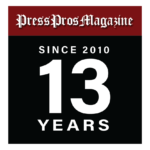 Dayton, OH – Any kid who ever played basketball has dreamed about and even practiced making the winning shot in a big game, accompanied by his own throaty cheers of the crowd or perhaps a dramatic call by the announcer.
Pickerington Central senior guard Markell Johnson imagined that moment hundreds of times.
"Ever since I was a little kid I've been practicing game-winning shots in the driveway," Johnson said.
But probably not the left-handed hook shot in the lane that with 1.3 seconds left that gave the Tigers a dramatic 57-53 win over top-ranked Centerville in a heart-thumping Division I state semifinal Saturday.
A crowd of 8,517 at the University of Dayton Arena watched the rematch of the 2022 championship game, won by Central 55-48. The Elks then gained some measure of payback by defeating the Tigers 60-54 in the Scholastic Play-by-Play Classic on Dec. 17 at Nationwide Arena.
So it wasn't the least bit surprising that this contest, featuring nine lead changes and 10 ties, came down to the final minute.
With the score tied at 53-all, Centerville's Baboucarr Nije missed the front end of a one-and-one and Central rebounded.
As the Tigers held the ball for a final shot, Nije – aware that Centerville had a foul to give – grabbed Central standout Devin Royal at the top of the key with 5.4 seconds left.
After back-to-back timeouts to scheme for the final possession, Juwan Turner inbounded from the sideline. He looked to Royal, who was double-teamed in the near corner, then found Johnson, who drove to his left before launching his left-handed hook that will be remembered for a long time.
"It's luck at the end of the day," said Johnson, modestly dropping his head at the postgame press conference. "Coach gives us all the green light. He instills that kind of confidence in us."
Centerville senior guard Gabe Cupps was one of the defenders sagging on Royal.
"We're trying to not let Devin catch it in the post deep," he said. "(Johnson) ripped left. I guess I should have made him go right. I thought it was a tough shot, but he made it."
Elks coach Brook Cupps was quick to deflect any second-guessing by his son.
"Guys, it was a 10-foot running hook shot to his left," he said. "You can't take everything away. It came down to a lot of things, but ultimately they made some shots that won it for them."
After a Centerville timeout to plan for a 92-foot miracle play, 6-foot-7 Gavin Headings batted down the inbounds by Kyle Kenney behind the Central basket and dunked it as time expired.
The side show was an individual matchup between Cupps, the 6-2 Indiana-bound 2022 Mr. Basketball winner, and Royal, the 6-6 Ohio State recruit who won the award voted on by the Ohio Prep Sportswriters Association this week. Neither disappointed.
Royal scored 23 points on 9 of 14 field goal shooting. Many of his baskets came with Elks draped all over him. With Ohio State coach Chris Holtmann watching on press row, Royal converted a difficult three-point play at the 2:08 mark.
Cupps finished with 22 points, seven assists and four steals. He went 7 of 9 from the field. He calmly made three free throws at the 52.3-second mark to tie it.
It was Royal's supporting cast that may well have decided the outcome.
Turner scored 16 points, more than 10 over his average. He hit 4 of 4 three-pointers, including a stone cold shot from beyond the college arc with 1:10 left to give the Tigers a 53-50 lead.  He came in shooting just 20.2 percent from three-point range.
"Everybody knows we have a great player in Devin, but instead of a second option, we have a bunch of guys who just play their role," Krueger said. "Any of those guys have the ability to step up and make big plays. I always encourage all these guys to play with confidence."
Added Brook Cupps, "What makes Royal so tough to guard is the guys around him."
Centerville (25-4) shot a scorching 60.6 percent from the field, but was out-rebounded by Central 21-15.
"We knew going into the game, it was gonna be an absolute war," Krueger said.
Brook Cupps concurred.
"In many ways, it was just like the other games we played against them," he said. "I thought it came back to empty possessions and some turnovers – many of them self-inflicted."
The loss ended a terrific three-year run for Centerville, which made three straight final fours and won the 2021 title.
Central (24-5) will face Akron Hoban (25-3) at 8:30 p.m. Sunday in quest of a repeat title. Hoban beat Toledo St. John's 49-36 in the nightcap.