For area fans in the Press Pros market, here's our pick of  four of the most compelling games during this weekend's boys state tournament at UD Arena – something old, something new, something borrowed, and something blue.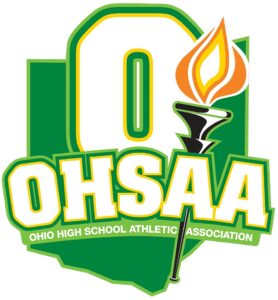 It's really hard for even the most ardent basketball fan to maintain your enthusiasm for 12 basketball games in three days – this Friday through Sunday for the oldest of the OHSAA's state tournament showcases, going back to 1923.
So while we know a lot about a few, and a little about some others, for the average fan in the Miami Valley, or the Press Pros readers' market, here are four games out of the eight semi-final games that I'm especially eager to watch, and I'll share with you…why.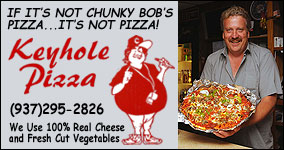 Obviously we'd pick the Division IV semi-final game between Russia, out of the Shelby County League, and Richmond Heights, the defending champion in small-school basketball.  There is some irony here, because there's really nothing small about Richmond Heights, in the size advantage with their roster, or the scope of basketball over which they loom in the greater Cleveland metro area.
In the official OHSAA preview, written by Kurt Stubbs, of Ohio High School Hoops, he mentions the fact that aside from an impressive list of returnees from last year's team, the Heights also "inherited" a couple of move-ins from Solon High School and Cleveland Heights.  An 'if you build it they will come' situations, I'm sure, as everyone wants to be jump on a winner.  Heights is one of two unbeatens in the tournament (28-0), and their list of 'beatens' is impressive, including a number of Division I opponents that include Lakewood St. Ed, Fairfield, and Hilliard Bradley.  They've averaged 80 points a game in the tournament, and they're limiting opponents to 40.  But..this is also the same team that Botkins took down two years ago in the semi-final round, so they're not ready for the Boston Celtics yet, despite their 47-game win streak.
That said, Russia can compete with Heights if they get off to a good start, make shots, play their characteristic aggressive defense, and create some transition points off turnovers.  The Raiders are 25-3, and I think they belong in this game for the fact of having played one of the strongest legitimate Division IV schedules in the state.  And they certainly aren't going to back down from any physical challenge, despite being outsized by Richmond Heights.  If Heights has a few 'borrowed', the Raiders represent the 'blue' in this matchup, making their first appearance in the state tournament since losing to Delphos St. John in the 2002 Division IV finals under our old friend, Paul Bremigan.  So there's something 'new' about the Raiders getting here, as well.  They'll be the underdog, for sure, and who doesn't like one of those?
My second pick would be the Division III semi-final game between Ottawa-Glandorf and Columbus Africentric.  One, it represents a rematch game from last year, when OG beat Africentric in the semi-final round.  And two, it represents a head-to-head matchup of two of the state's finest players in OG junior Colin White and Africentric senior Dailyn Swain, who's a commit to play at Xavier next year for Sean Miller.
That said, White might be as good an all-around player as anyone in Ohio – offense, defense, rebounds, and ability to elevate the play of those around him.  And perhaps his best attribute…he plays hard on every possession.  He's drawing large recruiting interest from schools like UC and West Virginia, and I'm told the list is growing.
Swain is clearly one of the state's best offensive talents, and had his pick of Division I schools at which to play college basketball;  and, he's tested by fire with the Division I teams played this winter, including St. Ignatius, Lutheran East, and Hilliard Bradley.
Two different styles here, but my hunch is that OG is more adaptable to Africentric than Africentric might be to OG's ability and willingness to play in the half court.  I guess we'll see.
But if you want to see a game with two guys you'll remember, put this one on your list.
My third pick would be the Columbus Ready vs. Akron Buchtel game in Division II.  Ready is the other unbeaten in the tournament this year (28-0), and there's just something about the added pressure of an unbeaten trying to stay unbeaten with a state title on the line.
Here's another fact about Ready, a member of the Central Catholic League, and located on Salisbury Road on Columbus' west side.  The Knights were the Division III runners-up in 2002, but are seeking their first state title since winning back in the Class AA days of 1972 and '73, when the won the AA title back-to-back.
Buchtel is talented with a record of 21-6, and has a pair of Division I recruits in seniors Khoi Thurmon (Purdue-Fort Wayne) and Amire Robinson (University of Nevada).  They've never won a state title, but Buchtel did grab the runner-up spot in Division II back in 1997, and have made a total of seven appearances at the state tournament.
So there's something 'old' about both of these teams.
For Ready's part, it's been a long time between drinks at this level, and there's a blue-collar quality to their style of play that makes you appreciate the effort.  They won the CCL last year for the first time in two decades, and now own back-to-backs having gone undefeated (so far) this year.  I think the Knights are going to bring a lot of west-siders, and they're all going to be juiced not to go home empty-handed.
My fourth game would be the Division I rematch between Centerville and Pickerington Central, the two teams that met in the Division I final last year, won by Pickerington Central.
Again, if you like marquee names there are no two bigger in the tournament than Centerville senior Gabe Cupps (going to Indiana) and Pickerington senior Devin Royal (going to Ohio State).
Cupps is recognized as being one of the state's most intelligent players at the point guard position, a fine scorer (15.2), but good in all phases of the game.  The son of the head coach, he's like having a coach on the floor at all times.
Royal is a classic Big Ten forward, with size and physicality (6'8″ and 220 pounds), averages 18.2 points per game, and he's a dominant rebounding force.
The two, Cupps and Royal, will stand out on the tournament's biggest stage.
Last year's Division I final drew a big crowd because Centerville is a Dayton suburb, and Royal will attract a lot of Ohio State fans interested in getting a peak at the future with something as relevant as the state title at stake.
Now, if you're the kind of fan that can maintain your interest through twelve basketball games, have at it.  But just in the case the above four capture your fancy for one reason or another…I told you so.