Watterson's Cole Rhett filled up the lane and the basket, but Chaminade Julienne had too much and ended the Eagles' season at the Division II regional tournament for the second time in three years.
By Jeff Gilbert for Press Pros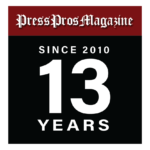 Vandalia, OH – Cole Rhett's time as a basketball player ended Thursday night in the Division II region semifinals. His next team will be the University of Toledo football team. To see him, it's obvious why.
Rhett stands 6-foot-7 and weighs 290 pounds. But he loves to put that orange ball in the hoop.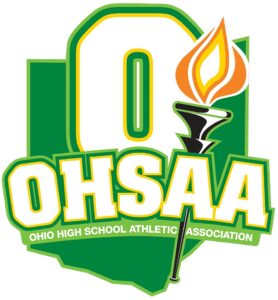 The Watterson offense ran through him all season, and he scored early and often in the Eagles' regional semifinal against Chaminade Julienne at Butler High School. He muscled in 10 points in the first quarter from the low post and the Eagles trailed CJ 16-14 heading to the second quarter.
"It was working so good early because I just wanted to score, and they weren't even coming to double team," Rhett said. "So I thought I would take full advantage of it."
Then CJ changed its game plan. Coach Charlie Szabo said Rhett was better than he remembered from this same matchup two years ago in this same gym. Suddenly the CJ guards dropped to double team Rhett when he got the ball.
At first, Rhett forced some shots that he missed.
"When I was feeling like I was taking selfish shots, and I wasn't looking at my teammates, I told myself I have to pass the ball," Rhett said. "So when No. 3 [George Washington III] came down, I passed it to Fro [Dan Frohmmeyher] and he hit the three I knew I could just be the distraction."
His adjustment helped and he finished with 20 points, but CJ had too much firepower and too much defense, ending Watterson's season, 57-45.
"It felt great winning the districts," Rhett said. "We took our best shot at CJ. It felt really good to be back here, but I wish we had won and didn't have to go home."
Eagles coach Vince Lombardo remembers that 20-point loss here to CJ two years ago.
"We felt this is a better CJ team than that team, and we felt we were a better team than we were then," he said. "But we knew what we had to try and do. I thought our guys did a really nice job executing our plan. A few too many turnovers cost us, and that third quarter we had. We had a lull offensively."
During the lull CJ expanded the lead to 45-31 heading to the fourth quarter. The Eagles scored the first six points of the fourth, including four free throws by Rhett, but eight was as close as they got.
"We got it to eight with a reasonable amount of time left a couple of times, and I think a couple of times we had at eight with the ball and didn't convert," Lombardo said.
CJ's scoring spurts were fueled by eight 3-pointers and three high-scoring guards. Washington, a Michigan signee, scored 21, Evan Dickey scored 18 and B.B. Washington, the younger brother of GW3, scored 10.
Lombardo knew they had to contain the Washingtons as much as possible and hope Dickey didn't have a big game.
"Dickey stepped up big for them," Lombardo said. "That was something that we knew was going to be key if he did step up."
All the while, CJ was limiting Rhett and doing a good job of recovering to the shooters he passed to.
"They've got good quickness and could recover back to our shooters," Lombardo said. "And sometimes we were a little bit impatient and we needed to swing the ball a little bit better to get the look that we wanted."
What the Eagles got for the past three years, though, was the presence of Rhett. He could have focused on just being an offensive tackle on the football team. He couldn't leave and enroll early at Toledo because of some academic requirements that all Watterson students have, but he wouldn't have wanted to leave anyway.
"I wanted to play basketball no matter what because I didn't want to just leave my team since I've been playing with them for three years," he said. "I love basketball."
Lombardo said Rhett was dedicated to the program and was part of summer workouts. He said he's seen him mature a lot since his first varsity season as a sophomore. He hates to see Rhett and six other seniors go. He will be rooting for Rhett the football player, but he knows his big man hasn't picked up that orange ball for the last time.
"I'm sure he'll find some opportunities," Lombardo said, "to keep hooping one way or another."