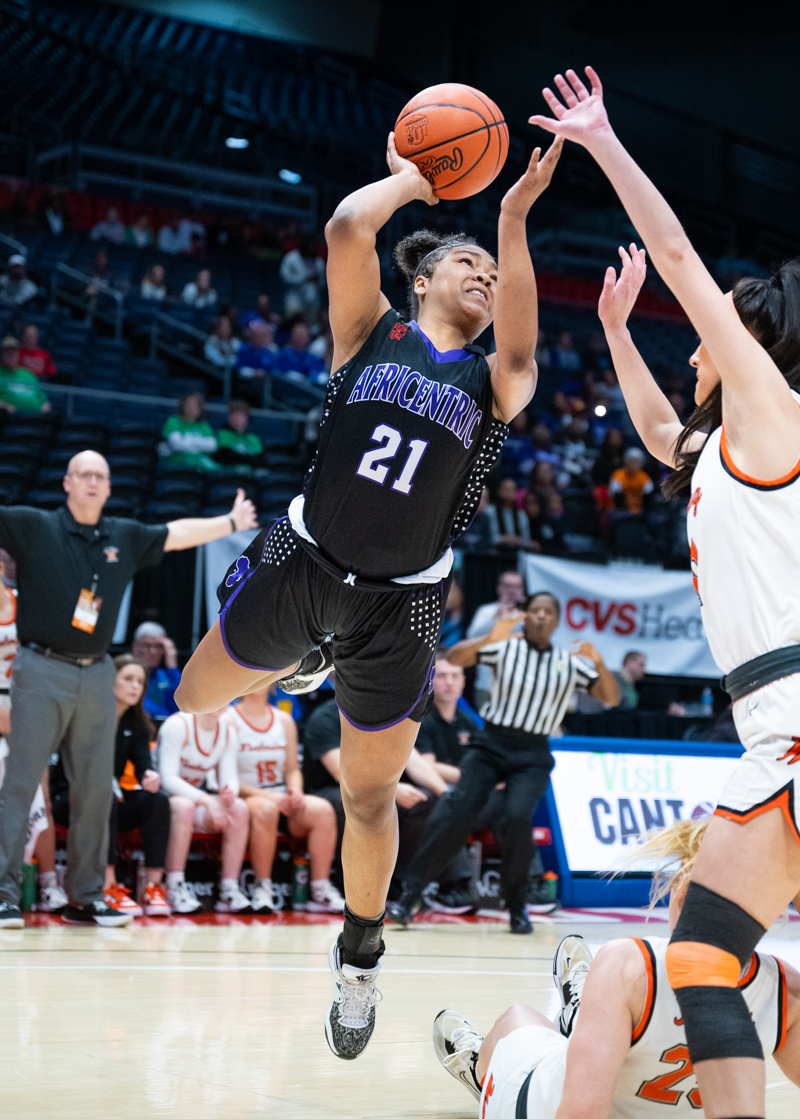 Natiah Nelson powered Africentric inside with 13 points and seven rebounds in a semifinal win over Wheelersburg. (PressPros Feature Photos by John Hulkenberg).
Wheelersburg brought an impressive resume into a Division III state semifinal, but it was no match athletically for Africentric, which controlled the tempo from the opening tip and coasted into yet another championship game. The Nubians meet Doylestown Chippewa at 5:15 Saturday with a chance of equaling Cincinnati Mount Notre Dame for the most girls titles with eight.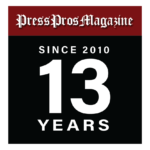 Dayton, OH – Every day, Columbus Africentric's players walk past the seven state championship trophies and dream of the day when they can join that elite sorority.
That day will come soon enough, as the Nubians will set out Saturday to equal Cincinnati Mount Notre Dame for most titles by a team in any division.
With a dazzling array of speed and athleticism, youthful Africentric had little trouble disposing of Wheelersburg 55-37 in a Division III state semifinal Friday that was much more lopsided than most observers expected.
The Pirates came in ranked ninth in the final Associated Press state poll with a resume that included a win over No. 1 Worthington Christian – which was seeded one spot above Africentric in the Central District tournament – and had avenged its two defeats by knocking off Portsmouth West in a regional final. But it was obvious from the opening tip, Wheelersburg had never faced a team quite like Africentric.
"We wanted to use our defensive pressure to speed them up and force them into turnovers and bad shots so we could get into transition," Nubians coach Janicia "Shaq" Anderson said. "That's our identity and we executed our game plan exactly how we wanted."
Africentric turned a steal into a basket on the opening possession of the game and raced to a 10-3 lead.
The margin was 19-7 by the end of the quarter and it vacillated between 10 and 20 the rest of the game.
"Coach Shaq told us all week that they're not a very good transition team and we should go and eat," senior guard Ariel Grace said.
With her eyes rolling, Anderson apologized for Grace's bluntness. "Forgive us. We didn't practice press conferences this week."
When Wheelersburg pulled to 27-17 early in the third quarter, Grace answered with two acrobatic floaters in the lane and converted a three-point play – all during a 90-second span – to quell the threat.
Natiah Nelson had 13 points and seven rebounds to pace the balanced Nubians (23-4), who will face 13th-ranked Doylestown Chippewa (25-4) in the title game at 5:15 p.m. Saturday. Jeniya Bowers (10 points, four rebounds) and Grace (nine points, five rebounds) also turned in fine performances on both ends of the floor.
Africentric outrebounded Wheelersburg, 39-26, while scoring 40 points in the paint and 21 in transition.
The point total for Wheelersburg (25-3) equaled a season low. The Pirates had allowed just three opponents to reach 50 points all season.
"Obviously, their speed was something we were aware of, but it's so hard to simulate until you're in the moment," Pirates 20th-year coach Rusty Spradlin said. "We've faced some fast players, but nothing in terms of team speed like that. We had to work so hard just getting the ball up court, then we struggled shooting the ball and rebounding. Everything was just so rushed." 
Anderson, a former player for Africentric who assisted Will McKinney during some of his unparalleled run of success, lauded her team's depth. McKinney now serves as a volunteer assistant.
"Everybody's tired and beat up at this point of the year, and it's a real bonus to get solid play off your bench," she said.
Africentric will try to match the teams of 2007, 2009, 2012, 2014, 2016, 2018 and 2019 that won titles. The Nubians were runner-ups in 2008 and 2013 and made the final four three additional times. The school opened in 2004 and has produced boys and girls basketball powerhouses on an annual basis.
"This is an amazing feeling to get the chance to join those other teams we look up," Grace said.
Added Nelson, "It's a major accomplishment just to get here and we'll never forget that, but it's no secret that our goal is to win the championship."
Many didn't expect Africentric, with a roster including six freshmen and sophomores, just one senior and minus junior standout Kamryn Grant – who suffered a season-ending torn ACL in the second game of the season – to make it this far.
"I just want the kids to do it the way the kids on past teams did, but with less controversy," Anderson quipped. "It's impressive walking into our locker room and seeing the pictures on the wall. It's important around here not to let down the legacy."