It might be their all-senior starting lineup, or perhaps their grounding in solid fundamentals, but there's no panic in Jackson Center, which shook off a slow start for the second straight game to advance ever closer to a regional championship.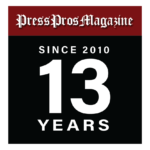 Kettering, OH — It would have been time to reach for the cigar, had Red Auerbach seen it. And if Dandy Don Meredith (look him up, kids…Red, too) was watching from the Great Beyond, he'd have broken into song.
Not yet out of danger, leading by nine points with six minutes left Tuesday in the Division IV regional semifinals, Jackson Center's array of weapons – defense, fundamentals, offense – struck in staccato fashion to cement its 54-45 advance at Trent Arena.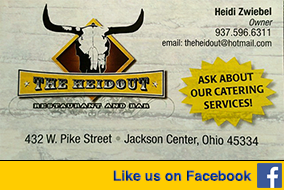 Patriot Prep, a charter school out of Columbus in its first regional, had hung in admirably all night and erased a 10-point deficit to get even early in the second half.
But now, the Eagles were wobbly and badly in need of a basket, so leading scorer Keith Prysock drove the lane and tried another of the inventive layups like he'd already converted.
This time, Jackson Center's Reed Platfoot said, no, rejecting the shot into the hands of teammate Camdyn Reese, who quickly moved up court and found guard Nolan Fark in the post at the other end.
Fark barely caught the ball before it was out of his hands, rifled into the right corner to Jace Mullenhour, who lofted one of his signature, high-arching triples that disturbed nothing but net.
Turn Out the Lights…the Party's Over.
"That was a huge momentum swing," said Fark, who contributed 12 points to the Tigers 25th win in 26 games. "Our fans just went wild when Jace hit that three. We used it to our advantage, because it helped us play defense even more."
Jackson Center advances to its fifth regional final in the 23rd and final season of head coach Scott Elchert, seeking a victory over Russia Friday at 7 p.m. for a trip to the state semifinals.
The Shelby County League co-champions split their season series, with Russia claiming a 43-42 win in the season-opener and Jackson Center winning the Jan. 6 rematch, 65-53.
Elchert is 3-1 in regional final games, but the way the Tigers started this one didn't inspire much confidence he'd get the chance to better that mark.
Each of Jackson Center's first eight shots rode off the rim, including three on one possession, to allow Patriot Prep to claim an early lead before Mullenhour kick-started his career night.
Converting a miss of his own underneath at 4:59, the senior guard released the pressure valve on the Tigers' emotions and by the end of the period they had permanent, albeit somewhat tenuous, control.
"We all have confidence," said Mullenhour, who made 4-of-6 three-point attempts, 8-of-13 overall and 3-of-4 free throws to score a career-high 31 points. "I thought all eight shots were good shots. We started trying to get some looks down low and that got us going."
Although only 5-10, Mullenhour is perfectly comfortable in the post, as are all the Tigers. So well-drilled are they, and so balanced, that Elchert has an array of counters at his disposal to offset whatever an opponent might be executing.
"I really like where this team is," Elchert said. "You never want to start (0-for-8), but the thing about it is, they were taking their shots. They were good shots. You just know that eventually, they were going to fall."
Fark and Mullenhour began the second quarter with triples and Mullenhour added two more baskets to that for a 20-10 Jackson Center lead by the 5:36 mark, hinting at the same sort of runaway the Tigers unleashed on Cincincinnati College Prep in the district finals.
But Patriot Prep wouldn't have it, fighting back to within 21-19 at half and scoring the first basket of the third quarter to get even.
"We knew what that team's strengths were," Elchert fretted. "We just had too many lapses that let them play to their strengths. We missed a lot of gap help and they were able to get downhill on us and get to the rim on us."
Prysock did most of that damage, knifing his way to the hoop for a team-high 15 points, including two free throws with 2:25 left in the third period that drew Patriot Prep within 35-31.
Platfoot ended the quarter with a power move inside for the Tigers, and they nudged their lead to 41-34 a minute into the fourth before Mullenhour's shot in the lane sent the lead to nine.
"I prefer to go into the post," Mullenhour said. "I just feel more comfortable down there. I feel like I should score at a high percentage down there."
Fark beat him to that spot after Platfoot's subsequent block at the other end, however, so Mullenhour filled space in the right corner and took the inside-out pass with room to launch.
"They have a lot of different guys who can get you eight to 10 points," Patriot Prep coach Curt Caffey said. "We tried to concentrate on their point guard (Reese) and we knew (Mullenhour) was going to get some points. We just didn't think he'd get 31."
Now the Tigers take on the only team to defeat them all season, and the only one standing in the way of Elchert's third trip to the state semifinals.
"Elite Eight games are special," he said. "We've been fortunate enough, blessed enough, to be in some."