Overcoming a slow start and a stubborn resistance by Patrick Henry, Marion Local used its power and size in the second half to pull away for a Division IV regional semi-final win at Bowling Green.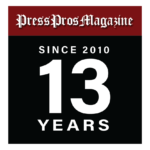 Bowling Green, OH – Just a word to the wise.  One of these nights  6'8″ and 6'9″ Marion Local (22-4) is going to come out slow, tentative, and toy with an opponent who doesn't believe they should play the part of the Flyers' Lilliputians…and it's going to cost them.
It could have happened, and it did for a half Tuesday night at Bowling Green's Stroh Center, before the Marion Local Flyers kicked on the jets in the second half to cruise through the fourth quarter and on to a 56-42 win in the Division IV regional semi-final.
Patrick Henry (17-6) had a couple of young shooters, Mack Hieber and Lincoln Creager, who combined to hit for 13 of the Patriots' 21 first half points, while Marion fiddled with if, and how, to close out and defend them.
To my point, with an obvious size advantage with 6'9″ Jack Knapke and 6'8″ Austin Niekamp, the Flyers struggled to get the ball to the paint in the first half, where the two twin towers could do damage from point-blank range.  Niekamp did score 9 first half points, but had to step out to the wing to can a long three-pointer that helped loosen things up during a 6-point Marion run before halftime.
"We pride ourselves on our defense, rebounding, and being the most aggressive team,"  said Marion coach Kurt Goettemoeller afterwards.
"And we were not those things in the first half.  It was probably the first time all year that I lost my you-know-what on those guys in the locker room at halftime.  They got 11 offensive rebounds, scored off those rebounds, and that's just not who we are.  When we play with attitude with our size we should control the glass.  In the second half they got 2 offensive rebounds, Tate Hess did a much better job on Creager, and we had some kids that stepped up and made some offensive plays for us."
But it took them sixteen minutes, and against a team not known for its outside shooting, to finally assert themselves – to play like a team with 6'8″ and 6'9″- and wear down a team without near the physical advantages with the season on the line.  Some night, maybe.  But they awoke in time to ensure that Tuesday, against Patrick Henry, it wasn't that night!
It was tied 10-10 at the end of the first quarter, despite Marion at one point leading by 6.  Creager shot the Patriots into a 6-point run to negate that lead.
And the second quarter was a carbon copy of the first.  Marion struggled to get the ball inside to Knapke and Niekamp, had numerous balls slip through their fingers, and generally allowed themselves to play down to the smaller, quicker, and more athletic Patriots.
Again, Marion went up by 6, only to see Creager and Aiden Behrman shoot that lead away.  Finally, at 2:04 before halftime, Niekamp stepped out on the wing and canned a three-pointer…then moments later recovered a turnover in the open court and raced to the rim for an uncontested dunk that seemed to convince at least Marion Local that…we're bigger, more aggressive, and capable of playing like a team with size, and attitude, and a reputation for dominating stages like this one.  And if not now, then when?
Well not for awhile anyway.  Leading 22-21 to start the third quarter, Marion scored the first 6 points to give themselves some cushion.  But three-pointers by Hieber and Behrman reeled the Flyers back in…and Patrick Henry held the ball for the last tortuous 54 seconds of the quarter to get the final shot.  They got it, missed it, and then scored on a stickback by Kaden Rosebrook to again keep Marion within an arm's length, 35-31.
But Tate Hess scored the first points of the fourth quarter on a beautiful drive to the lane, to the rim, and in;  and moments later after a defensive stop scored again to suddenly give Marion an 8-point lead, its biggest of the night.  Bigger than the lead, however, was the attitude.  Suddenly, they had the swag that you associate with size, experience, and legacy.
At 5:54 of the quarter Jadyn Mesher hit a deep three from the corner to push the lead to 42-31 – a 7-0 run – and Patrick Henry called a timeout to try and regroup.  But 'Money' Mitch Ranly scored on a drive to the hoop, and Knapke followed with a turnaround shot from the paint, and the lead was 11.  To their credit, Behrman, Rosebrook, and Hieber would answer with 3-pointers, but every time they scored Marion would trump those points with points of their own, converting 6 of 7 from the foul line as Patrick Henry began to foul.
"Against a team with that kind of size, and strength, and with guards as quick and strong as theirs are, it was a matter of time until they wore us down,"  said Patriots coach Bryan Hieber.  "I thought we did a good job of being selective with our shot selection in the first half, but we didn't have that in the second half and they took advantage with their rebounding and ability to score."
In a nutshell, that's how it ended.  Marion outscored Patrick Henry 21-11 in the fourth quarter, and 34 to 21 in the second half.  Finally making the most of their size and power in side, for the game Marion outscored Patrick Henry in the paint, 36 to 18.
"Austin (Niekamp) is starting to figure it out…how good he can be,"  said Goettemoeller in the post-game, asked to assess the Flyers recent success despite the same struggle to score and pull away from smaller opponents.
"And honestly, we didn't know if we'd have Jack (Knapke) at all for the districts.  We've gotten him healthy at the right time, and he looked really good tonight  And this is about the healthiest we've been all year, with Jadyn Mescher back from the broken nose he had at mid-season.  And Mitchell Ranly off the bench stepped up and had a great game for us tonight – defended well, hit some big free throws.  It was just a total team effort."
Jack Knapke led them with 14 points, Niekamp kicked in 13, Mitchell Ranly added 9, Tate Hess and Mescher each had 8.
For Patrick Henry, Hieber and Behrman each scored 10, Lincoln Creager had 9, and Kaden Rosebrook finished with 7 points.
If all that's true, it couldn't have come at a better time, because Marion will move on to Friday's championship game to face Convoy Crestview (23-3), who thumped Sycamore Mohawk 61-40 in the night's second semi-final game.  Tip for Friday's final is 7 pm, again at Bowling Green's Stroh Center.
And a reminder to Goettemoeller, Knapke, Hess, Mescher, Niekamp, et. al. … be ready to go at 7:00, and not 7:30.
You can only temp fate so much…when basketball is played in March.