Locally, the Coldwater boys finished runner-up for the second year in a row, this time to Riverside.  And Graham High School's Spencer Hannahs took advantage of things going his way to capture the state individual championship.
By Jarrod Ulrey for Press Pros Magazine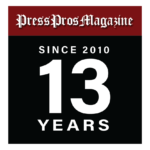 Columbus, OH – The lanes at Wayne Webb's Columbus Bowl proved to be especially friendly to Graham senior Spencer Hannahs at the Division II state boys tournament March 4.
According to Hannahs, the extended oil patterns he played on during the qualifying round of state fit his game to perfection. 
With games of 212, 248 and 269 that included seven consecutive strikes to end his third game, Hannahs recorded a 729 that landed him the state individual championship.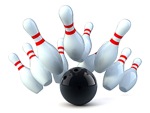 "They changed the oil pattern (compared to last season)," said Hannahs, who was 36th a year ago. "We got an extra two feet on them, so that makes a world of difference because I have a higher rev rate, which has to do with how many times the ball rotates off of my hand. 
"I just came in and shot what I knew how to shoot. It was nothing special and there wasn't any added pressure, it was just about throwing the ball down the lane like I've been doing for four years." 
Hannahs wasn't the only area bowler to leave with state hardware. 
Coldwater earned its second consecutive state runner-up finish, losing to DeGraff Riverside 3-1 in the championship match. 
During the morning session, the Cavaliers rolled a 3,724 to earn the No. 1 seed for the championship round. 
Coldwater was making its 14th state appearance in 17 seasons. 
"We're very deep with three seniors that have been for four years," coach Rick Hartings said. "They've all been on varsity since the 2020 (state) championship (season). The underclassmen are really good. They work together and communicate well. We started off slow in our first game but made some changes." 
In the championship round, Coldwater defeated eighth-seeded Clarksville Clinton-Massie 3-1 and fourth-seeded Bowerston Conotton Valley 3-1 to reach the championship match against No. 7-seeded Riverside. 
Junior Carter Bertke led the way, finishing fifth with a 658 during the morning session to join Hannahs as a first-team all-state honoree. He rolled a 257 during his second game. 
Also for the Cavaliers, senior Brandon Hammons was 18th (621) and senior Keaton Bruns placed 19th (620). 
"The atmosphere is pretty good and it's a good bowling alley," Bertke said.  
Mechanicsburg sophomore Chris Ritchie tied for sixth with a 657 to earn second-team all-state honors while competing as an individual. He closed with a 246. 
"It was a fun experience," Ritchie said. "My first game was very rough, but the next few games I ended up transitioning. I didn't miss many (spares) but I can definitely work on my consistency." 
Also advancing to the championship round was Graham, which shot 3,473 to earn the No. 3 seed. 
In the first round of the championship bracket, the Falcons lost to Rocky River Lutheran West 3-1. 
Senior Ayden Tudor finished 12th with a 641 to earn honorable mention all-state honors. 
"(Hannahs) bowled really well today," Falcons coach Richard Clark said. "He's been the heart and soul of this team all year long, our go-to guy. I thought we bowled really, really well. We missed a few spares early but we picked them up later. Ayden Tudor had a couple good games.  
"We start three seniors and a bunch of guys that have been playing together for a long time." 
Minster finished ninth (3,256) and Versailles was 13th (3,096). 
Junior Keetan Sharp finished 22nd (609) and senior Wyatt Kemper was 34th (577) to lead the Wildcats, who were making their first state appearance. 
"We had a great second game and then our third game was a little tough just trying to work in transition, especially in the baker games," Minster coach Austen Michael Vanderhorst said. "Transition really hurt us, but overall it was a great day in my opinion for us being in our first time at state." 
Junior Colten Groff was 28th (591) and senior Brayden Henry placed 29th (586) to lead Versailles. 
"It was a real good experience," Tigers coach Tyler Phlipot said. "I told the kids coming in that we had nothing to lose. Nobody expected us to be here."