By Jarrod Ulrey for Press Pros Magazine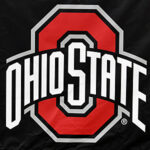 Columbus, OH – Making its seventh trip to the Division II state girls bowling tournament in 13 seasons under coach David Bush, Mechanicsburg was confident it could continue the success that saw it win league, sectional and district championships.
What the Indians could have used a little more of, particularly during their championship round semifinal against Sandusky Perkins, was better luck.
The match between fifth-seeded Mechanicsburg and eighth-seeded Perkins was held on lanes 19 and 20, with the Indians ending up in lane 20 for three of the five games.
As it turned out, the shot on lane 20 was more difficult to detect. Each of the five games were won by the team in lane 19 and Perkins left with a 3-2 victory despite being the No. 8 seed.
Third-seeded Bowerston Conotton Valley beat Perkins 3-2 for the championship.
"Lane (20) broke down a little bit and we just had trouble picking up that lane," coach David Bush said. "It was an odd pairing. They were doing better on the left lane and everybody was doing badly on the right. We picked the wrong one to start off, but we had a 50-50 chance to pick the right one.
"It happens. You get going throughout the house and we could have picked a different lane and ended up in another scenario."
After Mechanicsburg beat fourth-seeded Lewistown Indian 3-1 in the first round of bracket competition, the Indians lost the first game to Perkins 221-131, won the second 174-171, lost the third 192-123 and won the fourth 202-121.
The Indians nearly came back from a rough start in the fifth game but lost it 170-157.
It was the final prep match for senior Taylor Rausch, who turned in a 589 during the qualifying round to tie for seventh and earn second-team all-state honors.
Mechanicsburg finished sixth last season.
"The right lane (against Perkins) was leaving pocket splits and I think we bowled better (in the other) lanes," Rausch said. "For some reason, the (odd-numbered) lanes were easier to figure out than the even ones.
"I found a good line and bowled well (during the qualifying round). We made it this far because we're all best friends and all love bowling with each other and having fun. I thought I bowled well today. I wasn't as stressed out because I've been here before."
Other competitors for Mechanicsburg included juniors Hannah Dingledine, Faith Ford, Kendall Rausch and Gwen Westfall.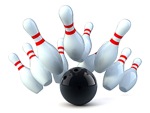 Mechanicsburg, which won state titles in 2014 and '16, shot 3,147 during the qualifying round and was joined in the championship round by Graham.
The Falcons finished seventh (3,035) during the qualifying round and lost to Carrollton 3-2 in their championship round opener to finish eighth overall. Graham won the second game 243-147 and the third 152-146 but lost the last two games.
Graham sophomore Kailey Dowty led all area bowlers individually by firing a 641 during the qualifying round as she placed third and earned first-team all-state honors. Napoleon freshman Arianna Kiessling won with a 674 and Wooster Triway junior Addy Meshew was runner-up (663).
Dowty rolled a 244 in her opening game.
"We've just been throwing it well," Dowty said. "The season's gone pretty well for us. We've won most of our matches. My first game, I had four strikes in a row so it was a good game."
Also during the qualifying round for Graham, senior Gracie Astry finished 12th (582) to earn honorable mention all-state honors.
"I've been a starter since my freshman year and I think my team makes it everything," Astry said. "It makes it a lot more fun to be here with a team than individually. We knew we had to be positive if we wanted to move on (to the championship round)."
Others who competed for Graham included sophomores Kenzie Clark and Maddy Murphy and freshman Ashlyn Monaghan.
"We had a couple girls, Kailey Dowty and Grace Astry, get hot," coach Tony Cooper said. "We returned two starters from last year and had six first-year bowlers because we graduated quite a bit from last year. It's been a challenge this year because of that, but we've really brought them on. To me, this experience (at state) is priceless."
Finishing 13th to earn honorable mention all-state honors was Fort Loramie sophomore Kaylee Bruggeman, who rolled a 580.
"I was super nervous yesterday with my teammates not being here and I didn't really have anybody to talk to," Bruggeman said. "I left an open frame on my first frame but I didn't let it get (me down) today. I only had four opens, three of which were splits, so I think I did really well. I'm very proud of myself, especially with me only being a sophomore.
"I was just kind of hoping (to have) a good time. I didn't really care about the scores. I was happy I made it."
Falling one place short of qualifying for the championship round was Versailles, which rolled 2,936 to finish ninth.
Senior Emma Billenstein finished 39thth (529) to lead the Tigers, who came in as district champions.
The only other senior was Payton Groff, who was 57th (473).
"It was tough out there," coach Tyler Phlipot said. "We got off to a slow start and kind of dug ourselves a hole. We had three good baker games at the end, but we didn't catch any breaks.
"We've got a fairly young team with a good group of girls that work hard all year. We came up short of our goal, but they'll be ready to go for next season."