In a Division IV district final against rival St. Henry on Friday night, Marion Local rose to the challenge with big efforts from 6-9 Jack Knapke and 6-8 Austin Niekamp. Marion's height advantage lifted the Flyers to the D-IV district title with a 59-50 win … but not before St. Henry's rally from a 28-10 deficit to briefly take the lead.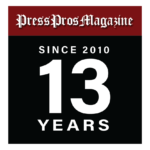 Wapakoneta, OH – Towering over their teammates with a six-inch height advantage, Marion Local big men Jack Knapke and Austin Niekamp routinely battle in practice. Ask them who gets the better of the encounters and they both playfully say their own name.
But following Friday night's Division IV district championship game, Niekamp finally gave a little ground. How many steps on the ladder did you need to climb to cut down net?
"About three steps," said the 6-foot-9 Knapke.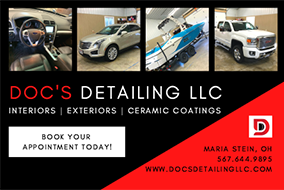 "I would say probably four. Jack's a little taller than me," said the 6-8 Niekamp.
On Friday night both stood a little taller … if that's possible … after leading Marion Local down the stretch to a 59-50 victory against St. Henry at Wapakoneta High School. The duo combined to score the Flyers' final 10 points (six for Niekamp and four for Knapke) after the Redskins pulled within 49-45 with 4:03 remaining. Marion answered with an 8-0 run that lasted until St. Henry's Evan Bowers hit a three-pointer from the corner with 26 seconds left. It was St. Henry's first basket of the fourth quarter to go along with four free throws.
Over the final six minutes, St. Henry (14-13) had seven offensive possessions that ended with a Flyers' rebound after one shot. Knapke led Marion (22-4) with seven rebounds, five of them defensive. Niekamp and Mitchell Ranly each had six rebounds overall.
That St. Henry threatened to pull off the upset was a tribute to the Redskins' tenacity. Knowing they had to limit the inside presence of Marion's big men, St. Henry opened with an inverted triangle defense. St. Henry had two days to practice their defensive wrinkle following Tuesday's district semifinal win against New Bremen. Marion took advantage of St. Henry's inexperience running the defense and bolted to a 25-10 lead after the first quarter.
St. Henry went back to its man defense in the second quarter – "We cut the guys loose," coach Eric Rosenbeck said – and despite trailing 28-10 in the opening minute … rallied with a 14-3 run of its own. Bowers scored eighth of those points and Luke Beyke four to pull within 31-24 at halftime.
"I overthought it and put us in a bad spot early," Rosenbeck said of the triangle defense. "I didn't like it and I should have killed it in practice. But you only get two days and I thought maybe after day one they'll get better. We tried an inverted triangle to keep Evan in to rebound. (The Flyers) knew we'd probably throw something at them.
"For them to fight back, I don't know if kids have played as hard as our kids did in those two middle quarters. We ran out of gas a little bit in the fourth and (Marion Local) made some good shots."
St. Henry, down by as many as nine in the third quarter, grabbed a 39-37 lead on Beyke's fastbreak with 2:35 left in the quarter. The teams entered the fourth tied 41-41.
In that decisive fourth quarter, Marion's Tate Hess put the Flyers up 43-41 with a drive down the lane with 7:23 left. He added two free throws a minute later. After a pair of Bowers free throws made it 45-43, Marion's Jadyn Mescher dropped in a three-pointer with six minutes left for the 48-43 lead. Knapke and Niekamp took over moments later.
"I said I needed some rebounds," Knapke said. "I just needed to get the rebounds and me and Austin were looking for each other on offense. Not too many teams have two 6-8 guys on the team."
"This feels great. I'm ready (to play the regional semifinals now)," Niekamp said. "This is so much fun. …  It's always nice having two bigs, especially when Jack's healthy. Having that extra big guy so I can post up on a smaller guy."
Knapke was a concern earlier in the week after suffering a separated shoulder and sprained ankle a week ago Thursday. He played sparingly in Tuesday's 35-34 district semifinal win against Fort Recovery.

"I got some rest and once I felt good to go I was back at it practicing. No doubt I was going to be out there tonight," Knapke said. "The team needed me."
"We didn't think he was going to play in the district tournament," Marion coach Kurt Goettemoeller said. " … In the second half we challenged him and we challenged Austin. They really stepped up tonight. And we had to have it because that's where our advantage was inside."
Beyke is St. Henry's tallest player at 6-4. Lone senior John Hartings is 6-3. That size disadvantage played a role in limiting the Redskins inside. At times the Redskins looked to have opportunities under the basket. But getting the ball inside was the challenge. Instead of pushing the pass inside the Redskins settled for contested shots. St. Henry shot 20-of-57 (35 percent) from the field overall and just 3-of-18 (16 percent) from three-point range.
"We had a number written on our board and that was 60," Rosenbeck said. "We thought we needed 60 to beat this team. We had that number exactly right."
Marion finished 21-of-40 (52 percent) overall and 5-of-11 (45 percent) on three-pointers. The Flyers blistered the nets in the first quarter hitting nine of 12 shots, including all four 3-pointers. Goettemoeller started Luke Pohlman in place of Brandon Eyink because of Pohlman's shot. Pohlman started the game with a three-pointer. Ranly added consecutive three-pointers late in the first quarter to highlight an 11-3 run.
Both teams were looking for any advantage they could find in their third meeting this season. Marion Local, the Midwest Athletic Conference champs, won both regular-season games against St. Henry 64-60 and 68-52. This was also their fourth postseason match-up in the past five seasons (not counting the cancelled 2020-21 tournament). The Flyers have won three of them, including the last two.
"You always know you have to have a good game plan coming in," Niekamp said. "They know you like the back of their hand. You just have to play hard  I think that's what it comes down to … Before the game coach said we had to be the hunters, not the hunted."
Added Goettemoeller: "Rosie has done an outstanding job with his team. Beyke and Bowers are very difficult to guard. We did a good job on Beyke the first two games, but we really struggled tonight. Give him credit. Give Bowers credit. … A tremendous high school basketball team between two good teams. That was championship effort from both teams."
Bowers led St. Henry with 18 points and Beyke added 16. Devin Delzeith had game-high nine rebounds and Hartings had eight.
"I love the guys. That's what hurts the most," Rosenbeck said. "We're at practice No. 74 and I would love to be at practice No. 75 tomorrow morning with the guys. They are a really, really fun group. I love John Hartings and I'll miss him. I consider him a good friend at this point."
Marion Local advances to the D-IV regional semifinals 6 p.m. Tuesday at Bowling Green State University. Marion plays Patrick Henry, a 35-22 district final winner against Antwerp.