Tight and off kilter early, Jackson Center drew strength from a snuff and score by senior Grant Elchert that triggered a dominant flurry which powered the once-beaten Tigers one step closer to a return to UD Arena for the final four.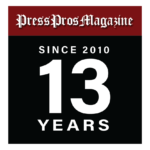 Dayton, OH – Trying to identify the turning point in the 56-34 rout Jackson Center rode to a Division IV district championship Friday night at UD Arena invites an array of snarky responses.
Turning point? You mean, when the officials tossed the ball up for the center jump or when the buses pulled up outside the players' entrance?
Unlike most walkovers, however, the Tigers' throttling of Cincinnati College Prep Academy had a definite launch point and everyone in their locker room knew it occurred when Grant Elchert blocked a shot at one end and provided JC's first lead at the other with a three-point field goal.
"In this situation, I don't think it is bragging because the facts are the facts," Scott Elchert, Jackson Center's head coach, said of his son, one of five seniors in the starting lineup. "You could ask his teammates or anyone who was in the crowd. That was a huge play because that allowed everybody to take a deep breath."
Elchert's triple from the left wing 3:46 before halftime erased the last vestiges of the 16-8 deficit the Tigers (24-1) faced early in the second quarter and greased their getaway from there.
By halftime, they'd increased their margin to 27-19 and even a cold stretch to start the second half couldn't deter Jackson Center's eventual advance to a 46-26 lead by the midpoint of the third quarter.
That's a 40-8 run by the Tigers, if you're doing the math, which assured their advance to a 5:30 p.m. regional semifinal tipoff against Columbus Patriot Prep on Tuesday at Kettering's Trent Arena.
Nothing about JC stepping closer to a trip to the state final four in Elchert's last season after 23 years as the Tigers' head coach seemed certain when nerves like those that doomed them in a district final loss last season set in early.
"For the first couple of minutes, it seemed like we just weren't focused on what we needed to be," guard Nolan Fark said. "It's a different environment here and a lot is at stake. When Grant made that play and hit that shot, it allowed our minds to tunnel in on what we were here for."
The triple from Elchert was one of only two shots he took, both from deep, both of which he hit, with the other providing the Tigers first margin of 10-plus points at 32-19 midway through the third period.
"I think we all had a pretty good understanding that we came out flat and that we could play a lot better than that," Grant Elchert said. "We all know, even if we come out bad, we still have the rest of the game to get going. We really found our spark once we started to get stops on the defensive end."
Most of Jackson Center's defensive attention fell on CCPA point guard Josh Marshall, a 6-1 senior who averages nearly 20 points per-game.
Marshall got to the rim for a layup one minute after tipoff, but didn't hit another shot from the field until his team trailed by 15 late in the third quarter.
Fark drew the primary defensive assignment on Marshall, with solid help across the board.
"Nolan worked his butt off tonight," said teammate Jace Mullenhour, who led the Tigers with 25 points and 13 rebounds. "He did well and our gaps were there when he needed help. That challenge isn't fun to have."
Fark, who scored 11 points, had a different perspective.
"I actually like guarding the best player," Fark said. "He had infinity times more tools going left than he does right, but he's still a great player going right.
"I just tried to force him right to limit his tools and my teammates –  guarding guys who weren't quite as big of a threat to shoot – would sit in that gap if he beat me too bad so they could get him stopped. We were trying to make his teammates beat us and not him."
Marshall finished a startling 3-of-19 from the field, including 2-of-11 from three-point range.
"I was concerned about him because he's a heck of a player," Scott Elchert said. "I can't speak enough about our team defense. Nolan was on Marshall the majority of the time. He had great help in the gaps."
CCPA's defensive strategy didn't work nearly as well, with its backcourt pressure inviting Jackson Center's skilled ball-handlers and willing passers to slice the Lions' press like $2.99 deli ham.
Mullenhour was the most frequent recipient of easy opportunities after the Tigers cleared midcourt, speeding into the lane for pull-up jumpers that he repeatedly cashed.
"Our press-break really worked well for us," said Mullenhour, who hit 10-of-17 from the field and all five of his free throw attempts. "When we'd get it broken down, it was almost always two-on-one."
Those easy opportunities came after a crucial early adjustment Scott Elchert made in the Tigers' attack.
After committing five turnovers in the first quarter and scoring only once in the last 4:16, Elchert positioned Mullenhour and either Fark or Bryson Roberts at the elbow of the free throw lane and initiated the offense there.
Time after time, the Tigers guards or big man Camdyn Reese, who had 12 points and 11 rebounds, spun out of tight coverage from the Lions and strolled in for easy conversions.
"We had those sets in and we felt like with the way they were playing us we could get to the rim," Elchert said. "…They were getting right up into us on the pass.
"Our guys are pretty quick. You have to take the first step away or they'll have the angle on you."