Jackson Mikola hit a game-winning shot and second-seeded Olentangy Liberty made just enough defensive stops to thwart an upset bid by Dublin Coffman.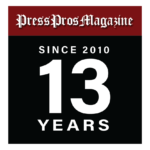 Plain City, OH – Veteran coach Greg Nossaman insisted he's not the type to throw time-worn cliches at his players, but he succumbed to that route in the locker room after second-seeded Olentangy Liberty dodged a bullet Wednesday in a Division I district semifinal.
"What is it they say? Win and advance," he asked, grinning like the cat who ate the canary. "I used that one, and the one about winning ugly…and how good teams find a way to win those games. Sometimes dogfights like these come down to who makes the last play and, fortunately, we were that team tonight."
Apparently, Nossaman forgot to share the cliché about how difficult it is to beat the same team three times in one season.
Jackson Mikola scored on a nifty feed from Alex Okuley with 6.5 seconds remaining, then the Patriots successfully repelled a last-second shot attempt to escape Ohio Capital Conference Central Division rival Dublin Coffman, 35-33, in a nail biter at Jonathan Alder.
The Patriots (21-3), tied for fifth in the final state poll, earned a return trip to the district title game at 2 p.m. Saturday at Ohio Dominican against 11th-seeded Newark, which knocked off OCC Ohio champion Gahanna.
"Coach probably wasn't too happy with the way we played tonight and neither were the players, but sometimes you have to win games like this along the way," said Mikola, a 6-foot-5 senior forward, who saved his best work for the defensive end of the floor. "It was a division game between two teams that know each other inside and out. It's been a close game every time we played."
Liberty beat Coffman 44-37 last Dec. 2 and 56-47 on Jan. 20. But while this game may have been similar in ways to the first two, it was a different animal.
Seventeenth-seeded Coffman (14-10) got of the blocks well, jumping to a 12-6 lead.
The Patriots responded with a 13-0 run spanning more than four minutes to seize control.  The Shamrocks endured an even longer drought to start the third quarter, this one nearly six minutes, and fell into a 29-19 hole.
"That's crazy to have two scoreless stretches like that and still be right in the game up to the horn, but we've been in several of those on both sides this year," Coffman coach Jamey Collins said. "The OCC Central has a lot of really good defensive teams and two of them played tonight."
The Shamrocks responded with a 12-2 run of their own to pull even at 31-31 with 4:53 remaining.
Mikola capped a long possession with a putback basket at the 2:10 mark.
Six-eight sophomore center Tyler Kropp blocked two shots during a tremendous defensive stand for Liberty that lasted nearly a minute-and-a-half.
Liberty's J.R. Hocutt missed the front end of a one-and-one with 43.8 seconds left (the Patriots were just 3-of-11 on the night), and Coffman capitalized as Chase Kern scored off an assist from Kevin Kirkby to make it 33-all at the 29-second mark.
Nossaman opted not to call time out, preferring that Liberty get into transition quickly so Coffman couldn't adjust its defense. After three or four passes, Alex Okuley found Mikola wide open under the basket for the go-ahead score with 6.5 seconds left.
"It was what we called a five-out with Okuley driving to the basket with some back-screen action," Mikola said. "It was pretty cool getting the game-winning shot in a game like this. I've hit some clutch shots before, but hitting a game-winner is something everybody dreams of."
Liberty's game-winner didn't come on a set play, rather one that was executed crisply on all ends.
"I just want to get downhill and get to the rim under control," Nossaman said. "We had a great back cut there to spring Jackson."
After a timeout, Kirkby took the inbounds pass and dribbled the length of the floor down the right baseline, guarded closely by Mikola, and his 15-foot slightly off-balance runner rimmed out.
"I'm not disappointed at all with the shot we got off. It just didn't go in," Collins said. "It came down to the last play, and they made one and we didn't. If there was one factor in the outcome I'd point to, I'd say that their length, especially on the defensive end, caused us a lot of trouble."James Hummell led always-balanced Liberty with 11 points and six rebounds. Mikola contributed five blocks and five rebounds.
Kern topped Coffman with 11 points and seven rebounds. Colin McClure added nine points and five assists.
"This certainly wasn't our best effort, but we're one of the top eight left standing in central Ohio with a chance to get to the sweet 16 Saturday," Nossaman said.
Liberty lost to eventual state champion Pickerington Central in the last year's district title game.
Liberty edged Newark 42-39 in overtime on Dec. 21.