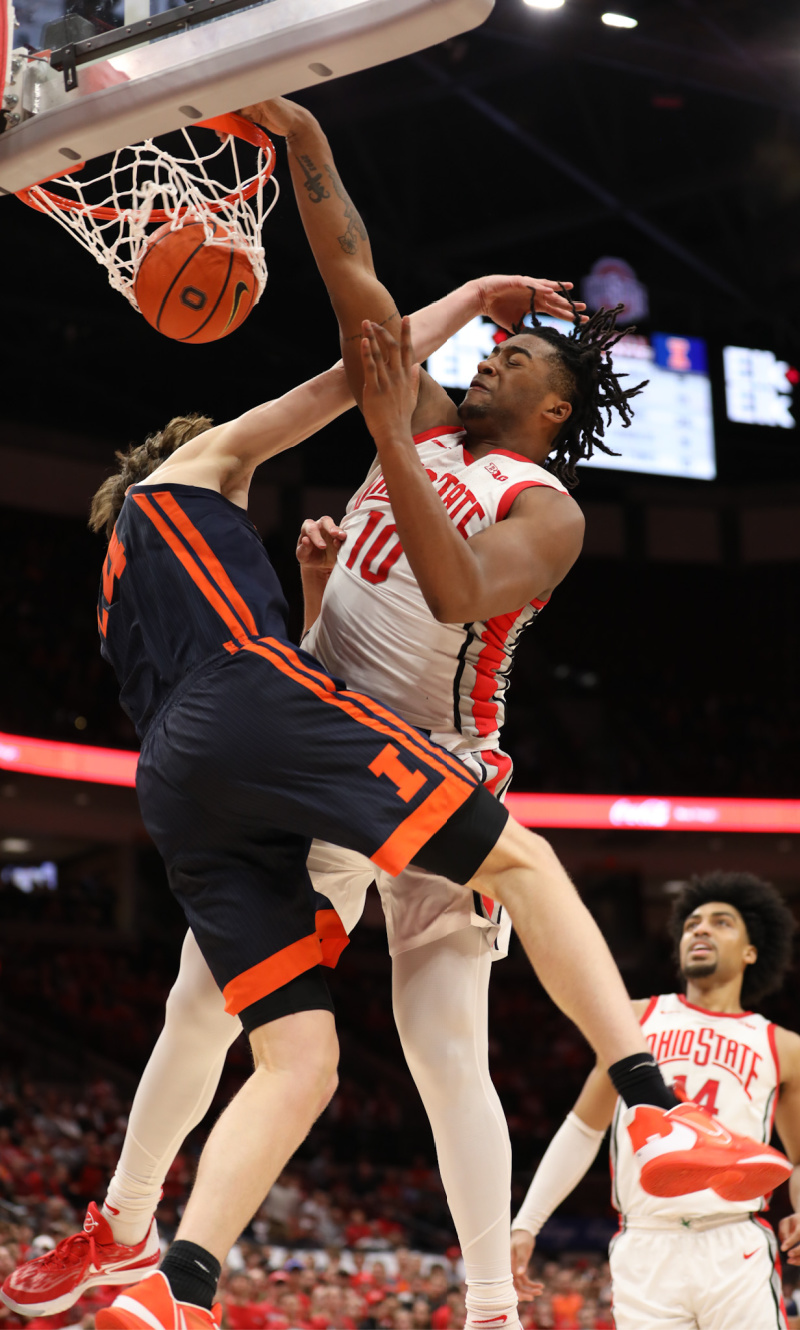 Brice Sensabaugh throws down a second-half slam over Illinois' Matthew Mayer. (Photo courtesy of Ohio State).
As rare as it's been, the win Ohio State claimed over Illinois wound up second in significance to the promise OSU head coach Chris Holtmann made after the Buckeyes' broke a nine-game losing streak with just their third win of 2023.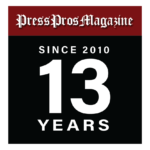 Columbus, OH – The end of Ohio State's nine-game losing streak that spanned five weeks also marked the end of something else Sunday…speculation whether Chris Holtmann is scanning the horizon for other jobs.
The OSU head coach issued an unequivocal commitment to remaining with the Buckeyes in the future after a 72-60 win over Illinois when asked if he wants to remain at Ohio State as his name surfaces for other openings around the country.
"Yes, absolutely," Holtmann said. "I love it here. I love it here."
Holtmann's name has come up for vacancies at both Notre Dame and Mississippi in recent weeks, but when both those jobs were mentioned as fallbacks to the one he has, the sixth-year OSU coach left no doubt where he remains invested.
He dismissed any interest in those jobs or others because of an accord with athletic director Gene Smith over the state of Ohio State's program.
"Gene and I have been very open about our plan in terms of moving forward and what our plan was after last year with somewhat of a rebuilt roster, what that was going to look like," Holtmann said. "How young we were going to be. Our commitment to playing young guys, to backing it up with another young class.
"It's a little bit hard to do sometimes when you're going into Year Six and you're saying, 'OK, we're going to philosophically look at how we want to build this thing to give us maybe our greatest potential as a program.'
"But I think we have played our young guys. We have another good class coming. There is some real excitement in that amid the tremendous disappointment with how things have gone."
The win over Illinois was OSU's third this calendar year and first since a 93-77 victory over Iowa on Jan. 21.
The Buckeyes (12-17, 4-14) are guaranteed their first losing season since 2004 and their worst Big Ten finish since 1998.
That heightened dissatisfaction over Holtmann's failure to get OSU past the first weekend of the NCAA Tournament and into a Sweet Sixteen in any of his first five years.
National media figures have dismissed that criticism as unfair or unrealistic, and some Big Ten coaches have gone out of their way to extol Holtmann's abilities amid the worst Ohio State season in two decades.
Smith has been exceedingly supportive of Holtmann throughout the Buckeyes plummet since a 10-3 start, saying the coach has done, "an outstanding job," and that he will not be fired.
What hadn't been addressed was the possibility Holtmann might leave on his own, take a job elsewhere and re-start the clock on expectations from a new fan base, even though he has five years remaining on an Ohio State contract that Smith extended and sweetened after last season.
Looming over the entire drama was the absence of even one sure-fire successor for Holtmann leaping to mind.
There's no prominent up-and-coming coach like Thad Matta was at Xavier, and no disgruntled established coach willing to move, like Jim O'Brien was at Boston College.
Ohio State was never going to try justify hiring Chris Beard after his domestic-violence-induced exit at Texas, nor could the introduction of Rick Pitino be envisioned, despite his recent exoneration by the NCAA from a messy exit at Louisville.
Would Sean Miller leave Xavier after just one season? Would OSU ask, given his FBI wiretap musings since made legal by the adoption of Name, Image and Likeness compensation for players?
Has Shaka Smart done enough at Marquette to make everyone forget his failure at Texas?
Does Steve Alford's arrival from Nevada excite anyone, except the dwindling few who see a link to Fred Taylor through Bob Knight?
Given that middling array of possible next OSU coaches, holding onto the current one may seem a safer hand to play, particularly if the Buckeyes handle visiting Maryland on Wednesday, avoid an embarrassment Saturday at Michigan State and perhaps win a game or two in the Big Ten Tournament.
OSU never trailed against the Illini (19-10, 10-8), who struggled in their fourth game in eight days.
Illinois, 12th among 14 conference teams in three-point shooting, launched 29 attempts beyond the arc and made just six. That 21% struggle fed Illinois' 36% shooting overall and contributed to a 40-28 deficit on the boards, a category it which it ranks first in the league.
"That didn't have anything to do with them," Illinois coach Brad Underwood said of OSU. "It had everything to do with us not executing. We didn't execute anything."
Bruce Thornton scored 13 first-half points to fire the Buckeyes into a 41-29 lead at the break, but Illinois erased most of that margin by the midpoint of the second half.
Matthew Mayer's transition layup drew the Illini within 49-47 at 10:15, after which Justice Sueing rebounded a teammate's miss and scored to keep Ohio State in front.
Illinois got as close as 53-52 inside the seven-minute mark before Sueing gathered his own miss and followed it in, then freshman Brice Sensabaugh came up with possession off a loose-ball scramble and slammed over Mayer to build a five-point lead at 5:50.
"He's very sneaky athletic for his size," Thornton said of Sensabaugh. "People might not expect him to jump like that. Everyone's reaction was surprise. I'm still surprised right now…It was insane. That gave us some extra momentum to get the win."
Thornton soon followed with an elbow jumper, then a nifty, spinning basket in the lane and the accompanying free throw for a 64-53 edge at 3:57 that left the Illini too high a mountain to climb.
"Even though it's been a rough stretch, we've been focused on staying composed," Sueing said. "That's shown throughout the last couple games and then today we finally pulled one out and got over that hump. That's just guys sticking to the game plan and staying composed."
Thornton made 8-of-11 shots and led OSU with 20 points, while Sueing and Sensabaugh each scored 14 and combined for 17 rebounds.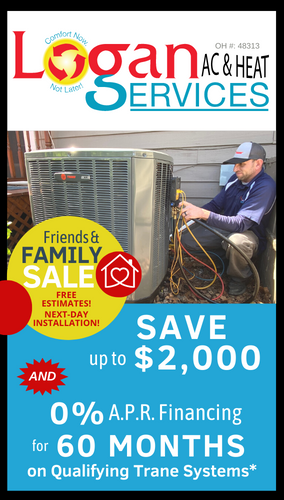 Underwood stewed over his team's one offensive rebound at the half after missing 19 times from the field, and the 12-board deficit that prevailed at the finish.
"We don't have quite the fire and bite right now," he said. "That was frustrating."
Of course, frustration is relative.
While Illinois certainly rues allowing a winnable game to slip away, it remains a certain NCAA Tournament team and in contention for a double-bye in the Big Ten Tournament.
Ohio State's consolation – beyond the win blunting a stretch of 14 losses in 15 games and clinching next-to-last place in the league – is that it finally received tangible results from the improvement Holtmann sensed during losses to Purdue and Penn State over the previous week.
"I think they needed this in the final stretch sometimes more than coaches," he said. "Coaches are evaluating the quality of possessions. 'Are we playing the right way?' "
Obviously, we know it's a bottom-line deal, but they needed this to feel good about themselves. And to validate some of what we've been telling them, that we're playing more quality possessions than what we were."