Fort Loramie and dynamic guard Caleb Maurer gave No. 3 Jackson Center fits all night, sticking around until the final seconds to make the Tigers sweat their way into the District semifinals.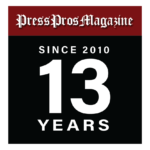 Piqua, OH – As Fort Loramie's Caleb Maurer staggered once-beaten Jackson Center with body blow after body blow Saturday night in the Division IV sectional finals at Garbry Gymnasium, it became apparent that something mystical must be keeping the third-ranked Tigers upright.
An awareness that defeat would end the accomplished, 23-year career of head coach Scott Elchert? Of course, but that's been known for quite awhile.
Clearly, something else – some zen-like chant or calming phrase – must have brought peace and tranquility to the Tigers (22-1) as they withstood Maurer's 30-point performance in a 51-46 final that remained undecided until the final 13 seconds.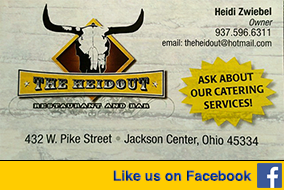 "We were saying it all day, since our shoot-around in the morning," Jackson Center guard Nolan Fark confirmed. " 'It's do or die. Do it or go home.' "
While that blunt assessment won't likely displace dreamier meditation mantras, it works for the Tigers' seniors because they've been buffeted by many such post-season pressure-cookers before.
Jackson Center emerged from its 12th straight trip to the sectional finals to a district semi against Cincinnati College Prep because it refused to blink amid Maurer throwing everything he had at the Tigers.
"We have the utmost respect for Loramie as a team and as a program, so I knew no lead was safe," Elchert said. "Hell, we could have been up 25, it wasn't going to be safe, and one of the reasons is because they have one hellacious player in Maurer."
Maurer served notice of his big night to come by scoring on a driving layup six seconds after tipoff.
He had 11 of the Redskins' points in the first half, including all seven in the second quarter, with his three-point play 1:14 before the break pulling Loramie (18-6) into an 18-18 tie.
"I'm not going to lie," Jackson Center guard Jace Mullenhour said. "When Maurer was getting hot, I started thinking, 'This is going to be hard game to win.' He's a great player. He can really score the ball."
The Tigers, though, didn't share the Shelby County League title with Russia and ascend in the state polls accidentally. They're dangerous because of defensive excellence – an Elchert staple – their experience and because all five starters can hit from three-point range.
Loramie's defense allowed only one Jackson Center attempt beyond the arc through two periods, but that quickly changed once the third quarter began.
Mullenhour curled off a screen and struck from the top of the key at 7:33, then Grant Elchert followed a rare Maurer miss with a triple from the right corner at 6:52.
Another Loramie misfire fed a quick transition look for Fark from the right wing, which he drained to bump Jackson Center's lead to 27-18.
"The start of the second half was a killer when they hit those three straight threes," Redskins coach Corey Britton said. "They shot it really, really well. We talked about that coming in.
"We knew we couldn't let them do that to us, but they did, so credit goes to Scott and his kids. They have some big-time players over there."
Maurer, however, refused to let the Redskins get run out of the building.
He stole a pass on Jackson's next trip and took it the distance to score. 
Mullenhour's drive offset that, then Bryson Roberts hit the Tigers' fourth three-pointer of the half, making it 32-20 at 3:42.
That 12-point deficit only stiffened Mauer's resolve.
By the end of the quarter, he bagged two free throws, hit a triple of his own and completed another three-point play to bring the Redskins within 33-28.
"He's a phenomenal player," Elchert said. "And I mean this – which is why I spent so much time talking to him after the game – not only is he a great player, he's a better person than he is a player. That speaks volumes. I feel for him, because he is a genuine good kid."
Maurer gave Elchert ample reason for that glowing praise, keeping the pressure on as the fourth quarter played out.
His three-pointer at 6:33 started a 7-0 Loramie burst that cut a nine-point Jackson Center lead to just a bucket before Mullenhour found space at the elbow and calmly sank a 15-footer.
"That was huge, because if they take the lead on us they were going to spread us out," Elchert said. "Maurer is so good with the ball, you don't want them to get you in that situation."
Loramie didn't, even though it drew within two points at 41-39 and 43-41, then closed within one possession again when Maurer hit a clutch 15-footer with 58 seconds left.
Sophomore Reed Platfoot rescued the Tigers from that danger, rebounding Camdyn Reese's missed layup and his own missed put-back to draw a two-shot foul with 49.4 to play.
Platfoot hit both, as he had at 1:51 when Loramie drew within two, to keep Jackson Center in front.
"It was pretty scary, actually," said Platfoot, who made eight of 10 from the line, all in the second half. "Luckily, I had teammates around me to calm me down."
Ethan Keiser's three-pointer cut the Tigers' lead to 50-46 with 28 seconds left, then Loramie gained one final chance via a Jackson Center turnover in the backcourt.
Maurer drove to the rim with 13 seconds left, but his layup under heavy pressure rolled off the rim and Reese's subsequent free throws sealed JC's advance.
"You saw veteran teams out there," Elchert said. "Ten guys started tonight…10 seniors out there. These two teams have been going head to head since they were in the fifth grade."
It's the fourth time in Britton's nine seasons at Loramie that the Redskins have played Jackson Center in the post-season, including last season's sectional final which the Tigers also captured.
"I love our group to death,' Britton said. "Our seniors have been amazing. They won 18 games this year and we lost two of our five starters to injury before we even started. It's been an amazing ride with this group. They're such good kids.
"Caleb has been incredible for all four years. He's a really good basketball player, but he's an incredible person. He's kind-hearted. He listens. I love that kid to death. He means a lot to us and our program."
Jackson Center overcame Mauer's performance with 13 points from Mullenhour, Roberts' 11 and 10 from Reese. Platfoot scored all eight of his points at the line, and Fark and Grant Elchert combined for 10, with five apiece.
"We know what it's like playing here in this kind of pressure," Fark said. "A lot of us were on the team as freshmen when we played here. It's nice to be on the bench and see it happen. But to actually be able to go play in it is even better."