On the eve of another aging milestone, it's not that much fun to look back…except to gauge how baseball has helped you get this far.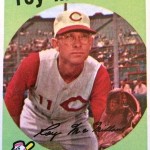 Phoenix, AZ – Tomorrow, February 26, 2023, I need to give my mother a call.  I owe her a lot for her devotion over the years, but most of all…I wouldn't be here if it wasn't for her, and it all began on February 26, 1952, in Huntington, West Virginia.
I'll turn 71 tomorrow.  Not a bad number, I guess, and not a bad trip, all in all.  I've been blessed to do some things (as my dad told me before he passed) that I never thought I'd do.  I've had some influences that I never dreamed I'd have.  Not because I'm on the road writing about college baseball this weekend…but because baseball is one of those influences that's truly sustained me throughout the years.  Some people have golf, a garden, or faith.  I have some of that, too.
But the most fun, and edifying influence on my life has been my association with this game – the experiences and people I've met along the way.
For instance, I grew up outside of Ironton, Ohio, and on my eighth birthday my dad and mom gave me a battery-operated transistor radio…so I could listen to the Reds games that spring.  I was a huge Reds fan back then…Frank Robinson, Vada Pinson and Wally Post…but my favorite player of all was shortstop Roy McMillan.
McMillan was not a big star, but I liked the looks of his personality on his Topps baseball card.  The Reds traded him during that winter for Joey Jay…and I never forgave them, even though Jay won 20 games twice and pitched them to the '61 World Series.  Years later I actually met McMillan when he was a manager in the Mets minor league system, and discovered that he wasn't really worth the drama.
On my tenth birthday I found out that my community would have Little League baseball for the first time.  Huge for me, although as it turned out, I was a terrible Little League player because I had the attention span of a gnat.  There's actually a photo of me someplace that shows me standing at first base with my hat on backwards, arms folded, and looking off into space while a base runner is rounding the bag.  I later switched to pitching to become more involved, I suspect.
By my fifteenth birthday my family had moved to Piqua, in Miami County, and during that February I learned that I had made my high school JV team.  It might as well have been the LA Dodgers because I remember bringing that uniform home and hanging it on the hook on the back of my bedroom door.  I went sleep at night staring at it.
On my eighteenth birthday, in 1971, Marty Karow and Dick Finn told me that I had made the traveling squad of the Ohio State Buckeyes.  What a rush, eh?  In just ten short years I'd gone from being a disinterested Little Leaguer to being a college player in the Big Ten.  I remember my dad telling me that I was probably in over my head.  Probably?  In my first Big Ten game I gave up a home run on a hanging curveball and when Marty Karow took me out of the game he told me he was sorry he'd brought me on the trip.  No kidding…he really did.  When we got back to Columbus I told my dad what Karow had said.  "Told you so,"  he reminded me.
Five years later, in February of 1976, I was assigned my first minor league contract to umpire professional baseball, subsequently working in the Florida Gulf Coast League, the Florida State League (A), the Southern League (AA), and the American Association (AAA), and the Dominican Republic winter league for the next eight years.  Foolishly, I believed that I was about to become a major league umpire…until I discovered that getting to the big leagues is about more than balls and strikes…a lot more!  It's not just about your skills, but your connections!
It was a bitter pill to swallow when I got a letter in the mail, February 1982, telling me that I had been released by the major league umpire development system…the only job I've ever lost without explanation as to why.  As I've discovered through the years, there really isn't a lot of transparency in baseball at that level.  And I've met dozens of people along the way just like me who admit, "You know, they never really told me why I was let go.  They just said they were going in a different direction."
My own personal direction hasn't been that bad.  I have a great family, an understanding spouse, and an instinct for baseball at this point to give something back to the sport that's given me so much through the years…the memories and a lot of friends.
By the way, I still have that Roy McMillan card, in a box, in a drawer in my office in Covington.  And I think about the irony of how I've outlasted him.  He was only 68 when he died in Bonham, Texas, November 2, 1997.
I actually know the family of Wally Post, his son John and his three sisters, and we occasionally reminisce about the old days when baseball was easier and more personable than it is today.
My friend Craig Stammen lives not far away from Covington, still pitches for the Padres, and I check on him from time to time and smile about the old days and me probably dreaming of being his shoes.  I can't swear to it, but I'd like to believe that's what I was thinking about in the picture…the one with my hat on backward, my arms crossed, and me staring off into space.
Now, I've got to call my mom!