Jackson Center scored the first 22 points to knock off Fairlawn. Fort Loramie needed free throws down the stretch to hold off Ansonia. Now the Tigers and Redskins meet for a third time this season, this one in the D-IV sectional final at Piqua High School on Saturday.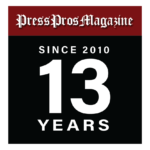 PIQUA, Ohio – That the Jackson Center Tigers, ranked No. 3 in the final Division IV state poll, stormed into the sectional title game wasn't a surprise on Thursday night. win. How they did it? Well, that's something even veteran coach Scott Elchert can't remember ever experiencing.
So coach, has your team ever scored the first 22 points to start a game prior to Thursday?
"Man, I don't know," Elchert said following Jackson Center's 47-14 victory against Fairlawn. "I'd have to look back. You got me."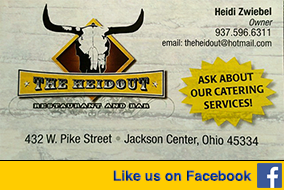 Jackson Center's third victory against Fairlawn this season was well in hand after the first quarter, when the Tigers rattled off a 12-0 lead. It was 22-2 at the half. In the second game at Piqua High School on Thursday, Fort Loramie used fourth-quarter free throws and defense to hold off Ansonia 39-27.
Jackson Center and Fort Loramie play for the D-IV sectional title 6 p.m. Saturday at Piqua High School.
Traditionally, the Piqua brackets are among … if not … the toughest D-IV sectional tournaments in the state. That it's heavy with Shelby County Athletic Conference teams isn't a coincidence. Jackson Center is ranked No. 3 in the state. Russia is No. 6. The top four seeds in the Piqua sectional are from the SCAL with No. 1 Jackson Center, No. 2 Russia, No. 3 Fort Loramie and No. 4 Botkins.
All four of those teams play for sectional titles … and against each other. Russia (21-3) and Botkins (15-9) play the Piqua upper bracket sectional final 6 p.m. Friday. Jackson Center (23-1) and Fort Loramie (18-6) decide the lower bracket title Saturday.
"We've got our backs up against the wall Saturday night," Fort Loramie coach Corey Britton said of playing Jackson Center. "They're really good. … We have to find a way to score and, to be honest, we haven't guarded them very well during the regular season.
"Our league is so good. This is year nine at Fort Loramie for me. It took two weeks into the season my first year to figure out how difficult our league is. Top to bottom it's a grinder. You look at our league this year: Jackson Center is No. 3 in the state. Russia is state ranked. Botkins is having a really, really good year and they lost half their roster from last year. Anna had a really nice year, too. It's really well coached and you have to be on your best game night in and night out. If not you're going to get beat and we found that out a few times this year.'
That's the message both Elchert and Britton will deliver to their teams before Saturday's game. Jackson Center won both regular-season meetings 50-42 at home on Dec. 13 and 49-37 on the road on Jan. 24. Elchert certainly isn't expecting a scoring burst like his Tigers had Thursday night. But showing the same intensity is a must.
"I was really pleased with the amount of energy we came out with tonight," Elchert said. "It's tournament time. You gotta play with energy. The fact we did that is a credit to our kids."
Jackson Center's Nolan Fark, Camdyn Reese, Jace Mullenhour and Reed Platfoot all scored baskets in the first quarter. Bryson Roberts joined Fark and Mullenhour with scores in the second quarter, including Mullenhour's basket with 4:25 left in the second quarter for that 22-0 lead.
Fairlawn's Trey Sparks ended the Jets' drought with a strong drive to the basket with 1:42 before halftime. Fairlawn (3-20) found some offensive rhythm with eight points in the third quarter.
But Jackson Center is ranked for a reason. Roberts opened the third with a three-pointer and followed with another score. Lucas Hartle and Mullenhour also hit 3-pointers. Roberts led the Tigers with 11 points in a balanced effort that included Fark (8 points), Mullenhour (7), Reese (6), Platfoot (6), Hartle (4), Lucas Heitkamp (3) and Cooper Hartle (2).
Quickness, length, defense and big-game experience seemed to all play a role in the Tigers' overall advantage. Fairlawn routinely went one-shot-and-out and finished with four field goals overall and all by four different players. Three other players added free throws.
"We've got a lot of respect for Fairlawn," Elchert said. "This is the third time we've played them. They had the bye and they had 10 or 12 days to get ready for us. That's a credit to Fairlawn why our guys came out with that kind of energy. They know Fairlawn is well coached and they're going to come at us."
The same can be said for Saturday with Fort Loramie. Having another chance to scout both teams following his victory, Elchert was asked if he preferred playing a SCAL team for a third time – which helps with familiarity – or facing a new opponent. Is there a rooting interest?
"I root for the Jackson Center Tigers," Elchert said with a smile.
In the second game on Thursday, Fort Loramie never trailed and gradually pulled away in the second half … though Ansonia never seemed out of contention. The Redskins led 8-7 after the first quarter and 13-12 at the half.
They opened the third quarter with an 11-1 run – highlighted by consecutive three-pointers from Ethan Keiser – for a 24-13 lead with three minutes left in the third. Ansonia's Garrett Stammen hit a three and teammate Ian Schmitmeyer also scored to cut the lead to 24-18 with 1:35 left. The lead went as low as five points twice, the final time with 6:19 remaining in the fourth.
Fort Loramie's Caleb Maurer hit a three-pointer and a pair of bonus free throws over the next minute (he also blocked a three-point attempt) to push the lead to double digits. The Redskins went to the free-throw line five times over the final five minutes. They connected on six-of-10 free throws to finish out the win. And one of those missed free throws resulted in Austin Pleiman's offensive rebound and put-back to further frustrate Ansonia.
"Any time you come down here nothing is given. Nothing is easy," Britton said. "I was really proud of our kids tonight the way they fought through some things. I don't think we played necessarily well or necessarily clean, but they showed some growth from earlier in the year. Earlier in the year things kind of got sideways from us a little bit. Defensively we've come a long way and that's a credit to our kids."
Maurer led Fort Loramie with 13 points and Keiser had 11. For Ansonia (13-11), Stammen finished with a game-high 18 and Schmitmeyer added 8 to account for all but one of the Tigers' points.