On the road with this weekend for four games with Grand Canyon University and Gonzaga…it's true.  You never know what, and who, you'll run into when you travel with the Buckeyes.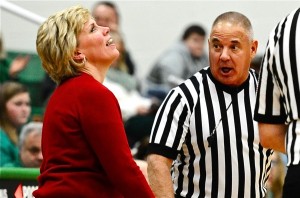 Phoenix, AZ – At the risk of sounding like the Phoenix area Chamber of Commerce…..
One of the real treats of being out here in the Arizona desert is the variety of great restaurants – the sheer number of them –  and the fact that the more obscure some of them are…the better!
Such was lunch on Thursday when I found a place off the beaten path called Blanco's (I think) – a longish room of tables and chairs, service better than my own kitchen, a margarita that makes your head spin, and the best tortilla soup and guacamole…EVER!
It made you think of Rosa's Cantina and Marty Robbins, and I was out of there in under 30 minutes and for under $20.
"Everything is very fresh," said the waitress.
Fresh, and potent.  You wouldn't want to hang around for a second margarita…unless you bring a cot.  That said, it was lunch worth remembering.  Regardless of how the baseball goes this weekend, it's reason enough to come back.
Under the heading of you never know who you'll meet when you're with the Buckeyes….
I made acquaintances with long-time Buckeye follower Jim Harmon, from Delta, Ohio (Fulton County), prior to Thursday's game with Grand Canyon.
Harmon sold his masonry business seventeen years ago, decided he wanted to retire to Arizona, and is very active in supporting the scarlet and gray, whatever the season, wherever it takes him.  He's long been a member of the Buckeye Diamond Club, and was at Grand Canyon's beautiful Brazell Stadium Thursday hoping to see a win.  He didn't, of course, but plans on being here for the remaining three games this weekend.
An even bigger surprise…many Miami Valley basketball fans will recognize Chris Stokes, from Urbana, who's living out here now, and was at Thursday's GCU-Buckeyes game.
Before a career of teaching, coaching, and officiating, Stokes played college baseball, first for Ohio State in the early 80s, then transferred to Grand Canyon to play during the more modest years of Lopes' baseball, before the days of opulence with their current facilities at Brazell Stadium
"When I was here there were three sets of bleachers and a chain link fence all around the ballpark.  That was it,"  said Stokes, a long-time basketball official, and father of former Minster, and now Dublin Coffman football coach, Geron Stokes.
"With the thin air out here, we had a couple of guys who'd hit the ball out of the park and through the windows of the apartment buildings across the street.  Fun times."